Today Providence riff tyrants HOWL offer up a glimpse into the recording of their second full-length. Entitled Bloodlines, the ten-track slab of lead-footed, molten metal menace was recorded at the infamous Planet Z Studio in Hadley, Massachusetts with Chris "Zeuss" Harris (Soulfly, Crowbar, Municipal Waste, 3 Inches Of Blood et al).
Get a five-minute view inside the recording compound here:
Bloodlines will see North American release via Relapse Records on April 30th, April 26th in Germany,Benelux and April 29 in the UK and rest of Europe. As a precursor to the record's official detonation, HOWL will take their metallic doom to the streets on a month-long run of live takeovers scheduled to commence next month in New London, Connecticut.
HOWL Bloodlines Tour 2013:
2/28/2013 The El N Gee – New London, CT w/ David Caradine, Heavy Breath, Hivesmasher
3/01/2013 St. Vitus Bar – Brooklyn, NY w/ Samothrace, Pilgrim
3/02/2013 Kung Fu Necktie – Philadelphia, PA w/ Ominous Black, Die Choking, Mainline Cocksucks
3/03/2013 Strange Matter – Richmond, VA w/ Gritter, Cut the Architects Hand, Uncle Jimmy
3/04/2013 The Nightlight – Chapel Hill, NC w/ Mortal Man
3/05/2013 The Milestone Club – Charlotte, NC w/ Pig Mountain, Kato
3/06/2013 Earshot Records – Greenville, SC
3/07/2013 Poison Lawn – Knoxville, TN
3/08/2013 Owl Farm – Nashville, TN w/ Cove, Demeaner
3/09/2013 The Buccaneer – Memphis, TN w/ Crowlord
3/10/2013 Siberia – New Orleans, LA w/ She Rides
3/11/2013 Walter's – Houston, TX
3/13/2013 TBA – San Antonio, TX
3/17/2013 Parade Of Flesh Afterparty – Dallas, TX w/ Mutilation Rites, Ken Mode
3/18/2013 The Sound Pony – Tulsa, OK w/ Senior Fellows, The Way it Was
3/19/2013 The Riot Room – Kansas City, MO w/ Abbot, Keef Mountain
3/20/2013 Fubar – St. Louis, MO w/ Grand Inquisitor, Predatory Witch
3/21/2013 Frank's Power Plant – Milwaukee, WI w/ Gravedirt
3/22/2013 Ultra Lounge – Chicago, IL w/ Jar'd Loose
3/23/2013 The Bishop – Bloomington, IN w/ Torturess
3/24/2013 The Berkley Front – Detroit, MI w/ The Armed, Dead Church
3/25/2013 Kobo Live – Columbus, OH w/ Stormbrewer
3/26/2013 Now That's Class – Cleveland, OH w/ She Rides
3/27/2013 The Smiling Moose – Pittsburgh, PA
3/28/2013 The Sidebar – Baltimore, MD w/ Strong Intention
3/29/2013 The Tuscan Cafe – Warwick, NY w/ Strong Intention
3/30/2013 TBA Boston, MA w/ Strong Intention
3/31/2013 The Shaskeen – Manchester, NH w/ Strong Intention
4/01/2013 Nectars – Burlington, VT w/ Strong Intention
4/03/2013 Dusk – Providence, RI w/ Tinsel Teeth, Graveside Service
Commended for their distinct brand of "furious, bone-crushing, head-splitting doom" by MetalSucks, and their "huge riffs, excellent tone and an attitude not usually seen in bands with this much groove" by Crustcake, HOWL unleashed their Full Of Hell debut to unsuspecting ears in 2010. Gushed About.com in a near perfect rating of the record: "Full Of Hell isn't just one of the best metal debuts of the year. It's likely to be one of the best metal albums of the year."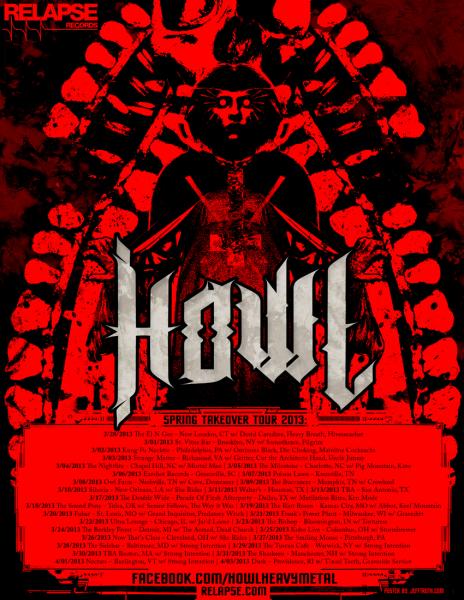 https://www.facebook.com/HowlHeavyMetal
http://www.relapse.com
http://relapserecords.bandcamp.com
http://www.facebook.com/RelapseRecor