Philadelphia/Washington, DC-based forward-thinking death metal behemoths HORRENDOUS will join Denver death metal trio Of Feather And Bone for the Western Anhedonia Tour 2019. Set to commence on April 17th, the four-date journey will make its way through Los Angeles, Oakland, Portland, and Seattle. The tour follows HORRRENDOUS' performance at Adroit Theory's Dawn Of A Dark Day in Purcellville, Virginia this weekend with Outer Heaven and Foehammer and serves as a precursor to their set at Graveland Fest in Hollandscheveld, The Netherlands in May marking the band's first-ever European show.
Issues the band, "We've been itching to return to the West Coast since the 2017 Decibel Tour. The creation of Idol engulfed much of 2017 and 2018 for HORRENDOUS, so we can't wait to get out and perform these songs for the first time out west."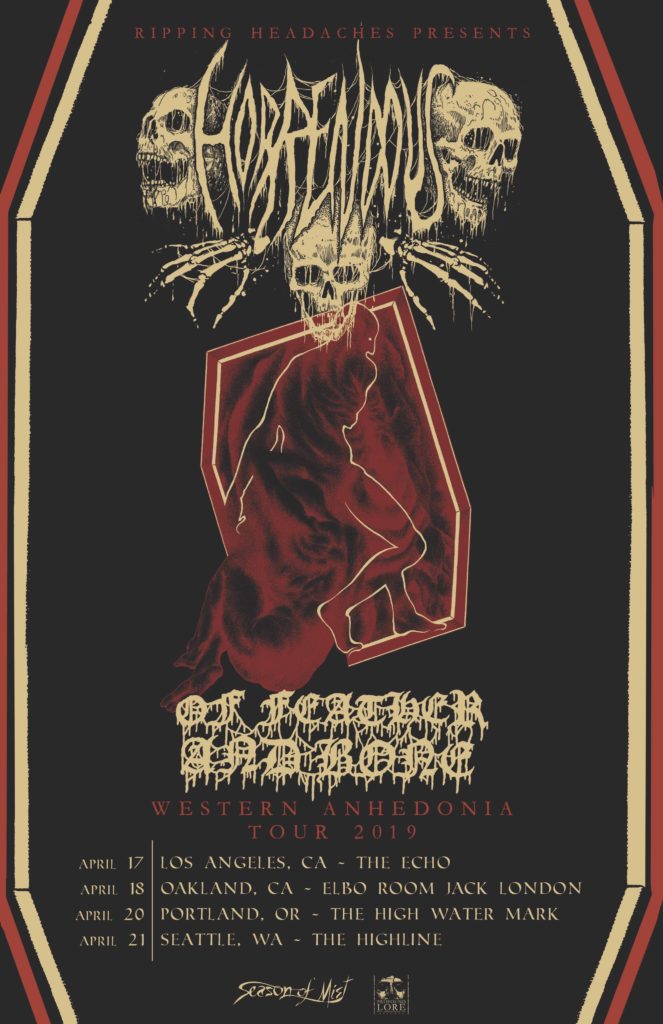 HORRENDOUS:
1/26/2019 Adroit Theory Brewing Company – Purcellville, VA w/ Outer Heaven, Foehammer [info]
w/ Of Feather And Bone:
4/17/2019 The Echo – Los Angeles, CA [tickets]
4/18/2019 Elbo Room Jack London – Oakland, CA [tickets]
4/20/2019 The High Water Mark – Portland, OR [tickets]
4/21/2019 The Highline – Seattle, WA [tickets]
End Tour
5/11/2019 Graveland Festival – Hollandscheveld, NL [info]
HORRENDOUS will be touring in support of their Idol full-length, released late last year via Season Of Mist Records. Drawing inspiration from both personal and national crises, Idol's music is a methodical and unapologetic take on dynamic, progressive death metal. The album sees HORRENDOUS at the highest echelon of their musical creativity to date. Thematically, Idol is an exploration of defeat; of the gods we build in our minds to escape the responsibility of action and change as we relinquish our agency. Idol's music mimics this act of deity building, with sprawling compositions that are imposing in scope and mirror the great turmoil of our times. Tracks like "Soothsayer," "Golgothan Tongues," and the monumental "Obolus" position the band in a league of their own, as one of the death metal's leading new entities.
The record continues to earn praise from critics globally and pillaged 2018 year end lists earning the #28 spot of Decibel's Top 40 Albums, #24 of Revolver's Top 30 Albums, and #4 and #11 respectively of Popmatters' Top 5 Best Progressive Rock/Metal Albums and Top 15 Best Metal lists. Bandcamp included the record on their Top 15 Metal Albums list noting, "Idol represents the fullest embrace of their progressive tendencies to date," championing the record's, "free jazz feel that echoes the early '90s work of Death, Atheist, and Cynic," while Pitchfork concurred in their Best Metal Of 2018 list hailing, "a beautiful record not just in its tranquil moments (the gorgeous interlude 'Threnody') but also in its sophisticated compositions." Elsewhere, the sentiment echoes with the record ranking in at #2 on Heaviest Of Art blog's Top 30, #24 on Last Rites' Top 25, #7 on Metal Trenches' Top Metal, and #8 on Vinyl Me Please's Top Metal Albums of 2018.
Stream Idol in full below.
HORRENDOUS' Idol is available in various formats via Season Of Mist at THIS LOCATION.
"The outfit's latest exercise in musical excellence puts the 'pro' in progressive death metal." – Decibel
"…[Idol] establishes the band as an official force in the metal world who've outgrown and out-played their initial splash in contemporary death metal." – Revolver
"In truth, it's probably been thirty years since a group delivered riffs that sounded this fresh and free from a storied musical history." – PopMatters
"…a beautiful record not just in its tranquil moments (the gorgeous interlude 'Threnody') but also in its sophisticated compositions." – Pitchfork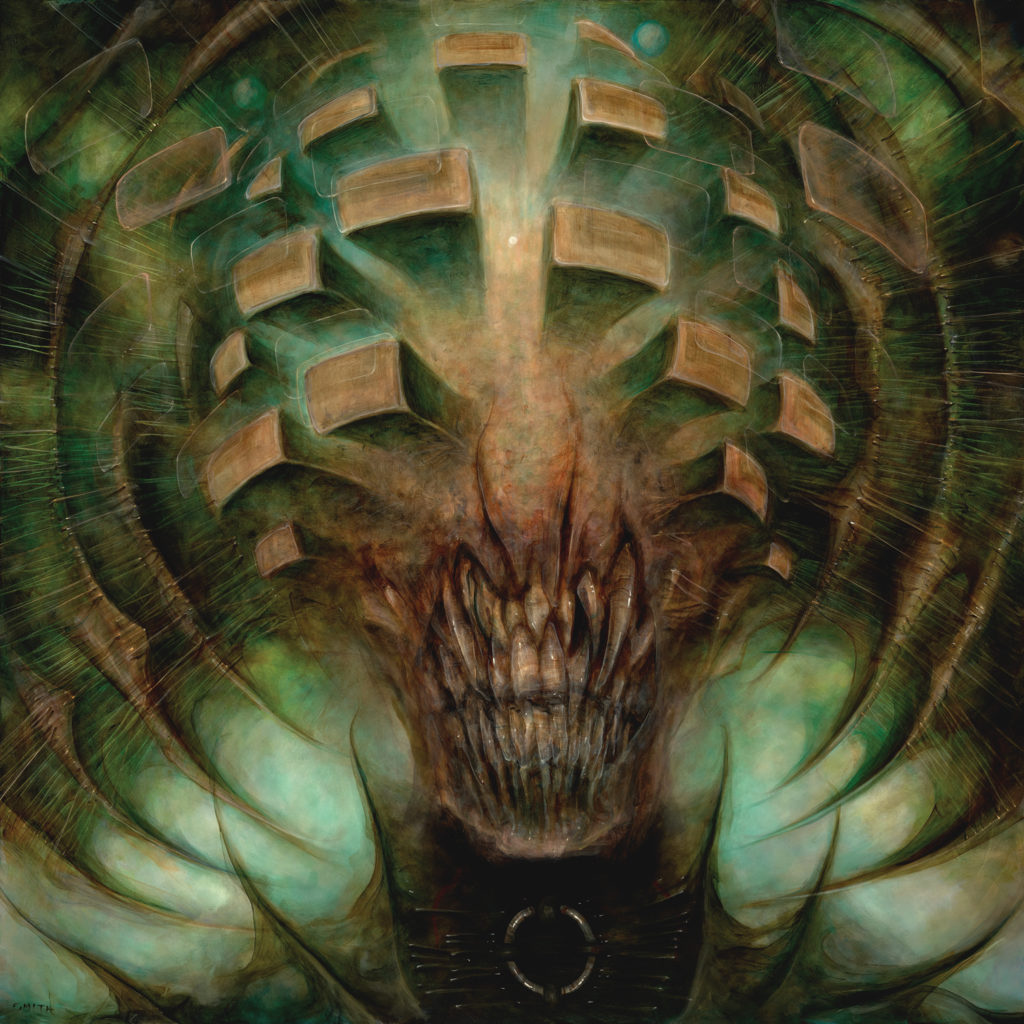 http://www.facebook.com/HorrendousDeathMetal/
http://www.season-of-mist.com
http://www.facebook.com/seasonofmistofficial
https://www.instagram.com/seasonofmistofficial
http://twitter.com/SeasonofMist