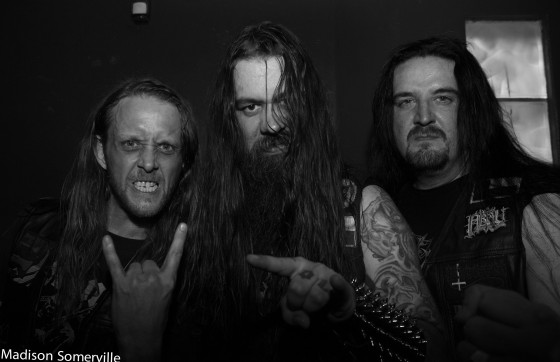 San Antonio blackened death metal miscreants, HOD, are putting the final touches on their upcoming new full-length. Titled Book Of The Worm, the follow up to 2009's Serpent features nine tracks of molten metal riffs and sonic decay.
Comments vocalist Vladibeer Reebs: "With Serpent, we were five guys with some ideas. Now we're a cohesive unit with an agenda. You can feel the energy, hate, and anger in the tracks on Book Of The Worm. In the end, whether it's Serpent, Book of the Worm, or any future album, it's all gonna be Fuckin' Metal! That's all we know. That's all we do. That's all we are."
The band, who are currently seeking a proper label home, recently posted some new music in the form of "Awakening Blasphemous Abominations." Taste the evil HERE.
In the meantime, HOD will bring their apocalyptic hymnals to the stage for a short run of rituals beginning September 7 when they'll sear souls alongside progressive thrash metallers Vektor (and others) in San Antonio. Later that month, HOD will play the Building Temples From Death Fest II in Houston featuring an unholy lineup of Disgorge, Putrid Pile, Dehumanized, Embalmer and over a dozen MORE. In October, the band will open for Skeletonwitch in San Antonio before embarking on a five-date road trip with Canadian black metal horde, Panzerfaust.
HOD Live 2012:
09/07/2012 Korova – San Antonio, TX w/ Vektor, Aggravator, Witche's Mark, Cannibal Bitch
09/29/2012 Building Temples From Death Fest @ Fitzgerald's – Houston, TX
10/22/2012 Korova – San Antonio, TX w/Skeletonwitch, Havok, Mutilation Rites
10/24/2012 Beerland – Austin, TX w/Panzerfaust , Plutonian Shore, Whore of Bethlehem
10/25/2012 Zombie's – San Antonio, TX w/Panzerfaust, Funeral Rites , Ancient Malus
10/26/2012 Walters – Houston, TX w/Panzerfaust, Funeral Rites, Spectral Manifest, Termination Force
10/27/2012 Siberia – New Orleans, LA w/Panzerfaust
10/28/2012 Topper's Sports Bar – Watauga, TX w/Panzerfaust, Black Moriah
HOD:
Vladibeer Reebs – Vocals
Carl "Lord Necron" Snyder – Guitar
Trans Am – Bass
https://www.facebook.com/pages/Hod/118127951554999
https://www.reverbnation.com/hodtheband