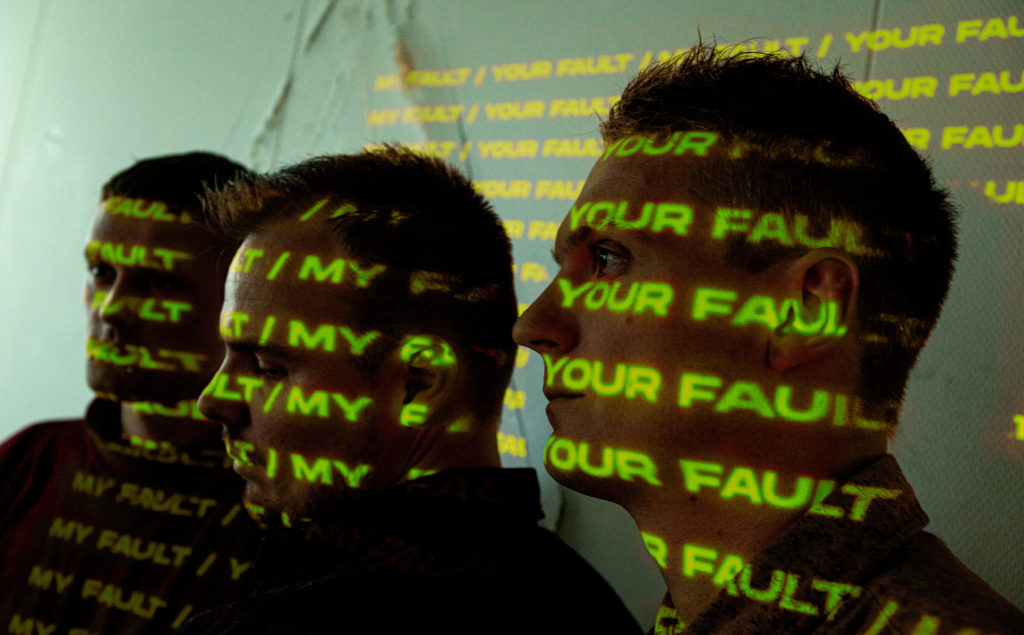 photo by Malte Riis
Nefarious Industries presents Alterer, a remix album of the 2021 Stumbling Through The Walls LP by Danish progressive noise rock act HIRAKI.
Alterer features reworkings from ten artists who stem from a wide and varied array of musical backgrounds but have been selected by HIRAKI because of their superb ears and skills within sound transformation.
The compilation is a nonprofit project brought to life by Solidarity Reworks, a new venture by visual artist, multi-instrumentalist, and HIRAKI vocalist Jon Gotlev (noheroes.dk). The project brings together artists and cultural activism in a nonprofit creative collective. The outcome is super limited edition music reworks and apparel – all in favor of a good cause that deserves more attention.
"When recording and releasing a song you often end up with a feeling that this particular track couldn't have sounded any other way. We are completely blown away by the creativity of the artists and how they have been able to find and enhance sounds and melodies below the noises that we ourselves didn't even know were there," says guitarist Tue Schmidt Rasmussen.
Among the contributing artists are friends from exquisite hardcore acts such as LLNN, Hexis, and Eyes. But the list also boasts of renowned EDM artists such as MirrorSHIP and Malou Mørkeberg. The Danish masters of art-pop KH Marie have even translated and re-sung all of the vocals for their version of "Wonderhunt."
"It was important for us to also include musicians that normally operate in genre spectrums far from what we do. This has truly brought some beauty and diversity to our harsh universe and the track list comes together just perfectly," says drummer Tim Frederiksen.
Jon Gotlev elaborates: "By transforming the original artwork or creating a new expression for a musical piece, I feel a strong connection to the artists behind it and really strive to grasp their deepest intentions with the work in order to create something unique. In general, the world is in urgent need for a higher degree of unity."
Alterer will see release via Nefarious Industries on randomly mixed colored vinyl, hand assembled by HIRAKI, and limited to 200 unique records. All profits from the vinyl sales benefit MSF / Doctors Without Borders (msf.org).
A video for the opening track from Alterer, the John Cxnnor Rework of "Common Fear," is now playing at THIS LOCATION.
Alterer will see release on May 13th. See the wide range of random colors and hand-assembled vinyl and find preorders for the vinyl and all digital platforms at the Nefarious Industries webshop HERE.
Alterer Track Listing:
1. Common Fear (John Cxnnor Rework)
2. Blossom Cutups (Pani Rework)
3. Wonderhunt (Kh Marie Rework)
4. Peach Lung (Kasper Svendsen Rework)
5. Mirror Stalker (MIRRORship Rework)
6. New Standards (Odd Shapes Rework)
7. New Standards (Malou Mørkeberg Rework)
8. New Standards (Blue Monad Rework)
9. New Standards (DJ Stock Music Rework)
10. Common Fear (Satelle Rework)
https://www.facebook.com/HIRAKIband
https://hirakiband.bandcamp.com
https://www.instagram.com/hirakiband
https://nefariousindustries.com
https://nefariousindustries.bandcamp.com
https://facebook.com/nefariousIndustries
https://instagram.com/nefarious_industries
https://twitter.com/nefariousInd