[photo by Ben Stas]
Massachusetts crossover crew HIGH COMMAND has announced a run of East Coast US tour dates for the beginning of the spring season, continuing to support their Southern Lord-released debut LP, Beyond The Wall Of Desolation.
HIGH COMMAND's Beyond The Wall Of Desolation delivers an onslaught of searing thrash/hardcore aggression. The band's ravenous delivery is magnified by the powerful recording courtesy of Machines With Magnets (Daughters, The Body, Lingua Ignota), and mastering by Brad Boatright at Audiosiege (Obituary, Integrity, Black Breath).
Surrounding the album's release last summer, HIGH COMMAND torched sectors of the country on tour with the likes of Spirit Adrift, Enforced, and more. Spring 2020 sees them back on the road with several weeks of newly announced shows. First up, the band will headline a three-city run with support from Shadowland, playing Washington, Philadelphia, and Brooklyn March 20th through 22nd. At that point, HIGH COMMAND will provide direct support for Ringworm, playing Baltimore, Richmond, Durham, Atlanta, Memphis, Dayton, Louisville, Indianapolis, and Cincinnati through April 1st, with a one-off headlining show in Pittsburgh ending the run on April 2nd. See all currently booked dates below and watch for new updates to post.
Stream HIGH COMMAND's Beyond The Wall Of Desolation in its entirety RIGHT HERE.
Beyond The Wall Of Desolation is available on CD, LP, and digital via Bandcamp HERE and the Southern Lord webshop HERE, including a new pressing on white vinyl.
HIGH COMMAND Tour Dates:
3/20/2020 Atlas Brew Works – Washington, DC *
3/21/2020 Vanishing Point – Philadelphia, PA *
3/22/2020 Saint Vitus Bar – Brooklyn, NY *
3/23/2020 Metro Cafe – Baltimore, MD ^
3/24/2020 Wonderland – Richmond, VA ^
3/25/2020 Local 506 – Durham, NC ^
3/26/2020 The Basement – Atlanta, GA ^
3/27/2020 HiTone – Memphis, TN ^
3/28/2020 TBA – Dayton, OH ^
3/29/2020 Rockerbuilt – Louisville, KY ^
3/31/2020 Black Circle – Indianapolis, IN ^
4/01/2020 Northside Yacht Club – Cincinnati, OH ^
4/02/2020 Rock Room – Pittsburgh, PA
* w/ Shadowland
^ w/ Ringworm
"…HIGH COMMAND have occupied a sweet spot between Cro-Mags-style snarling crossover and epic heavy metal. By combining the rugged and fantastical themes of the latter with the overly aggressive attack of the former, the Massachusetts-based warriors have quickly become notorious in the underground for their violence-fomenting ways." – Decibel Magazine
"…these Mass boys fucking rip… Bursting with dive bombs, snarling vocals, a 1,000MPH thrash riffage, and a breakdown built for the extinction of cowards…" – Revolver Magazine
"The first impression is always the most important. Some bands would simply be content to make a lasting one on their audience. HIGH COMMAND has certainly done so. They've also but thrown down the gauntlet and issued a declaration of war. 10/10″ – Metal Injection
"Crossover thrash has had a mighty resurgence over the last ten to fifteen years, but eschewing the neon palette, party anthems, and nuclear aesthetic, HIGH COMMAND garner accolades from playing a darker version of the genre… There is power and grit, not just flash and polish, and the dense atmospheric cloud crushes audiences." – New Noise Magazine
"HIGH COMMAND play thrash like they invented it, and this record is full of such unbridled fury that they'll have you believing they invented it too." – BrooklynVega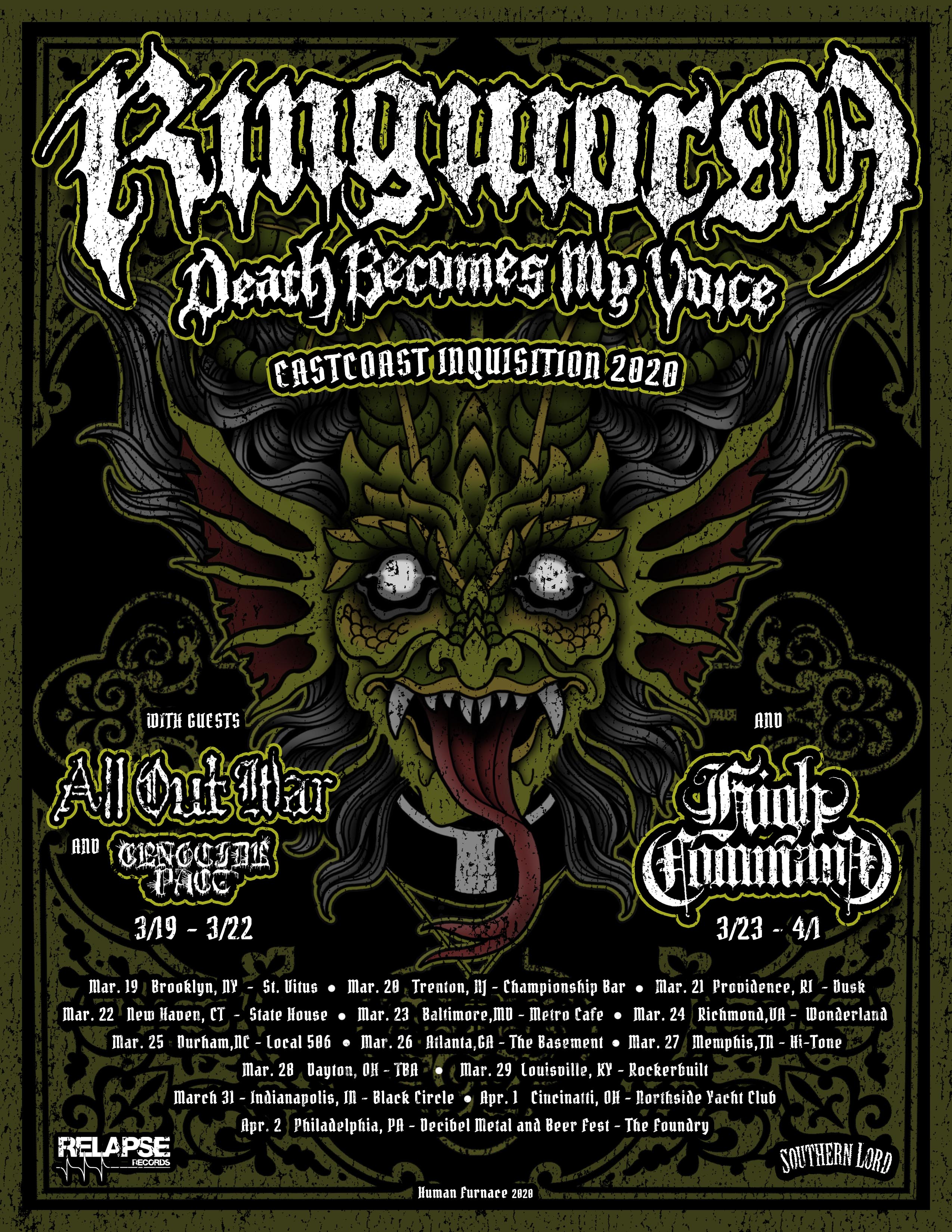 https://highcommand.bandcamp.com
https://www.facebook.com/HighCommand
http://www.southernlord.com
http://southernlord.bandcamp.com
http://twitter.com/twatterlord
https://www.facebook.com/SLadmin
https://www.instagram.com/southernlordrecords