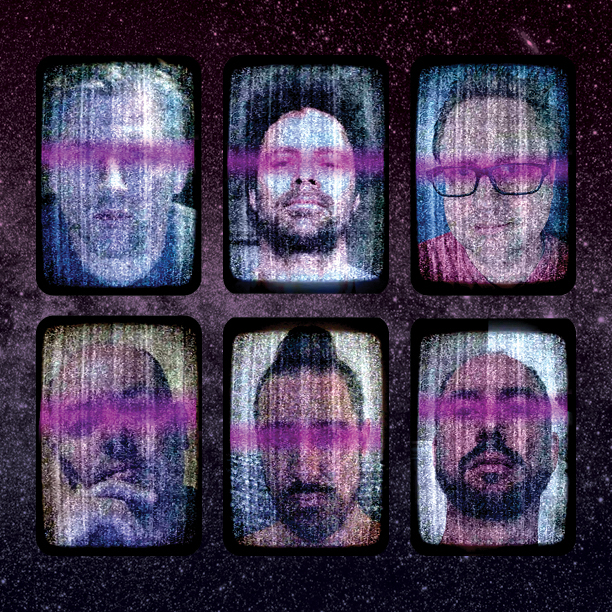 Art As Catharsis is proud to announce the June release of the debut from HIGH CASTLE TELEORKESTRA, a collective formed by members of Estradasphere, Mr. Bungle, and Farmers Market, and more. The Egg That Never Opened is a mind-melting LP fusing everything from Eastern European folk, swing jazz, technical metal, and much more. Alongside the record's details, the lead single, "Mutual Hazard," and preorders have been issued.
HIGH CASTLE TELEORKESTRA was born of the artistic frustrations of the pandemic and comprised of middle-aged collaborators scattered across The United States, Australia, Norway, and France. Focusing on superbly produced, enigmatic recordings, the diverse skillset of the various members traverses a wide landscape of musical learning from jazz, classical, rock, doo-wop, avant-garde, metal, various international folk music, and more. The group is spearheaded by a couple of working stiff dads who are both recovering former professional musicians: Tim Smolens (Estradasphere, I.S.S., Don Salsa, Secret) and Chris Bogen (Doc Booger). The rest of the ensemble is filled out by an impressive group of seasoned virtuosos, all distinguished characters in the puny of world of "avant-garde" music, with Bär McKinnon (Umlaut, Mr. Bungle), Dave Murray (Estradasphere, Traun), Stian Carstensen (Farmers Market, collaborations with Jacob Collier, Mike Patton, Jimmy Rosenberg), and Timba Harris (Estradasphere, Probosci).
Fans of non-traditional uses of metal – such as were in play in their previous bands, or in the Baltic-esque stylings of Igorrr – will find themselves right at home within the thundering aural cosmos borne by The Egg That Never Opened. The unorthodox sonic landscape traversed on this forty-eight-minute musical odyssey is not entirely unexpected from a roster with this collective musical résumé. Yet it is somehow fresh, vibrant, and, dare we say mature in its eclectic cadence. HIGH CASTLE TELEORKESTRA makes music that is experimental but catchy; intense yet fun without being sophomoric, and deftly avoids the pitfalls of uber-technical progressive music.
Gently playful in certain places, exhilarating in others, and even teetering on the brink of cacophony at times, HIGH CASTLE TELEORKESTRA's The Egg That Never Opened is truly a dynamic and engaging listening experience for lovers of avant-garde, experimental, and progressive music of all shapes and sizes.
Witness and listen as HIGH CASTLE TELEORKESTRA'S dignified chaos is unleashed upon the world in the lead single from The Egg That Never Opened, "Mutual Hazard," now streaming at Bandcamp HERE and an array of other providers HERE.
The Egg That Never Opened will see release through Art As Catharsis June 17th on LP, CD, and digital platforms. Find preorders at Bandcamp HERE.
Watch for an official video, additional audio previews, and more on the LP to post over the weeks ahead.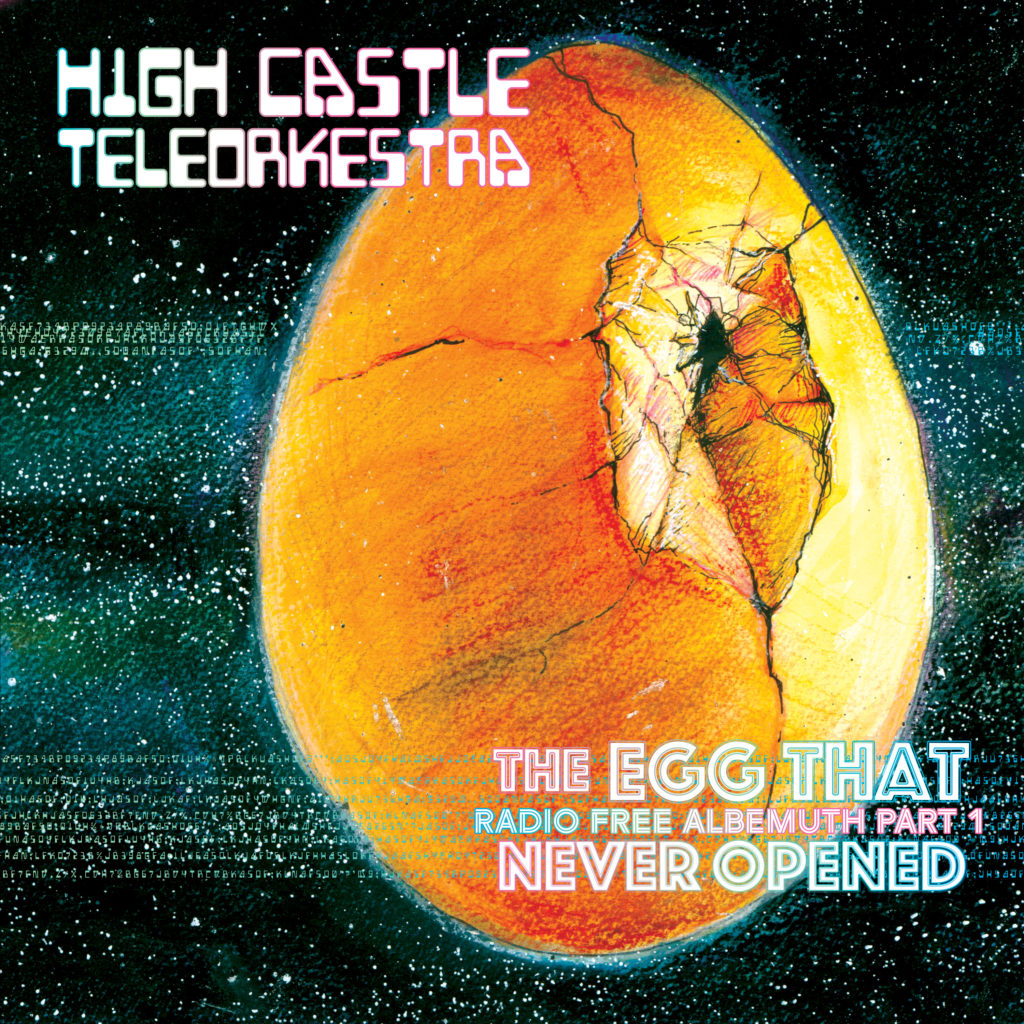 The Egg That Never Opened Track Listing:
1. The Egg That Never Opened
2. Ich Bin's
3. The Aramchek Accusation
4. Valisystem A
5. At Last He Will
6. The Days of Blue Jeans Were Gone
7. Diagnosing Johnny
8. Placentia
9. Klawpeels (Mission Checkup)
10. Mutual Hazard
On The Egg That Never Opened, listeners will be treated to densely layered orchestrations, starkly unrelated genre superimposition, tasteful and energetic virtuosity, a narrative based on the book Radio Free Albemuth by Philip K. Dick, Eastern European folk music set to polyrhythmic death metal, innovative use of odd meters, 1950s-style surf guitar ballads, the unmistakable nod to the Beach Boys' Smile-era, stunning string sections, a kooky and morphing assortment of oddball synths and lo-fi keyboards from asynchronous eras, final mixes mastered from ¼-inch tape, other-worldly productions of astounding density and intrigue a variety of composition and arrangement styles, and so much more. HIGH CASTLE TELEORKESTRA takes the listener on a blustering ride across the universe atop the pink beam of an ancient satellite.
"Tim, Timba, and Dave have a history of making innovative music that incorporated disparate genres," begins guitarist and co-producer Chris Bogen. "So, it is only natural that HIGH CASTLE TELEORKESTRA would explore similar territory and push those boundaries even further."
HIGH CASTLE TELEORKESTRA's premier single, "'Mutual Hazard," is an intense fusion of Romanian folk, polyrhythmic metal, and an other-worldly string arrangement. "This tune is in the 7/8 time signature, not uncommon in progressive and certain folk music, but played at a blazing 300 BPM, making it very difficult to count and feel," adds chief producer and bassist Tim Smolens. "Timba Harris put together a very unique, multi-timbral string section for this tune that adds an almost sci-fi element, something clearly not found in traditional Romanian folk music! Drummer Dave Murray played a pivotal role in the arrangement and added interesting polyrhythmic metal concepts that make the timing even harder to count. All of this is played atop a more traditional foundation of warp speed accordion, ornamented solo violin, galloping cimbalom, and slapped upright bass. Although Estradasphere has explored a similar amalgamation of styles, there is something magical and new about the way it has come together in this particular rendition."
HIGH CASTLE TELEORKESTRA:
Tim Smolens – bass, keyboards, cello, vox
Chris Bogen – guitars, analog synths, noise collages
Bär McKinnon – tenor sax, flute, keyboards, clarinet, vox
Dave Murray – drums, percussion
Stian Carstensen – accordions, pedal steel guitar
Timba Harris – violin, viola, strings
https://highcastleteleorkestra.com
https://www.instagram.com/highcastleteleorkestra
https://www.facebook.com/HighCastleTeleorkestra
https://highcastleteleorkestra.bandcamp.com
https://www.artascatharsis.com
https://www.facebook.com/artascatharsis
https://www.instagram.com/artascatharsis
https://music.artascatharsis.com