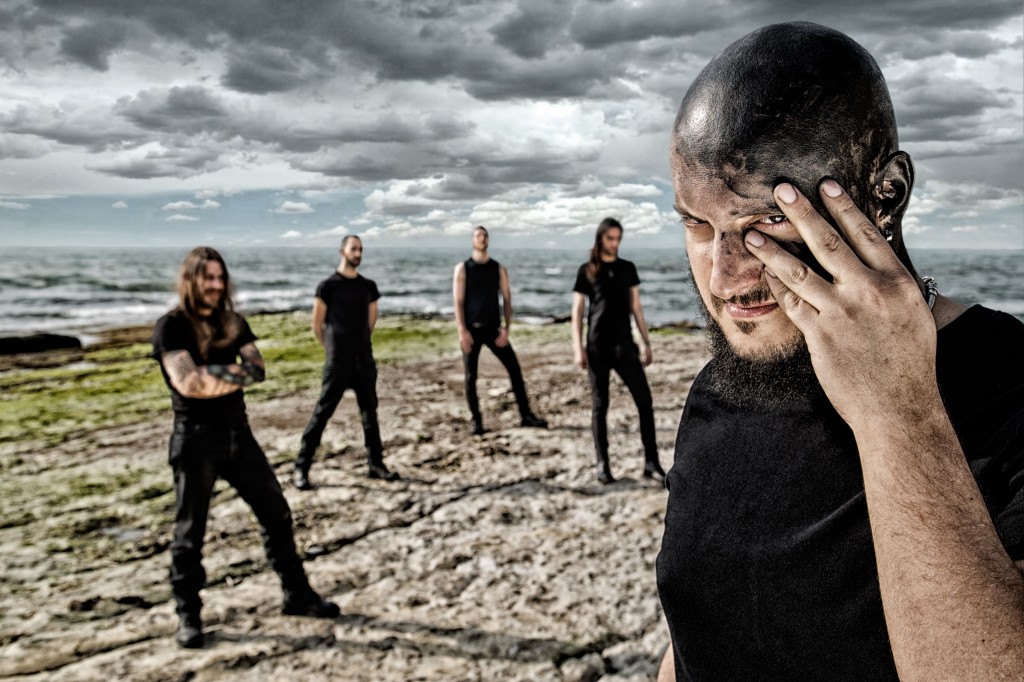 Italian death metal legion, HIDEOUS DIVINITY, is pleased to unveil the official new visual accompaniment to the track "Cobra Verde." The unsettling tune comes by way of the band's full-length of the same name, released in 2014 via Unique Leader Records. Cobre Verde is a concept record based around Werner Herzog's 1987 film of the same name which itself was centered around 1980 novel, The Viceroy of Ouidah, by British author, Bruce Chatwin.
Elaborates HIDEOUS DIVINITY of the clip, "The surrealistic, soaring visions populating Herzog's Cobra Verde haunted our songwriting like a nightmare, and inspired the concept of our second album. When it was time to think about a video clip, we found ourselves in front of a fascinating challenge: How to visually render the atmosphere of an entire epic movie in the space of a song. After watching the work of the young and talented Guilherme Henriques Silva, we knew he was the right person for the job. Filmed between Roma in the evocative location of Tor Caldara, where the mighty Ben Hur was shot and Porto, the video captures the magic and the occult of our African curse made flesh. The title track, with its dramatic mid tempos and pauses, made the rest. Join us, one more time, in the land where there the dead are more alive than the living. Fear no end, fear no spirit!"
Take in "Cobra Verde," courtesy of Decibel Magazine, at THIS LOCATION.
HIDEOUS DIVINITY is currently leveling stages across Europe with Cannibal Corpse and Krisiun. Remaining dates are below.
HIDEOUS DIVINITY w/ Cannibal Corpse, Krisiun:
5/03/2016 Le Moloco – Audincourt, FR
5/04/2016 Hellraiser – Leipzig, DE
5/05/2016 Mau – Rostock, DE
5/06/2016 Airport Obertaubling – Regensburg, DE
5/07/2016 Alte Schlachthof – Lingen, DE
5/08/2016 Schlachthof – Wiesbaden, DE
5/10/2016 Kiff – Aarau, CH
5/11/2016 O13 – Tilburg, NL
5/12/2016 Musikzentrum – Hannover, DE
5/13/2016 Substage – Karlsruhe, DE
5/14/2016 Rock Hard Festival – Gelsenkirchen, DE
Appropriately dubbed, "an uber-brutal, churning platter of tech-y death metal" by Decibel Magazine, Cobra Verde was tracked at 2016th Cellar Studios (Eyeconoclast, Hour Of Penance, Fleshgod Apocalypse, Vomit The Soul) and boasts nine fiery tracks of discontent, revulsion and unrelenting audio deviance. Additionally, the record includes a guest vocal appearances by Nile's Dallas Toler-Wade on "The Alonest Of The Alone" as well as a ravenous rendition of Ripping Corpse's "The Last And Only Son," which Covering The Scene commends for its "Opeth-meets-Maiden absinthe tainted riff," "Death-inspired bass groove," and, "ultra-technical Schuldinerish guitar progression."
Cobra Verde is out now on Unique Leader. Order your copy at THIS LOCATION.
http://www.facebook.com/hideousdivinity
http://www.uniqueleader.com
http://www.facebook.com/UniqueLeaderRecords