Cvlt Nation is currently streaming Sombre Dessein, the impending new full-length from Swiss progressive sludge metal unit HEROD, on the eve of its release.
Recorded and mixed by Swiss audiophile Julien Fehlman and mastered by Magnus Lindberg from Cult Of Luna, Sombre Dessein is an album of staggering riffs, intricate yet groovy polyrhythmic patterns, and pure heaviness. The bilingual vocal approach adds an unusual but intriguing aspect to the band's delivery of their craft.
Stream HEROD's Sombre Dessein at THIS LOCATION.
View the band's previously released videos for "Fork Tongue" (featuring guest guitar work from Carcass' Bill Steer) and "Reckoning" HERE.
Sombre Dessein will be released on CD, LP, and digital formats February 15th, 2019 via Pelagic Records. See all preordering links below:
North America: http://bit.ly/herodNA
Europe: http://bit.ly/herodEU
Australia: http://bit.ly/herodAUS
Digital: http://bit.ly/herodDGTL
HEROD will join The Ocean and Downfall Of Gaia for a full European tour this spring. See confirmed dates below.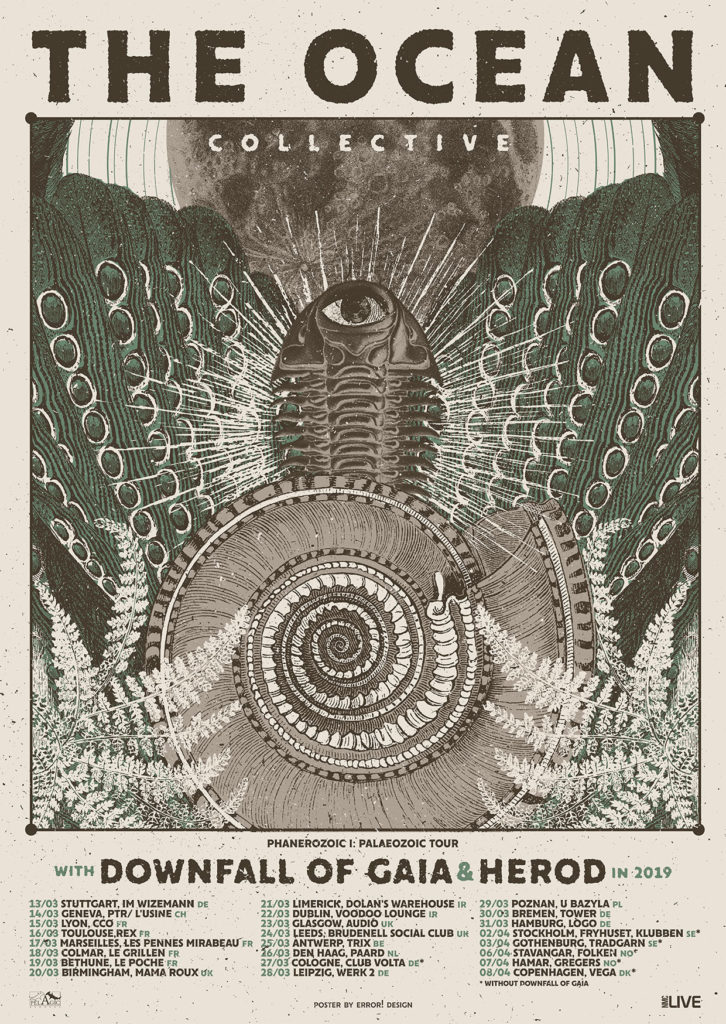 HEROD w/ The Ocean, Downfall Of Gaia:
3/13/2019 Im Wizemann – Stuttgart, DE
3/14/2019 PTR/ L'Usine – Geneva, CH
3/15/2019 CCO – Lyon, FR
3/16/2019 Rex – Toulouse, FR
3/17/2019 Les Pennes Mirabeau – Marseilles, FR
3/18/2019 Le Grillen – Colmar, FR
3/19/2019 Le Poche – Bethune, FR
3/20/2019 Mama Roux – Birmingham, UK
3/21/2019 Dolan's Warehouse – Limerick, IR
3/22/2019 Voodoo Lounge – Dublin, IR
3/23/2019 Audio – Glasgow, UK
3/24/2019 Brudenell Social Club – Leeds UK
3/25/2019 Trix – Antwerp, DE
3/26/2019 Paard – Den Haag, NL
3/27/2019 Club Volta – Cologne, DE
3/28/2019 Werk 2 – Leipzig, DE
3/29/2019 U Bazyla – Poznan, PL
3/30/2019 Tower – Bremen, DE
3/31/2019 Logo – Hamburg, DE
4/02/2019 Fryhuset, Klubben – Stockholm, SE
4/03/2019 Tradgarn – Gothenburg, SE
4/06/2019 Folken – Stavangar, NO
4/07/2019 Gregers – Hamar, NO
4/08/2019 Vega – Copenhagen, DK
Initially the brain child of guitarist Pierre Carroz, 2014 saw HEROD's debut release They Were None via Mighty Music and a subsequent European tour. Following the departure of their original vocalist, former The Ocean (Precambrian) vocalist Mike Pilat was recruited for follow up album Sombre Dessein. Pilat also plays guitar and HEROD is now furnished with a supplementary layer of musicality to complement both the heaviness and soundscape aspects of their palette. Throughout their young four years of presence, HEROD has already shared the stage with such acts as Gojira, Crowbar, The Ocean, Carcass, Obituary, Napalm Death, and Voivod, attesting their repute as the busboys of King Herod, serving up whole sides of rare riffs, disposition, beauty, and authority. Fans of Scarlet, Breach, Yob, Meshuggah, Gojira, and Textures pay heed.
"'Fork Tongue' comes out of the gate swinging with mammoth Meshuggahian riffs before settling into an absolutely crushing groove reminiscent of the long-forgotten group Admiral Angry. The intensity of this passage is thrilling…" – Invisible Oranges on "Fork Tongue"
"The album carries the crushing weight of a thousand suns." — Metal Trenches
"…an organic and intriguing piece of music filtered through the precision and sophistication of math metal." — Everything Is Noise
"…an album of staggering riffs and intricate polyrhythms that never sacrifice groove for overt technicality. The restraint on display by these more than adept musicians is something many prospective players should strive for…. an addictive, labyrinthine monster that will take months for the listener to fully dissect. It is an absolute wonder." — Ghost Cult
"'Progressive sludge' almost feels like a contradiction in terms, but it is hard to find a better description for Sombre Dessein. It attacks the listener with an immediate savagery – but then these attacks are arranged intelligently into songs that reward repeat listens, and maintain their potency beyond the point the initial shock of impact has worn off… a strong step up from a renewed and reinvigorated band, and one that is worthy of any riff-worshipper investing forty minutes in." — HeavyBlogIsHeavy
http://www.facebook.com/HerodNoise
http://www.pelagic-records.com
http://www.facebook.com/pelagicrecords
https://www.instagram.com/pelagic_records
https://www.twitter.com/pelagic_records