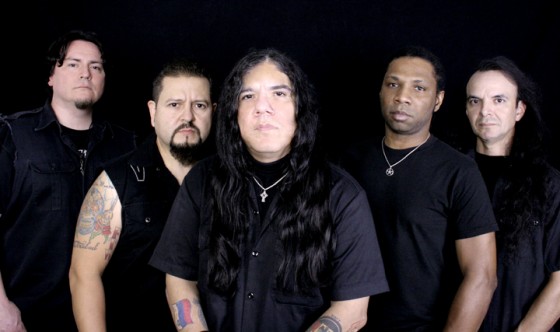 Riding high on the incredible response to their recently-released seventh full-length Glory Of Chaos, Houston's HELSTAR are busy booking live appearances for the coming months. In addition to their appearance this weekend at the San Antonio Metalfest, several brand new Summer appearances have also been confirmed, both in their home state of Texas as well as two appearances in Northern New Jersey, with more to be announced for New York City and more shortly.
HELSTAR Confirmed Live Appearances:
3/05/2011 The Dorm – San Antonio, TX
6/17/2011 The Rail – Fort Worth, TX
6/18/2011 Dirty Dog – Austin, TX
6/24/2011 Dingbatz – Clifton, NJ
6/25/2011 *TBA – New York, NY
Released in North America via AFM Records in early February, HELSTAR's Glory Of Chaos is a ballsy, blazing full-length display of pure American heavy metal, taking their classic sound to aggressive new measures on the new album.
Interviews with the members of HELSTAR are available via phone and email to North American writers via Earsplit now and throughout the coming months as the band continue to asskick their way through America over the coming months in support of Glory Of Chaos!
"…the riffs full-on smoke, straddling the line between thrash and power metal, not to mention the lead guitar work which really cooks. In fact the whole band is in top form here. 4/5" – The Metal Crypt
"When you have James Rivera who still is one of the best vocalists in metal and he doesn't hold back on this recording, along with an extremely effective line-up of musicians how can you go wrong? 4.5/5" – Sea Of Tranquility
"This is likely their heaviest album… the band have never sounded so vicious. 4/5" – Metal Rules
"Considering the album's velocity and brutality, the group doesn't turn its back on melody. 8/10" – Blistering
"Glory of Chaos sees the band moving into the new era of thrash and death metal with the band adopting some new techniques. 4/5" – The Right To Rock
"It's especially gratifying when a classic band comes up with music that is both modern in design and flavor, yet remains obligingly antiquated in all the right spots. 4/5" – Metal Psalter
http://www.helstarmetal.com
http://www.myspace.com/helstar
http://www.afm-records.de
http://www.myspace.com/afmrecordsgermany