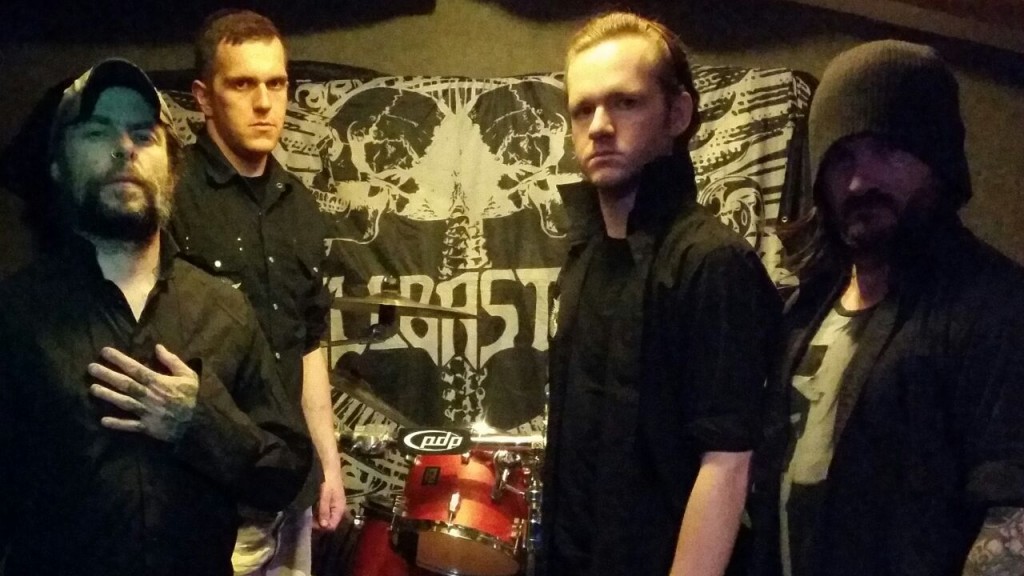 Legendary UK crust metal crossover squad, HELLBASTARD, will be punishing US ears next month on a short run of live invasions. Slated to commence in Austin, Texas at The Lost Well on February 18th, the band will pillage their way through nine municipalities, closing the tour with an appearance at Bad Ass Weekend at Eastdown Warehouse in Houston, Texas on February 26th. Additional support will be provided by Warwound and Nerve Damage.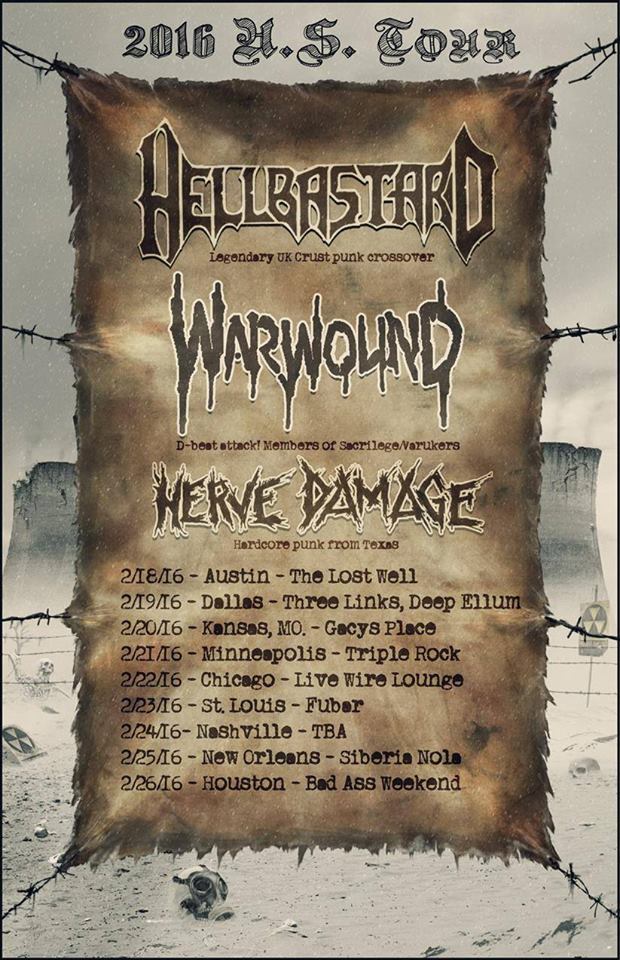 HELLBASTARD w/ Warwound, Nerve Damage:
2/18/2016 The Lost Well – Austin, TX w/ Deadly Reign
2/19/2016 Three Links – Dallas, TX
2/20/2016 Gacy's Place – Kansas City, MO
2/21/2016 The Triple Rock – Minneapolis, MN w/ War//Plague
2/22/2016 Live Wire Lounge – Chicago, IL
2/23/2016 Fubar – St. Louis, MO
2/24/2016 TBA – Nashville, TN
2/25/2016 Siberia – New Orleans, LA w/ Gasmiasma
2/26/2016 Bad Ass Weekend @ Eastdown Warehouse – Houston, TX w/ Aspects Of War, Napalm Raid, Deadly Reign, Saint Krusher [info]
HELLBASTARD will be touring is support of Feral released last Summer via Patac Records. Captured at the prestigious Hellfire Recording Studios (Slayer, Motörhead, Orange Goblin, Napalm Death etc.) in Derbyshire with Ajeet Gill (Warlock UK, Slab, I Am Colossus, etc), Feral includes guest appearances from Andy "A. Droid" Wiggins (ex Amebix), Rob "The Baron" Miller (ex-Amebix) and Andy Sneap (ex-Sabbat/Hell) and is unlike any other modern crossover album. An adrenaline shot of pure punk energy, filtered through some of thrash metal's intricacies sans any of its overblown ego, this is primal, back-to-nature shit; no half measures. As the album title suggests, this is a force of nature that refuses to be tamed, and will sweep everything before it asunder, rending it apart with its violent rhythmic contortions. A social hand grenade jammed in your teeth, literally blowing your skull apart with endless possibilities.
Forged in 1985 in the North East of England in the midst of Thatcherism, HELLBASTARD set out to play what they wanted to listen to themselves…. too "metal" for the punks and too "punk" for the metallers the band went on hiatus in 1992 before officially reuniting in 2008 and continue to bring a relevant lyric and sound to counteract against, mediocre sub-standard radio friendly, safety-rock.
Feral is out now worldwide on CD and digitally via PATAC Records.
"…unforgiving and inspiringly honest," – Angry Metal Guy
"Feral is the best album to come out of the UK in years… this is majestic. HELLBASTARD have created something that deserves the utmost respect, and I'll be absolutely shocked if anything else this year comes close to this." – Brutalism
"Fans of HELLBASTARD and their crossover stuff will wanna dig into this album. They seep their sound in a darker tone than previous albums while additionally sticking to their guns. Feral is plenty crust punk and plenty thrash… and will please old fans and new alike as a raw, calculated attack." – Metal Injection
"As ever, the legendary punk-thrashers, led by founder-member guitarist/vocalist Scruff, have poured into this album a massive amount of passion, sadness, anger and sincerity: the work sways from incandescent, bone-crushing, proper… thrash to heart-breaking, bleak ambience magnificence…" — 3rdEye.com
"This is a solid album. If you want some punk-infused thrash with melody and atmosphere around the edges, then this is the album for you – an album that you can pretty much leave playing if you are in a metal mood and it won't get old." – No Clean Singing
http://www.hellbastard.co.uk
http://www.twitter.com/tomhellbastard
http://www.facebook.com/hellbastardofficial?fref=ts
http://www.patacrecords.com/
https://www.facebook.com/patacrecords?fref=ts