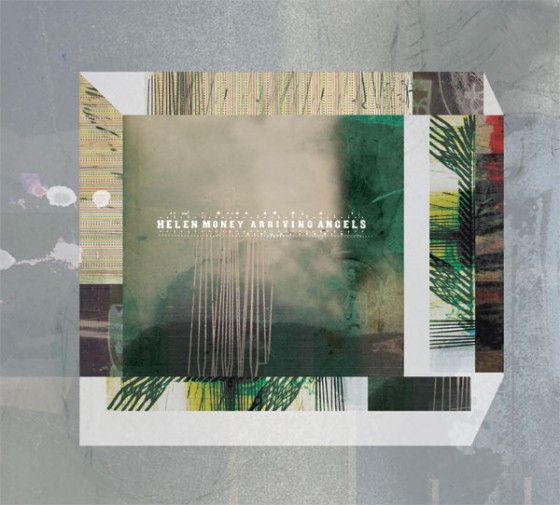 Newly launched vinyl imprint, Corpse Flower Records, recently unveiled the stunning limited edition vinyl pressing of HELEN MONEY's critically-adored third full-length, Arriving Angels.
Initially released on Profound Lore Records last year, Arriving Angels was recorded by iconoclastic sound sage Steve Albini at Electrical Audio Studio, mastered by Collin Jordan at Boiler Room and embraces any number of sounds and references – organic, ambient doom à  la SunnO))), prismatic noise/post-rock evoking Sonic Youth and Rachel's, new-music minimalism spanning Górecki to Branca, sinister orchestral trills that would make Bernard Herrman pause – all the while becoming none of them, creating a new whole out of HELEN MONEY (that is, Alison Chesley)'s distinct point of view.
While HELEN MONEY has traditionally consisted of Chesley performing primarily solo, on Arriving Angels she's joined on various tracks by Neurosis drummer/percussionist Jason Roeder who provides the album's revelation, taking HELEN MONEY's sound, already ominous and penetrating, into unheard dimensions of power. Corpse Flower Records' edition of the otherworldly Arriving Angels is remastered for vinyl only furthering the record's overwhelming beauty.
In honor of its release, Cvlt Nation is currently streaming "Radio Recorders," featuring Roeder behind the drum kit. Said Cvlt Nation of the release overall, "Arriving Angels is a curious record and houses some truly dissonant moments within the occasional melodies that can be found. It's quite a minimal album at times and sounds and echoes filter through passages of extreme quiet or intense loudness with nary a warning as to what may, or may not happen next."
Check it out "Radio Recorders," in all its sprawling glory at THIS LOCATION.
Alison Chesley is a cellist who has become known for her adventurous sound, bold compositions, and compelling stage performance. Called, "A classical-cellist-turned-avant-metal virtuoso," by the Boston Phoenix, Chesley channels her sensibilities and experience as a rock musician through a classical instrument, altering both genres without apology. She has played on over 150 albums with artists such as Disturbed, Bob Mould, Mono, Anthrax, Broken Social Scene, Russian Circles, and Archer Prewitt among others.
Corpse Flower Records is a brand new label from the Detroit, Michigan area. Specializing in releasing limited edition vinyl editions of albums that are either out-of-print or have never been released in vinyl form.
Arriving Angels features gorgeous artwork and design by Stephan Byram and will be available in a limited pressing of 300 copies on orange wax. Order your copy today at THIS LOCATION.
"Alison Chesley [aka Helen Money] brings her classical training on cello into realms occupied by heavy metal extremists and guitar deities. Nobody rocks a cello like Alison Chesley." – Chicago Tribune
"[Helen Money's] raw, minimalist stylings make her the lo-fi Xasthur to Apocalyptica's Dimmu Borgir bombast." – Decibel Magazine
"[Helen Money] conjures up truly majestic music from her bow. Lovers of modern minimalists, of folk music, and of doom metal should all find something to thrill here." – Los Angeles City Beat
"Helen Money not so much plays the cello as she makes it her bitch, forcing out noises from her poor instrument in ways that would make classical aficionados cringe. Interestingly (and fortunately), she chooses to make ambient doom music with her skill set and with the enlistment of Neurosis drummer Jason Roeder, Arriving Angels dark atmosphere is palpable, painted literally by the brush of the artist." – Sputnik Music
"Helen Money's bare aesthetic is one which serves the composition incredibly well. That thing just below the surface on this record remains unnamed for me. Safe to say that the open-ended questions which Chesley's cello poses in those equal parts sinister and stunning notes go unanswered in the best of ways." – Steel For Brains
http://www.corpseflowerrecords.com
http://www.facebook.com/corpseflowerrecords