[photo by Amy BIllharz]
"The quartet's sound stimulates multiple pleasure centers: the sweetness of post-grunge psychedelia courtesy of keyboardist and singer Lisa Mungo as well as the muscular Botch-ish groove that few outside the Pacific Northwest can produce…" – Invisible Oranges
Atmospheric progressive sludge conjurors, HE WHOSE OX IS GORED, will release the confounding fruit of their anticipated The Camel, The Lion, The Child full-length this Friday via Bleeding Light Records. A monolithic, eight-track, near hour-long exercise in sonic alchemy, with The Camel, The Lion, The Child the Seattle collective travel far beyond the confines of traditional musical boundaries with a sound that's at once cinematic, ethereal and sprawling yet unequivocally heavy.
Raising the eyebrows of critics around the globe, Metal Riot champions a record that's, "disfiguring the expectations of metal, noise, punk and dance in the best ways." Meat Mead Metal concurs hailing the band for manifesting something, "that truly stands out in a sea of albums released this year. There is heaviness, serenity, wildness, and restraint, and it's an album that never feels the same way twice." In a perfect 5/5 rating, Heavy Blog Is Heavy champions a band that is, "their own beast entirely, always making their influences abundantly clear while manipulating them in a way that completely redefines them and brands them as their own," adding, "no track has yet become boring or stale, leading this album to continue to reach a higher and higher play count, and furthering the listener's enjoyment each time. On The Camel, The Lion, The Child, HE WHOSE OX IS GORED shows that they are truly a force to be reckoned with and are not a band to be ignored." Elsewhere the sentiment echoes. PopMatters commends the band's eclectic brand of, "epic post-metal that rolls ominously like dark clouds over big sky country…" Angry Metal Guy gushes, "HE WHOSE OX IS GORED have crafted an amazing debut full-length that should be heard by anyone who's interested in a fresh approach to doom metal, shoegaze, and progressive rock. Hunt this one down." Adds Nine Circles, "HE WHOSE OX IS GORED prove that post-metal, doomgaze with sludge influences can somehow be a brilliant and beautiful take on heavy music."
In advance of its official release, today Invisible Oranges unveils The Camel, The Lion, The Child in all its majesty noting, "The quartet's sound stimulates multiple pleasure centers: the sweetness of post-grunge psychedelia courtesy of keyboardist and singer Lisa Mungo as well as the muscular Botch-ish groove that few outside the Pacific Northwest can produce… HE WHOSE OX IS GORED have taken a collection of tools which even they once struggled to find creativity in, and created a record that sounds modern, but with the sonic sensibilities of the aughts and the songwriting acumen of the early '90s. They're throwing crosses. They're spinning the bottle."
Believe the hype. Sample The Camel, The Lion, The Child now playing at Invisible Oranges at THIS LOCATON.
In conjunction with the release and following their recent run of dates with Mutoid Man, HE WHOSE OX IS GORED will bring their audio rituals to the stage for another round of live dates. Set to commence on October 20th in Missoula, Montana, the band's latest expedition will traverse nearly two dozen cities, coming to a close on November 8th in Olympia, Washington.
HE WHOSE OX IS GORED:
10/20/2015 Zootown Arts – Missoula, MT
10/21/2015 Aesthetic Agony Tattoo – Billings, MT
10/22/2015 New Direction – Fargo, ND
10/23/2015 The Riverboat – Minneapolis, MN
10/24/2015 Reggie's Live – Chicago, IL
10/25/2015 Magnolia Bar – Louisville, KY
10/26/2015 TBA – Atlanta, GA
10/27/2015 Sisters in Christ – New Orleans, LA
10/28/2015 Mohawk – Austin, TX
10/29/2015 The Alley Kat – Houston TX
10/30/2015 Rubber Gloves – Denton, TX
11/01/2015 Yucca Tap Room – Phoenix, AZ
11/02/2015 The Merrow – San Diego, CA
11/03/2015 The Complex – Los Angeles, CA
11/04/2015 Blue Lagoon – Santa Cruz, CA
11/05/2015 Thee Parkside – San Francisco, CA
11/06/2015 Cafe Colonial – Sacramento, CA
11/07/2015 The Know – Portland, OR
11/08/2015 Le Voyeur – Olympia, WA
HE WHOSE OX IS GORED has been rumbling the underground masses with their eclectic, oft trance-inducing fusion of doom, prog rock, post-hardcore and psychedelic shoegaze since their inception in 2009. The band released their debut EP, Op Amps, later that year on their own Void Assault label. In 2010, the obscure unit unleashed their Tad Doyle (TAD, Brothers Of The Sonic Cloth)-produced follow-up, Op Amps II: Into The Ethers. Through multiple tours and personnel shifts, HE WHOSE OX IS GORED continued to refine their sound and entered Seattle's Red Room Studios with Chris Common. The resulting Nightshade EP was three tracks of crushing doomgaze, built on texture and aggression. Following the release of their critically-adored, Bleeding Light Records-issued Rumors 7″ last year, the band will undrape their highly-anticipated full-length debut next week.
Captured at Red Room and Ex Ex Audio in Seattle by Robert Cheek (Serial Hawk, Noise-A-Tron etc.) with additional recording at Avast Studios with Randall Dunn (Sunn O))), Earth, Wolves In The Throne Room etc.), mixed by Matt Bayles (Isis, Mastodon etc.) and mastered by frequent collaborator, Blake Bickel, The Camel, The Lion, The Child is a truly cathartic audio expedition not to be ignored.
HE WHOSE OX IS GORED's The Camel, The Lion, The Child will be released digitally and on limited edition vinyl (500 double gatefold LP) via Bleeding Light Records on October 9th, 2015 with a CD edition to follow. Preorders are currently available at THIS LOCATION.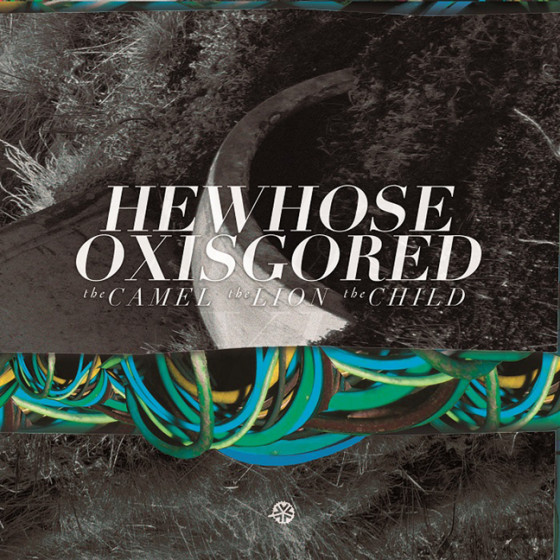 http://www.facebook.com/hewhoseoxisgoredseattle
http://www.facebook.com/bleedinglightrecords
http://www.bleedinglightrecords.bigcartel.com