Notorious Hamilton, Ontario-based aggressors, HAYMAKER, confirm the pending release of their first new material to hit the streets in nearly a decade, having recently harnessed a clenched handful of new tracks.
A riotous hardcore/punk splinter group formed by auditory predators who have spent/continue to invest time attacking society's ills in Left For Dead, Chokehold and The Swarm among others, HAYMAKER has a disreputably proud résumé for the majority of their sporadic live excursions beginning with antagonizing the crowd and their set ending early due to the engagement of volatile entanglements with other humans in attendance. Among a rash of other audio beatings the brawlers have dished out since their Y2K formation, perpetrated by Deranged Records, Deep Six and other key underground punk/hardcore mongers, the band recently recorded their newest works since their 2004-reelased Lost Tribe 7″, now pending release as Let Them Rot. The new 7″ release will bring four new tracks onto the dance floor via A389 Recordings February 1st, 2014.
Get your head kicked in with the title track to the pending EP now via Noisey RIGHT HERE.
The Let Them Rot 7″ will hit just two weeks after HAYMAKER's confirmed riot-inducing one-off appearance at the A389's tenth anniversary Bash in Baltimore, Maryland January 17th and 18th, where they'll perform alongside Bloodlet's exclusive one-off reunion, the one-time reformation of Integrity's Systems Overload lineup, exclusive performances from In Cold Blood, All Out War and Infest, as well as Noisem, Full Of Hell, Empire of Rats and a battalion of other fine acts. Tickets and info are available HERE.
More info on all things HAYMAKER will be declared in the coming weeks. Meanwhile, in related transmissions, A389 has posted the details on the label's Left For Dead 7″ subscription series available only through direct mailorder. See more HERE.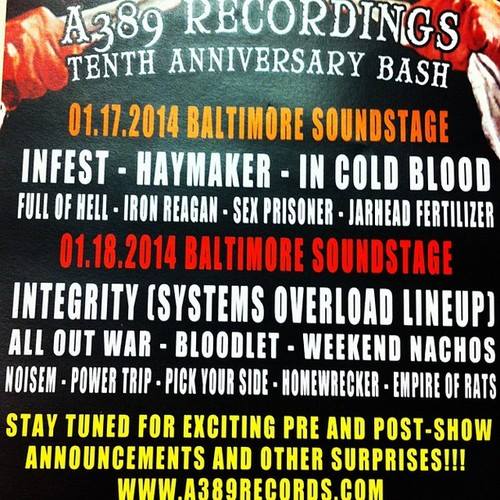 https://www.facebook.com/pages/Haymaker/174418079249836
http://www.a389records.com
https://www.facebook.com/a389recordings
https://twitter.com/a389recordings