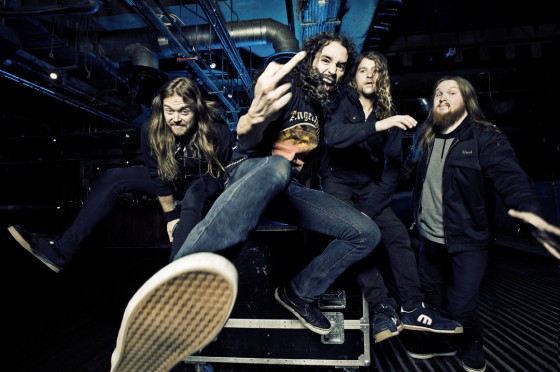 Today the metal technicians at Loudwire hurl forth an exclusive premiere of "Worse Than War," the latest video from Denver thrash assassins HAVOK. Directed by Roy Warner who worked on both "From the Cradle to the Grave" and "Point of No Return" clips, the tune comes by way of the recently unleashed Unnatural Selection full-length and addresses the eight stages of genocide: classification, symbolization, dehumanization, organization, polarization, preparation, extermination and denial.
Check out "Worse Than War," THIS LOCATION.
Released earlier this year via Candlelight Records, Unnatural Selection was produced by Terry Date (Pantera, Overkill, Deftones), mastered by James Murphy (Testament, Death) and continues to reap critical hails from fans and critics domestically and abroad. Metal Injection crowns Unnatural Selection "a contender for one of the best albums of this year because there are simply no flaws in the design," while MetalSucks notes, "HAVOK proudly carry the torch of everything awesome about the genre: irrepressible energy, flesh-singeing velocity, and razor-sharp anthems custom made for the purpose of shotgunning beers." In an impressive 4/5 rating, About.com gushes, "Filled to the brim with headbang-inducing riffs, politically-charged lyrics and guitarist/vocalist David Sanchez's snarl leading the way, Unnatural Selection would fit right in with Megadeth's back catalog…. Wrap it all up with Terry Date behind the controls, and HAVOK just might be in contention for thrash album of the year." Sputnik Musica agrees, "With Unnatural Selection, HAVOK has distinguished themselves as the frontrunners of the New Wave of Thrash Metal movement."
HAVOK is currently wrapping up a massive North American live takeover that kicked off on July 20th in Juarez, Mexico and included a stop at this year's Heavy Mtl Festival in Montreal. Additional Fall dates will be announced in the coming weeks. Stay tuned for details.
HAVOK North American Headlining Tour 2013 [remaining dates]:
9/09/2013 Rocky Point Cantina – Tempe, AZ
9/10/2013 Orpheum Theater – Flagstaff, AZ
9/13/2013 Burt's Tiki Lounge – Salt Lake City, UT
To order your copy of Unnatural Selection, point your browser HERE.
HAVOK is guitarist/vocalist David Sanchez, bassist Mike Leon, guitarist Reece Scruggs, and drummer Pete Webber. The band uses/endorses ESP Guitars, Charvel Guitars, EMG Pickups, Ernie Ball, Peavy Amplification, EVH, Pearl Drums, Trick Drums, and Sabian Cymbals.
http://www.facebook.com/HavokOfficial
http://www.havokband.com
http://www.candlelightrecordsusa.com
http://www.facebook.com/candlelightusa
http://www.candlelightrecordsusa.bandcamp.com