Candlelight Records confirms June 25 as the North American release date for Unnatural Selection, the new studio recording from Denver thrashers HAVOK. The ten-song album was produced by David Sanchez with mixing handled by Terry Date (Pantera, Overkill, Deftones). Unnatural Selection features original artwork from Polish illustrator Rafal Wechterowicz (Slayer, Mastodon) and was mastered by James Murphy (Aborted, World Under Blood, Abigail Williams).
"Give Me Liberty… Or Give Me Death," the first single from Unnatural Selection, will hit Loud Rock/Metal radio on May 27. The topical song is a furious and urgent anthem that displays the band's classic thrash and old school metal sound. Vocalist/guitarist David Sanchez ignites the fret board and barks the righteous lyrics while drummer Pete Webber punishes his immense kit. The song's towering sound benefits from the unique acoustics of the old theater that was utilized as one of the many recording locations for the album. "I am super pumped on how the drums came out," chimes Webber. "We recorded the drums in a theater to get a huge sound. It was a challenging experience for me between time constraints and the drum parts having much more feeling in them. I believe the added pressure made for some really awesome stuff. I can't wait to unleash this album to the world."
Unnatural Selection bears a far more mature collection of songs when compared to Burn (2009), and Time Is Up (2011). HAVOK has truly hit their mark with a sound that will please fans new and old. Additional album standouts include album opener "I Am The State," "Chasing The Edge," and the band's rendition of the Black Sabbath classic "Children of the Grave."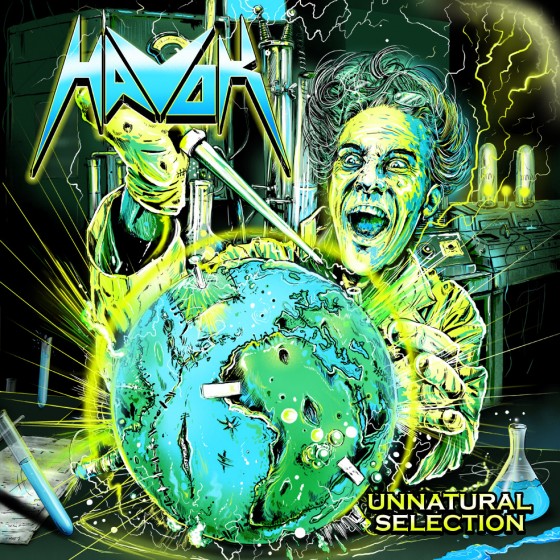 Unnatural Selection Track Listing:
1. I Am The State
2. Give Me Liberty… Or Give Me Death
3. It Is True
4. Under the Gun
5. Waste of Life
6. Untitled
7. Chasing the Edge
8. Worse Than War
9. Children of the Grave
10. Unnatural Selection
HAVOK will premiere material from Unnatural Selection tomorrow when they take the stage for the start of their European tour with Suffocation and Cephalic Carnage. The 28-city tour begins in Genève, Switzerland and will conclude in Munchen, Germany on June 8. Before departing for Europe, the band performed at a Denver Benefit. Sanchez comments, "We were honored to be part of HaneyStock. The show was a benefit for Chris Haney who was a bartender at the Gothic Theatre in our hometown who was senselessly murdered trying to break up a fight. All proceeds from the show are going to his young daughter. It was a great event that celebrated the life of an outstanding individual."
HAVOK has planned three special record release performances. Tickets go on sale tomorrow at venue box offices and companion ticket agencies. A copy of Unnatural Selection will be included with ticket purchase to these area performances. HAVOK is planning a full North American tour for early summer. Details will be announced shortly. For a full list of dates on their European tour visit the band's official Facebook page HERE.
HAVOK:
6/21/2013 Marquis Theatre – Denver, CO
6/22/2013 Black Sheep – Colorado Springs, CO
6/23/2013 Aggie Theater – Ft. Collins, CO
HAVOK, called "the finest thrash band in existence" by PopDose, released their full-length debut, Burn, mid-2009. The record found an immediate fan base and the curiosity of media around the globe. Time Is Up would follow in 2011. "HAVOK have hit their stride," said Decibel Magazine in review of the album. "HAVOK is everything that is great about thrash," added Terrorizer. In 2012, the band released their EP Point of No Return; videos for the EPs two original songs were released earlier this year. To view "Point of No Return" click HERE. To view "From the Cradle to the Grave" click HERE. The videos have had over 200,000 views to date. Metal Underground says, "HAVOK kicks your ass from the moment you hit play, and doesn't ever let up."
HAVOK is guitarist/vocalist Dave Sanchez, bassist Mike Leon, guitarist Reece Scruggs, and drummer Pete Webber. The band uses/endorses ESP Guitars, Charvel Guitars, EMG Pickups, Ernie Ball, Peavy Amplification, Pearl Drums, Trick Drums, and Sabian Cymbals.
http://www.facebook.com/HavokOfficial
http://candlelightrecordsusa.com