Having won over audiences across Europe via major metal/hardcore tours and massive festival appearances since their 1993 inception, German metalcore heavyweights HATE SQUAD will drop their newest full-length, Katharsis, onto North American audiences via Massacre Records this January 17th.
The Hannover-based quartet will kick off the new year with their sixth LP to date, surging with nearly an hour of the band's pummeling blend of death metal and hardcore. Recorded and mixed by Ralf Müller at Rape of Harmonies Studios, produced by Müller and HATE SQUAD, and mastered by Olman Viper at Hertzwerk (Hamburg), the album clearly makes the listener aware that they are a force to be reckoned with in the new year, and once again prove why HATE SQUAD remain one of Germany's leading metalcore exports.
Check out the title track to the album and more at this location.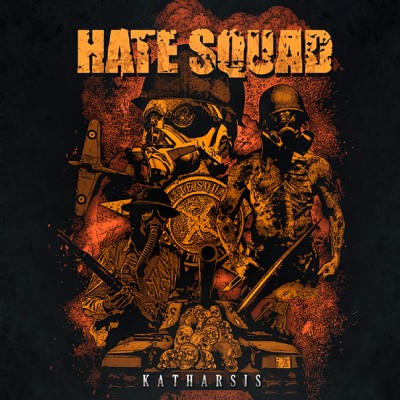 Katharsis Track Listing:
1. Deep Scars
2. Katharsis
3. Your Rotten Life
4. The One
5. Hatebomb
6. A.P.A.B.
7. Misanthropic Soul
8. Vicious Assault
9. Old Times…Good Times!
10. Kill
11. R3volut1on15t
12. Face Your Demon
13. Live And Learn
HATE SQUAD lineup:
Burkhard Schmitt – vocals
Mark Künnemann – guitars
Bauke De Groot – bass
Helge Dolgener – drums
http://www.hatesquad.com
http://www.myspace.com/hatesquad
http://www.last.fm/music/Hate+Squad
http://www.massacre-records.com
http://www.facebook.com/massacrerecordseurope
http://www.myspace.com/massacrerecordseurope