Polish death metal mystics HATE will support labelmates Batushka on their impending North American Pilgrimage tour. Set to commence on November 29th in Toronto, the trek will coil its way through eighteen cities, coming to a close on December 21st in Los Angeles. See all confirmed dates below. View the tour trailer HERE.
Comments founding vocalist Adam Buszko (AKA ATF Sinner), "We here at the HATE camp are very excited and proud to announce our next onslaught on North American shores. We will be joining the North American Pilgrimage tour with Batushka bringing a longer set and a full production with us. Finally, we'll be able to bring The Auric Gates Of Veles to the American and Canadian public as it should be: with zero compromises and in full force."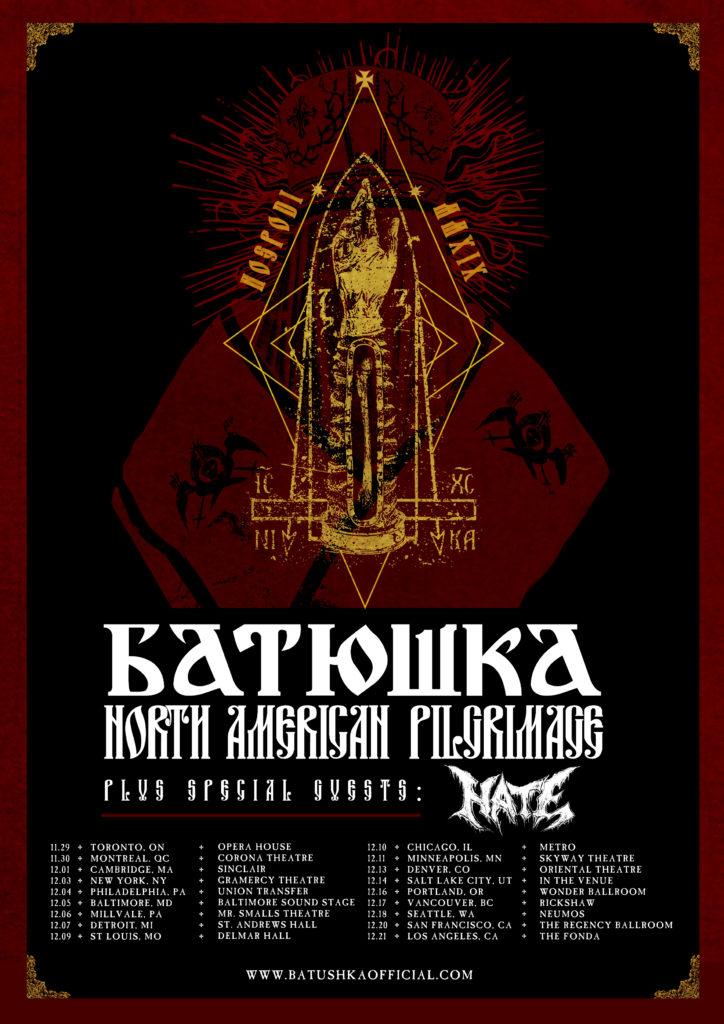 HATE w/ Batushka:
11/29/2019 Opera House – Toronto, ON
11/30/2019 Corona Theater – Montreal, QC
12/01/2019 Sinclair – Boston, MA
12/03/2019 Gramercy Theater – New York, NY
12/04/2019 Union Theater – Philadelphia, PA
12/05/2019 Baltimore Sound Stage – Baltimore, MD
12/06/2019 Mr. Smalls Theatre – Millvale, PA
12/07/2019 St. Andrews Hall – Detroit, MI
12/09/2019 Delmar Hall – St. Louis, MO
12/10/2019 Metro – Chicago, IL
12/11/2019 Fine Line – Minneapolis, MN
12/13/2019 Oriental Theater – Denver, CO
12/14/2019 In The Venue – Salt Lake City, UT
12/16/2019 Wonder Ballroom – Portland, OR
12/17/2019 Imperial – Vancouver, BC
12/18/2019 Neumos – Seattle, WA
12/20/2019 The Regency Ballroom – San Francisco, CA
12/21/2019 The Fonda – Los Angeles, CA
HATE will be touring in support of their eleventh full-length, Auric Gates Of Veles, released in June via Metal Blade Records.
Since 1991, HATE has lived up to their name, churning out some of the angriest and most ruthless death metal unleashed upon the world. With 2017's Tremendum, they took a step toward a darker, more atmospheric, black metal-oriented style and began exploring Slavonic mysticism. Auric Gates Of Veles boldly continues down that path. "We wanted to go deeper into the subject, both musically and lyrically," asserts ATF Sinner. "We also wanted to record a sharper and better-defined rhythm section; a more death metal-oriented one. When it comes to guitar sound, it was meant to be a wall of sonic destruction with dark ambient elements in the background."
To say that they achieved that which they set out to create is an understatement. Auric Gates Of Veles is a titanic record that is more organic and dynamic sounding than anything the band has released prior. From the ominous rumble that ushers in album opener "Seventh Manvantara" giving way to a squall of guitars and blastbeats, and the rampant thrashing and wide-open spaces of "The Volga's Veins," to the sinister and tragic sounds of "Salve Ignis," and the raw black metal of closing hymn "Generation Sulphur," Auric Gates Of Vele proves its diversity in spades.
To preview and purchase HATE's Auric Gates Of Veles, visit metalblade.com/hate.
"…unquestionably the strongest album in the band's already-extensive discography. If HATE continue their trajectory of cataclysmic growth, then the quality of their twelfth album will be utterly terrifying." — Distorted Sound
"HATE provides an entirely visceral flavor to their music, but remembers to pepper it with some atmosphere and melodies to give it a more memorable and flavorful vibe." — Dead Rhetoric
http://www.facebook.com/HATEOFFICIAL
http://www.instagram.com/hateofficial/
http://twitter.com/HATEBand
http://www.youtube.com/user/hatepoland
http://www.metalblade.com/hate