HARM'S WAY will take on a short western US run next week for a portion of Ghostemane's Hiadica Tour. The journey begins with a HARM'S WAY one-off show October 20th in Mesa, Arizona. The band will join Ghostemane October 22nd in Santa Ana, California performing on the first half of the tour through November 2nd in Lincoln, Nebraska. Additional support will be provided by 3Teeth, Parv0, and Horus The Astroneer.In December, the band will head to Buffalo for day one of Tid The Season 2019 with Everytime I Die, Against Me!, The Damned Things, Terror, and more. See all confirmed dates below.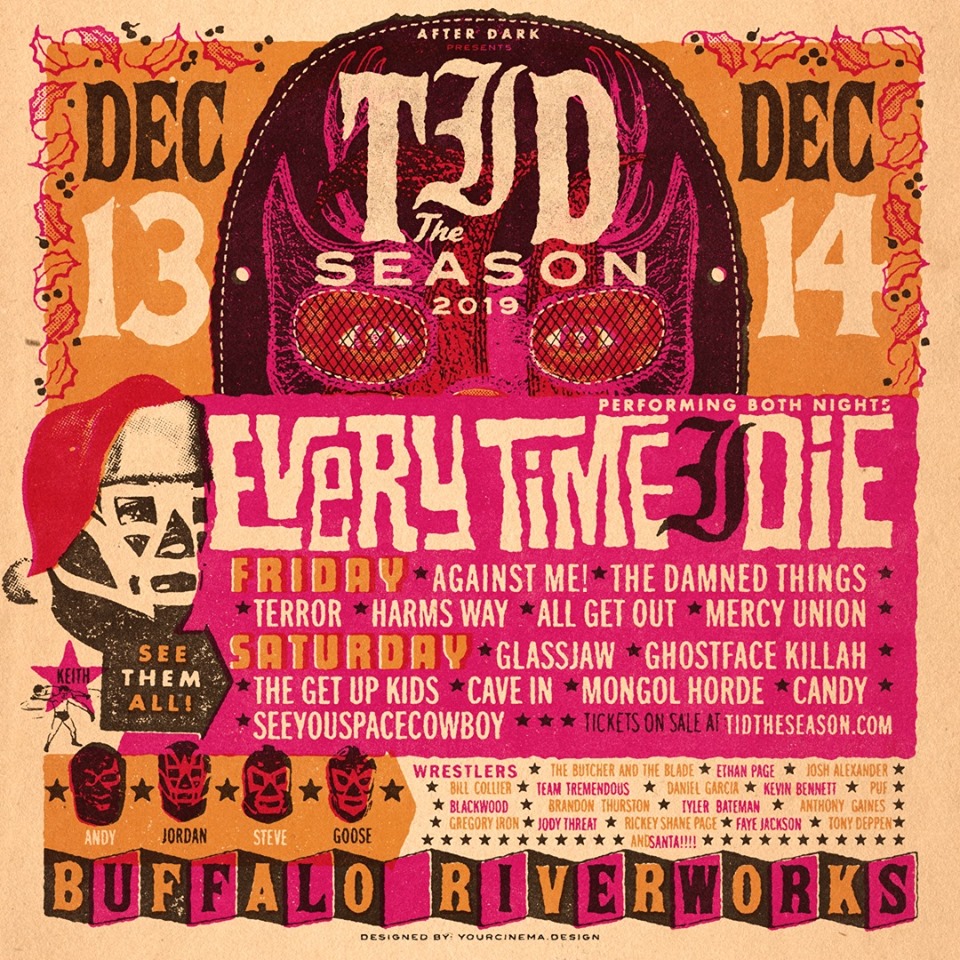 HARM'S WAY:
10/20/2019 Club Red – Mesa, AZ
w/ Ghostemane, 3Teeth, Parv0, Horus The Astroneer:
10/22/2019 The Observatory – Santa Ana, CA
10/23/2019 The Regency Ballroom – San Francisco, CA
10/25/2019 Daze Of The Dead – Portland, OR
10/26/2019 Showbox SoDo – Seattle, WA
10/27/2019 Knitting Factory – Boise, ID
10/29/2019 The Complex – Salt Lake City, UT
10/30/2019 Ogden Theatre – Denver, CO
10/31/2019 The Grenada – Lawrence, KS
11/01/2019 Varsity Theatre – Minneapolis, MN
11/02/2019 Bouborn Theatre – Lincoln, NE
End Tour
12/13/2019 Tid The Season @ Buffalo River Works – Buffalo, NY
HARM'S WAY continues to tour in support of their most recent full-length, Posthuman, out now on Metal Blade Records. Having grown with each subsequent release, Posthuman is a devastating addition to HARM'S WAY's catalog. Exclaim! hails, "an impressive display of brute force that keeps its momentum up from beginning to end." Pitchfork writes, "The swole Chicago hardcore band's latest album shows their raw strength while adding shades of industrial and groove metal for character." Adds Metal Injection, "HARM'S WAY Posthuman gives fans absolutely solid hardcore material, promising utter chaos while providing some welcoming blends in variety in regards to tone and sound. From beginning to end, Posthuman is pure savagery and an early contender for one of the year's heaviest albums."
Earlier this year, HARM'S WAY released a remix EP of Posthuman titled PSTHMN. Commented the band, "PSTHMN is the evolutionary counterpart to our 2018 full-length, Posthuman. It includes four remixed and reinterpreted tracks by artists that have continually inspired and influenced the band throughout its tenure. These artists include Justin Broadrick (Godflesh, Jesu, JK Flesh), Andrew Nolan (Intensive Care, The Endless Blockade, Column Of Heaven), and Sanford Parker (Mirrors For Psychic Warfare, Corrections House). Additionally, the release includes a reimagined version of the track 'Unreality' by our very own bassist, Casey Soyk. PSTHMN follows the vision of Posthuman and sheds light on influential aspects that have shaped the sound and aesthetic of HARM'S WAY."
To preview and purchase Posthuman and PSTHMN go to: metalblade.com/harmsway.
http://www.harmsway13.com
http://www.facebook.com/harmsxway
http://www.twitter.com/harmsxway
http://www.metalblade.com
http://www.facebook.com/metalbladerecords
http://twitter.com/MetalBlade