HARM'S WAY will kick off their North American headlining tour this week. The month-long journey will commence on February 17th in Cleveland, Ohio and run through March 18th in Pontiac, Michigan. Support will be provided by Ringworm, Vein, and Queensway. See all confirmed dates below.
HARM'S WAY released their fourth full-length, Posthuman, on February 9th via Metal Blade Records. HARM'S WAY's metallic hardcore has won them fans on four continents; their reputation for delivering blistering sets cannot be overstated, and their timely lyrics about struggle, personal growth and self-awareness leave a lasting impression upon any listener. Having grown with each subsequent release, Posthuman is a devastating addition to HARM'S WAY's catalog. "We've always stayed true to who we are and allowed the songwriting process to take shape organically from record to record, and as the band has progressed, our sound has become more refined with metal and industrial influences," notes drummer Chris Mills. Guitarist Bo Lueders succinctly sums up what people can expect when they first spin the record, "To a HARM'S WAY fan, I would describe Posthuman as a blend of Isolation (2011) and Rust (2015), but it's sonically way more insane. To anyone else, I would simply say it's full on heavy and full on aggression."
To preview and purchase Posthuman, visit metalblade.com/harmsway.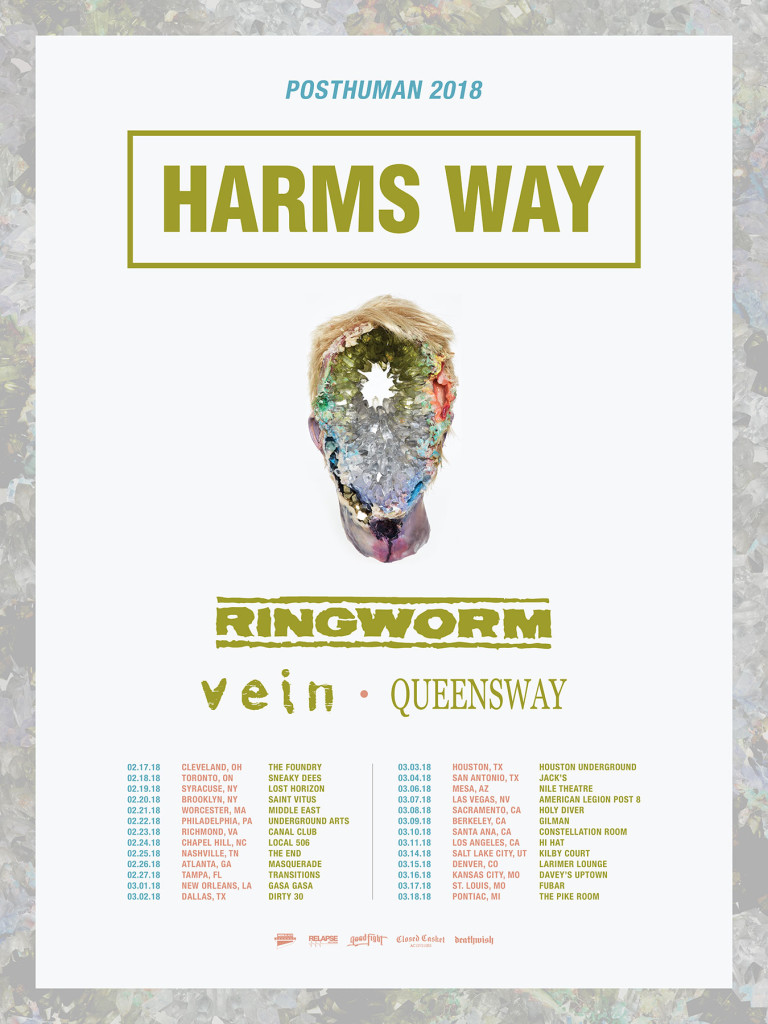 HARM'S WAY w/ Ringworm, Vein, Queensway:
2/17/2018 The Foundry – Cleveland, OH
2/18/2018 Sneaky Dees – Toronto, ON
2/19/2018 Lost Horizon – Syracuse, NY
2/20/2018 Saint Vitus Bar – Brooklyn, NY
2/21/2018 Middle East – Boston, MA
2/22/2018 Underground Arts – Philadelphia, PA
2/23/2018 Canal Club – Richmond, VA
2/24/2018 Local 506- Chapel Hill, NC
2/25/2018 The End Nashville, TN
2/26/2018 Masquerade – Atlanta, GA
2/27/2018 Transitions – Tampa, FL
3/01/2018 Gasa Gasa – New Orleans, LA
3/02/2018 Dirty 30 – Dallas, TX
3/03/2018 Houston Underground – Houston, TX
3/04/2018 Jack's – San Antonio, TX
3/06/2018 Nile Theatre – Mesa, AZ
3/07/2018 American Legion Post 8 – Las Vegas, NV
3/08/2018 Holy Diver – Sacramento, CA
3/09/2018 Gilman – Berkeley, CA
3/10/2018 Constellation Room – Santa Ana, CA
3/11/2018 Hi Hat – Los Angeles, CA
3/14/2018 Kilby Court – Salt Lake City, UT
3/15/2018 Larimer Lounge – Denver, CO
3/16/2018 Davey's Uptown – Kansas City, MO
3/17/2018 Fubar – St. Louis, MO
3/18/2018 The Pike Room – Pontiac, MI
End Tour
3/25/2018 Subterranean – Chicago, IL Record Release Show w/ Ringworm, Homewrecker, Vein, Detain, Ledge [info]
http://www.harmsway13.com/
http://www.facebook.com/harmsxway
http://www.twitter.com/harmsxway