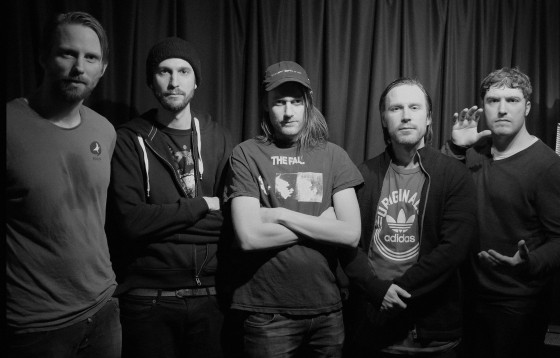 HARABALL is the result of the joyful friction that arises when cocky ex-straightedgers meet highbrow elitist punks, unloading a sharp and ultra-consistent style of old-school hardcore. And now the Norwegian hardcore punk outfit is preparing to unleash their debut album, Sleep Tall, this May via Fysisk Format.
The band's previous Frowns vs. Downs and The Rope 7″ releases and a killer series of live shows have made the act one of Fysisk Format's top bands in only two years, and while HARABALL may be a fairly new name to the game, together the five members' previous experiences total over fifty years of playing hardcore. Bassist Vegard and guitarist William played in one of Norway's most infamous straightedge bands, Tiebreak, until it exploded in a frenzy of fights and masculine love. Shortly after, William, drummer Daniel, guitarist Trond and lead singer Jon Eivind started the band Fairfuck. A lot of unfinished business still lurked when Fairfuck called it a day, and after ten years of lobbying from William, HARABALL saw the light of day. When guitar-maestro and producer Trond got a minute off from his day job in serious rock bands like Euroboys and Mirror Lakes, all this culminated into Sleep Tall.
With fifteen tracks written with the principle of "maximum musical energy effect per second," each loaded riff was dissected and reconstructed until they became the musical shockwaves to be witnessed on Sleep Tall, the record's lyrics focusing on the frustrations of everyday life. HARABALL recorded Sleep Tall in the legendary Crystal Canyon Studios themselves, with guitarist Trond Mjøen behind the mixing board. The album's artwork was conceived by Esra Caroline Røise who also did the artwork for the two first 7″. In Esra the classic hardcore illustrators Raymond Pettibon (Black Flag, Minutemen) and Tesco Vee (Meatmen) have found a sister in spirit. Fysisk Format has also included the tracks from both of the band's previous 7″ releases, adding eight bonus tracks to the melee!
Sleep Tall is not a tribute to Bad Brains, Black Flag or Minor Threat. It is a competent refinement of a genre that most new bands misinterpret. HARABALL is vitalization of hardcore and a cultivation of the bare essentials… hard boiled frenzy!
Blast the album's third raging track "Jeremy Smoked" and more below.
Fysisk Format will release Sleep Tall on CD, LP and digital download on May 28th, followed by a European tour with HARABALL being joined by label cohorts Haust throughout June. Dates will be announced soon.
Sleep Tall Track Listing:
1. Well, That Passed
2. Meat n Spirit
3. Jeremy Smoked
4. Diet Of Candy
5. On the Bridge
6. Sleep Tall
7. My Douche
8. Drunks Is Needy
9. Model Prisoner
10. TBA
11. Hair In My Soup
12. Cock Persona
13. At The Clinic
14. Cosmo
15. Hokksund
16. The Badge & The Wig*
17. Best Band Ever*
18. Raising the Dead*
19. The Rope*
20. I Want Your Downs**
21. Terrible Two**
22. Random**
23. Evil Twin**
* from Frowns vs. Downs 7″
** from The Rope 7″
http://haraball.com
https://www.facebook.com/haraballsack?fref=ts
http://haraball.bandcamp.com
http://www.fysiskformat.no
http://www.facebook.com/fysiskformat