New Noise Magazine is now streaming the entire A Vile Decree debut EP by Long Island hardcore outfit HANGMAN, days before the record drops through Flatspot Records.
HANGMAN delivers five high-impact hardcore anthems on their proper debut, A Vile Decree surging with upbeat energy interjected with slamming grooves and vicious breakdowns. The EP was recorded and mixed in spring 2017 at Silver Bullet Studio in Connecticut with Greg Thomas (Misery Signals, Shai Hulud, Recycled Earth) and mastered by Bill Henderson at Azimuth Mastering, and features guest vocals from Neglect's Brian Zoid on the track "Abandoned."
Tune in and hear HANGMAN's A Vile Decree in its entirety at THIS LOCATION.
Flatspot Records will release A Vile Decree this Friday, November 3rd on 7″ vinyl — 350 copies on black vinyl and 150 on clear — and through all digital platforms. Find merch bundle preorders at THIS LOCATION.
HANGMAN has also booked a release show for the new record, set to take place December 8th in Farmingdale, Long Island, performing with Queensway, Year Of The Knife, Ammunition, and Warehouse. Watch for HANGMAN to perform throughout the New York region and beyond in the months ahead.
HANGMAN A Vile Decree release show:
12/08/2017 Theatre 294 – Farmingdale, NY w/ Queensway, Year Of The Knife, Ammunition, Warehouse
Influenced by the likes of Terror, Neglect, Vision Of Disorder, Backtrack, Biohazard, and Madball, HANGMAN delivered their first demo in 2014, and their Hangman II EP in 2015, which helped the fledgling act begin to infiltrate the Long Island and NYHC scenes. Through supporting the likes of Silent Majority, Agnostic Front, Backtrack, Burn, Maximum Penalty, Stigmata, Billy Club Sandwich, Negative Approach, Ramallah, Knocked Loose, Higher Power, and others, and tours with Impact and Queensway, HANGMAN has honed their sound to a much more damaging new level in 2017, which sees the band bringing out their hardest material to date on A Vile Decree.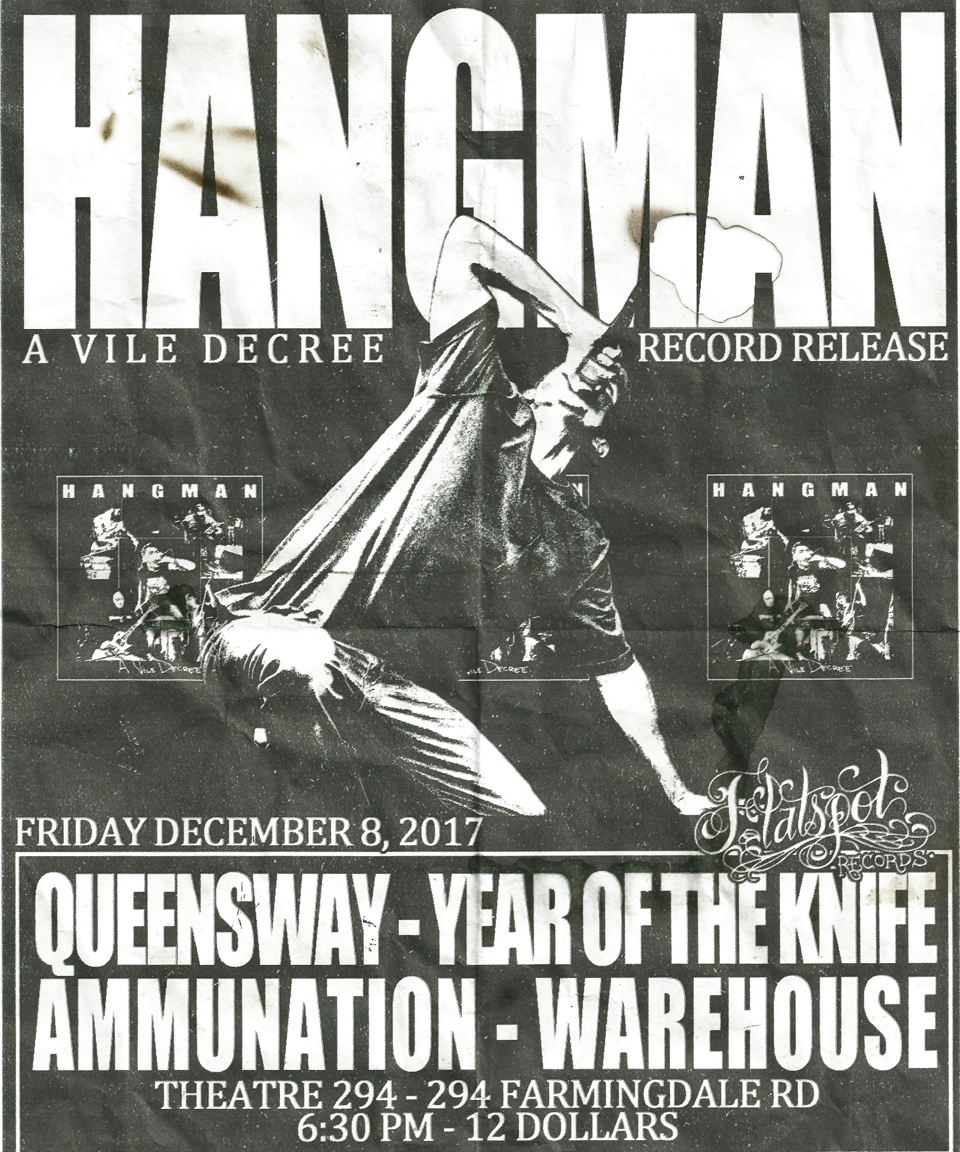 https://hangmanlihc.bandcamp.com
https://www.facebook.com/HangmanLIHC
https://www.instagram.com/hangmanlihc
http://www.flatspotrecords.com
http://www.facebook.com/flatspotrecords
https://flatspotrecords.bandcamp.com