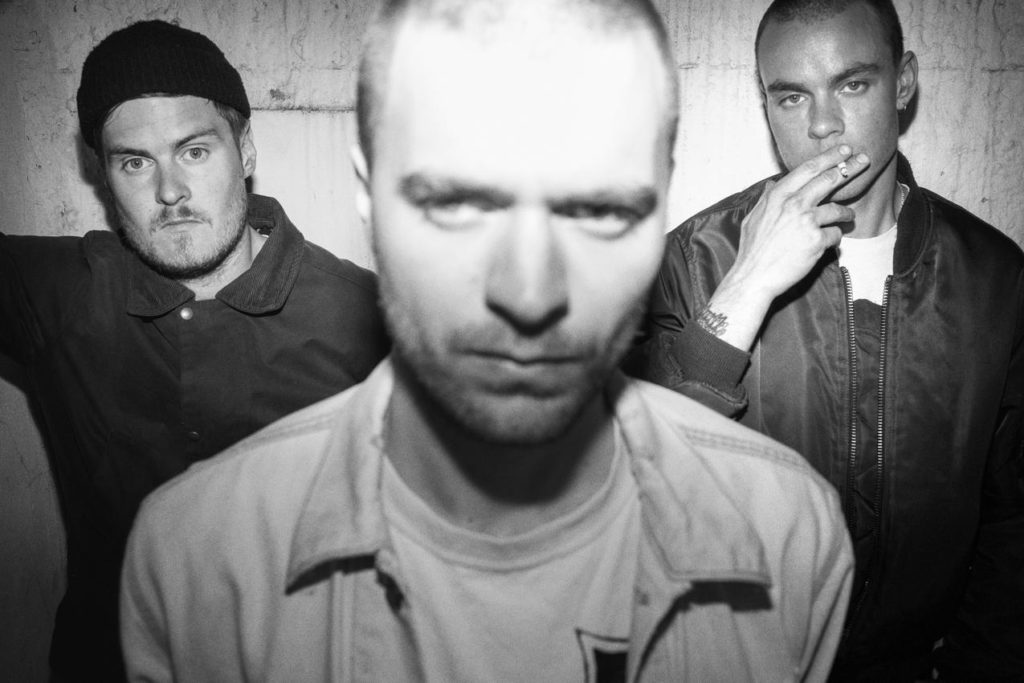 [photo by Ivan Riordan Boll]
Copenhagen, Denmark-based trio HALSHUG is preparing for the July release their third studio full-length, Drøm, through Southern Lord Recordings. With the album closing in, the new single "Kæmper Imod" has been issued through a premiere hosted by BrooklynVegan as the label issues physical preorders for the album.
On Drøm, HALSHUG expands their sound from the dirge-driven d-beat of their earlier albums Sort Sind (2016) and Blodets Bånd (2015), and explores the dynamics of longer songs, more audible lyrics, and altered tempos, which result in different shades of industrial, dark-wave, and post-punk. Drøm was recorded by Simon Sonne (Orm) in Copenhagen, mixed at Dead Air Studio in Western Massachusetts (The Men, Warthog), and mastered by Peter Peter (The Sods, Bleeder).
With the new single, HALSHUG guitarist Mathias Schønberg states, "'Kæmper Imod' is the opening track of the album Drøm. It's a song about losing. The title translates to 'resisting' or 'fighting back' but the lyrics are defeatist as hell. Back when crust-punk was big there was often a sense of resist-to-exist kind of encouragement in the music – there is none of that in this one. This song is about being tied down and not having any agency. It's about failing to resist. Fun fact though: I'm not sure if anyone can tell, but the guitar part was heavily inspired by a Smashing Pumpkins song."
BrooklynVegan writes, "'Kæmper Imod' is a dark, heavy punk ripper with the gloom of deathrock and the ferocity of hardcore, and HALSHUG are very good at this kind of thing."
Stream HALSHUG's "Kæmper Imod" at BrooklynVegan RIGHT HERE.
Southern Lord, who has delivered HALSHUG's prior two LP's, will release Drøm on LP and digital formats worldwide on July 19th. Find preorders at Bandcamp HERE and physical preorder options at the label webshop HERE. See the official "Fantasi" video HERE.
HALSHUG continues touring in bursts across Europe surrounding the release of the Drøm LP. Following their successful May tour, the band is booking new summer live dates, with a Scandinavian tour confirmed for September. Watch for updates to be issued through throughout the year in support of the new LP.
HALSHUG Tour Dates:
9/07/2019 Vaterland – Oslo, NO
9/12/2019 1000Fryd – Aalborg, DK
9/13/2019 Radar – Aarhus, DK
9/14/2019 Stengade – København, DK
9/20/2019 Kulturhuset – Gøteborg, SE
9/27/2019 Plan B – Malmø, SE
9/28/2019 Hus 7 – Stockholm, SE
http://halshug.blogspot.com
https://halshug.bandcamp.com
https://www.facebook.com/halshugcph
http://www.southernlord.com
http://www.southernlord.bandcamp.com
http://www.facebook.com/SLadmin
http://www.twitter.com/twatterlord