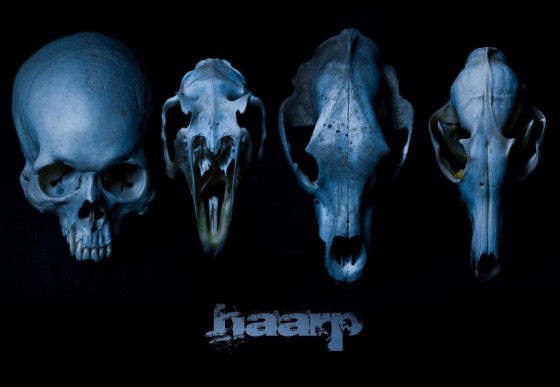 In anticipation of the imminent release of Husks from New Orleans dirgesmiths, haarp, this coming Tuesday, the full metal conjurors at Invisible Oranges are currently hosting an exclusive limited stream of the record in its entirety at THIS LOCATION.
Admiringly called "…a scourge on the human psyche…" by Hails & Horns, haarp's "most ferocious offering," by About.com and "some of the heaviest stuff ever made," by Metal Underground, Husks will be available for public consumption on September 18, 2012 through Housecore Records. The follow-up to 2010's The Filth was recorded at the University of New Orleans Performing Arts Center, Fountainbleau Room 7011, and Nodferatu's Lair by Philip H. Anselmo, engineered by Steve Berrigan and Nathan Weidenhaft and mastered at Visceral Sounds by Scott Hull. For Husks pre-order info, point your browser HERE.
In conjunction with the release, haarp, will take their harrowing hymns to the stage supporting Down next week. See confirmed dates below.
haarp tour 2012 w/ Down:
9/21/2012 Pop's Nightclub – Saint Louis, MO
9/22/2012 House of Blues Chicago – Chicago, IL
9/23/2012 The Crofoot – Pontiac, MI
9/25/2012 House of Blues Boston – Boston, MA
9/26/2012 Electric Factory – Philadelphia, PA
9/27/2012 Mojo Main – Newark, DE w/ Givethemrope, Backwoods Payback, Altar of Dagon, Sunburster [*No Down]
9/28/2012 Best Buy Theater – New York, NY
9/29/2012 Starland Ballroom – Sayreville, NJ
"Husks is by far and away is haarp's most ferocious offering. All eighteen minutes of 'Deadman/Rabbit' seethe and writhe with terrible energy; it is a song that perfectly embodies the wailing and gnashing of teeth. The sound is clear and bright, without the filthy weight of sludge, with only the sheer weight of the pace of the track forcing the song to its knees, to crawl." – About.com
"Obviously adjusted way below standard tuning, this album is slow and low enough to qualify as sludge/doom, but still retains the 'rock' part of rock 'n roll — it isn't so bottomed out that it can't be followed." – Invisible Oranges
"These tunes harbor ominous, apocalyptic fields of sound and mental decay. This is heavy as all hell…" – Hails & Horns
"Planting their feet as sludge metal gods, haarp take their time trimming the fat and let the truth simmer. Between the sludge barrages and atmospheric back roads is tempered, expertly-timed black gold. The band's proficient but patient approach is lined with beautifully rich and vile vision. Husks isn't merely another NOLA sludge-metal record; it's a sonic catapult for a band wholly deserving of every accolade they accrue. Take a walk through these rotting woods and sink with your sorrow. When the animals finally smell your stink, haarp will be waiting." – Heavy Planet
"This album is very balanced, as its some of the heaviest stuff ever made, but with those tones of airiness and ambience that lift it up just enough…. Quite possibly haarp's best album." – Metal Underground
"…a great introduction for anyone puzzled about what the NOLA sludge/doom is about, while I might suggest Crowbar as well, haarp can take their place next to the greats from down south with this release. This is a must for all lovers of fuzzy sludge from the southern part of the US where food, beer, and metal is not just a way of life but rather a religion." – This Is Not A Scene
"haarp will leave you feeling emotionally drained but the more better for it. It's a release that will stay in your subconscious for a very long time…A brilliant release from a truly breathtaking and forward thinking band. Awesome and highly recommended.: – Sludge Lord
http://www.facebook.com/haarpnola
http://www.facebook.com/housecorerecords