Massacre Records will release the newest album from German dirty rock 'n rollers GUN BARREL, entitled Brace For Impact, in North America on May 22nd.
Since their year-2000 formation, GUN BARREL have pulverized their fans and music critics like with their uncompromising style of metallic rock and their raging on-stage attitude. Following a steady flow of releases via respected labels like SPV and Limb Music over the past decade the band signed with Germany's Massacre Records for the 2012 release of their fifth full-length studio release, Brace For Impact.
With nearly fifty minutes of GUN BARREL's thundering approach in its holster, Brace For Impact bears eleven hard-hitting tracks, and is the first release from the band to feature new vocalist Patrick Sühl. The change in the vocal guard gave the entire band a new surge of energy, which shows trough in every song. The band recorded the album recorded in their own studio, and had it mixed by Yenz Leonhardt (Iron Savior, Savage Circus, Stormwarrior) and mastered by Tommy Hansen (Helloween, Jorn, TNT), and commissioned the cover artwork to Steve Santana (Harley Davidson, Powerwolf).
Stream Brace For Impact in its entirety AT THIS LOCATION.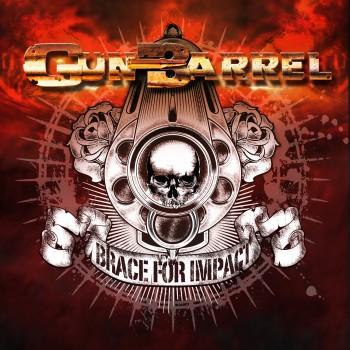 Brace For Impact Track Listing:
1. No Survival On Arrival
2. Brace For Impact
3. Dancing On Torpedoes
4. Books Of Live
5. Start A Riot
6. Stand Your Ground
7. Diamond Bullets
8. With Might And Main
9. The Wild Hunt
10. Turbölence & Decadence
11. Big Taboo
GUN BARREL lineup:
Patrick Sühl – vocals
Rolf Tanzius – guitar
Tomcat Kintgen – bass
Toni Pinciroli – drums
http://gunbarrel.de
http://gunbarrel.bandcamp.com
http://www.massacre-records.com
https://www.facebook.com/massacrerecordseurope