"While cribbing the raw sound and style of Death circa Leprosy and Scream Blood Gore seems like a manageable task given the music's proud primitivism, achieving Schuldiner's progression as he distanced himself from mere mortals is a formidable leap. But Exhumed mainman Matt Harvey and collaborators including Gus Rios of Malevolent Creation somehow create an album that works as both tribute and original art…" — Decibel
Twisted Prayers, the newest full-length from death metal defenders of the old GRUESOME, is out NOW via Relapse Records.
If you missed it, view the band's NSFW video for "Fatal Illusions" as well as the Jeffrey Sisson-directed video for "Inhumane" and lyric video for "A Waste Of Life" HERE.
GRUESOME recently partnered with Decibel Magazine to share their cover of "Legion Of Doom" by Chuck Schuldiner's pre-Death project Mantas. The recording was included the June 2018 issue as a special pictured flexi disc. Stream the exclusive track below.
GRUESOME – featuring current and former members of Exhumed, Possessed, Malevolent Creation, and more – returns with its second full-length, Twisted Prayers. The eight-track offering follows Death's paradigm shift during the Spiritual Healing era, incorporating more cerebral, melodic instrumentation with elements of thrash and thought-provoking, socially conscious lyrics. Recorded at New Constellation Studios in Orlando, Florida with producer Jarrett Pritchard (Exhumed, 1349, Goatwhore, Wolvhammer) who has been instrumental in crafting the band's sonic homage, Twisted Prayers features GRUESOME doing what they do best across over forty minutes of unholy hymns with lurid melodies and vulgar atmospheres. The band has once again teamed up with the legendary artist Ed Repka (Death, Atheist, Massacre) for the album's blasphemous cover art in addition to legendary Death guitarist James Murphy (Death, Obituary, Testament) for a pair of special guest guitar solos. Bow your heads and worship at the altar of GRUESOME!
GRUESOME's Twisted Prayers is available on CD, LP, deluxe LP, cassette, and digital formats via Relapse Records. Physical packages are available via Relapse.com HERE and digital downloads/streaming services at THIS LOCATION. The deluxe LP edition of the album includes an accompanying flexi disc featuring companion artwork and a cover of Possessed's "The Exorcist."
GRUESOME has announced two exclusive shows in Florida with labelmates Exhumed before kicking off a European headlining tour this summer. Beginning July 19th, the trek will travel through two dozen cities and includes appearances at Obscene Extreme 2018, Wacken Open Air, Partysan Open Air and more. See all confirmed dates below.
GRUESOME:
7/14/2018 Crowbar – Tampa, FL w/ Exhumed
7/15/2018 Will's Pub – Orlando, FL w/ Exhumed
7/19/2018 Obscene Extreme 2018 – Trutnov, CZ
7/20/2018 Red & Black – Warzawa, PL
7/21/2018 Hydrozagadk – Chorzow, PL
7/22/2018 Modra Vopice – Prague, CZ
7/23/2018 Free & Easy Festival – Munich, DE
7/24/2018 Durer Kert – Budapest, HU
7/25/2018 Metaldays – Tolmin, SL
7/26/2018 Viper Room – Wien, AT
7/27/2018 Master Of The Unicorn – Ernsthausen, DE
7/28/2018 Stonehenge Festival – Steenwijk, NL
7/29/2018 Bastard Club – Osnabruck, DE
7/30/2018 Immerhin – Wurzburg, DE
7/31/2018 Nomansland – Volmerange-les-mines, FR
8/01/2018 7er Club – Mannheim, DE
8/02/2018 Wacken Open Air – Wacken, DE
8/03/2018 Klubb Dissonans – Jonkoping, SE
8/04/2018 The Crypt – Linkoping, SE
8/05/2018 Underwerket – Valby/Copenhagen, DK
8/07/2018 Chemiefabrik – Desden, DE
8/08/2018 Musik und Frieden – Berlin, DE
8/09/2018 Partysan Open Air – Schlotheim, DE
8/10/2018 Das Bett – Frankfurt, DE
8/11/2018 Helvete – Oberhausen, DE
8/12/2018 Alcatraz Open Air – Kortrijk, BE
"The music is a dead ringer for Death not only in construction, but in tone and production as well, a notion made clear from the twin leads that open the song." — Loudwire on "A Waste Of Life"
"…an extreme reminder of what Death accomplished through seven records and a reason to revisit the work of one of the genre's architects and symbolic teacher." — Covering The Scene
"…only a talented and skilled group of individuals could even come close to pulling off something like this." — Wonderbox Metal
"…every track on Twisted Prayers features some truly warped and shreddy solos. Harvey and Daniel Gonzalez set the fretboards ablaze on 'Lethal Legacy,' 'A Waste Of Life' and on the album-closing title track which can only be described as a tapping buffet." — Ghost Cult
"GRUESOME may be going back to basics by using Death as their foundation, but they have done it with respect, honesty, and skill. Whether you are unfamiliar with Death or a rabid fan, GRUESOME has opened the time capsule from 1990 and given it a beautiful modern polish. This is a band worth keeping your eyes on in the future, and I can't wait for their take on the Sound of Perseverance…" — Metal Utopia
"…the most technical GRUESOME album to date." — Metal Trenches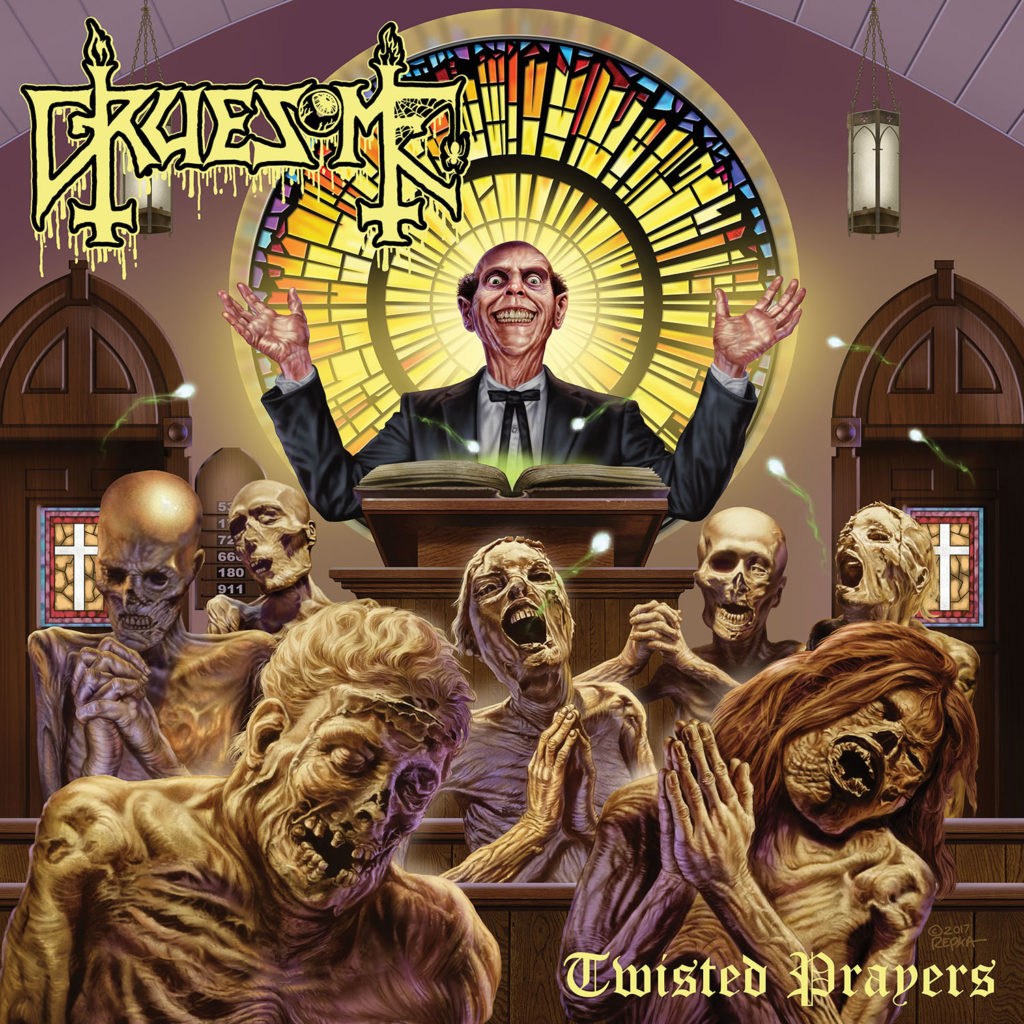 http://www.facebook.com/gruesomedeathmetal/
http://www.instagram.com/gruesome_death_metal/
http://www.gruesomedeathmetal.bandcamp.com/
http://www.relapse.com
http://www.facebook.com/RelapseRecord