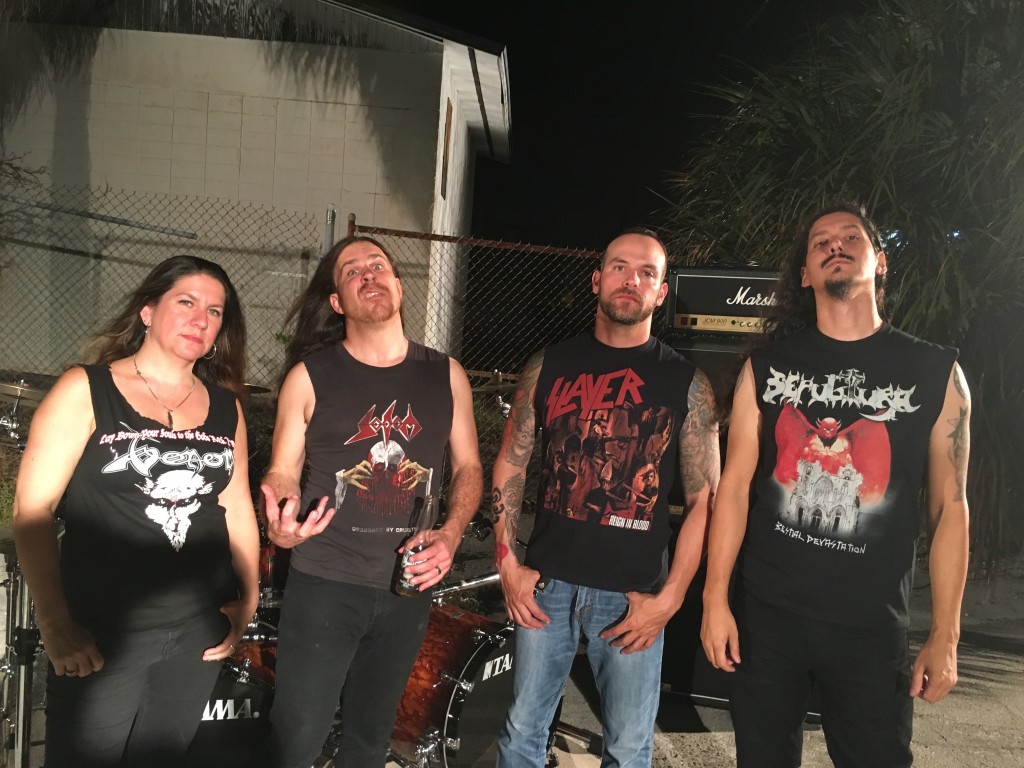 [photo by Cristina Mariutto]
Old-school death metal squad, GRUESOME, has just shared a savage new music video for the title track from their forthcoming EP, Dimensions Of Horror.
The visual feast is currently playing at Bloody Disgusting who issues, "The video, which was created by Iron Sight Cinema, shows a young woman visiting an oracle who portends her impending demise. Upon leaving, she comes face-to-face with a zombie monk, a Skeletor looking mother fucker, and some rabid women who are out for blood. You know, your everyday experience when living in Florida."
Adds GRUESOME's Matt Harvey, "For our first foray into the realm of video, we are very stoked to give you the title track of our new EP, Dimensions Of Horror. The video, much like everything we've done with GRUESOME, harkens back to a simpler time, when you could reliably find a guy with a mustache kicking back on the hood of his Trans Am blasting 'Master Of Puppets' in the parking lot of your local 7-11. A time when mullets and latch-key kids roamed lands gripped with 'Satanic Panic,' and you could still buy acid at high school. Yes, the 1980s. Those were the days when Chuck Schuldiner's individual thought patterns turned toward mutilation and rituals involving zombies. We hope that this proudly 'B' video grips you with fear, or at least makes you nostalgic for the halcyon days of big white high-tops, bigger hair, and first generation of death metal. So come with us and enter the dimensions of horror."
View the clip, courtesy of Bloody Disgusting, at THIS LOCATION.
The EP's first single, "Forces Of Death," is also available for streaming at THIS LOCATION while second single, "Raped By Darkness," can be heard at THIS LOCATION.
Produced by the band and co-produced and recorded by Jarrett Pritchard at New Constellation RMP Studios in Orlando, Florida, Dimensions Of Horror is a grisly salute to DEATH's iconic Scream Bloody Gore and once again features cover art by the legendary Ed Repka (Death, Atheist, Massacre et al). A six-song slab of classic, bone-breaking, death metal jams, Dimensions Of Horror continues the development of GRUESOME's homage to the founding fathers of the genre and proves that no matter the decade, old-school death metal is always relevant, savage, and irresistible.
Dimensions Of Horror is due out May 20th, 2016 on CD/LP/CS/Digital worldwide. Physical preorders via Relapse.com can be found HERE, and digital preorders via GRUESOME's BandCamp page are available at THIS LOCATION.
Over the past year, GRUESOME has performed at numerous festivals worldwide, including Full Terror Assault Fest, Obscene Extreme America, and Netherlands Deathfest. The band has also been confirmed for Maryland Deathfest in Baltimore this coming May 26th through the 29th. Stay tuned for more festival announcements.
Multi-state death metal project GRUESOME was born out of guitarist/vocalist Matt Harvey and drummer Gus Rios' mutual involvement with the Death To All tours. Harvey served as frontman for the original mini-tour and Rios both performed "Baptized In Blood" and worked with DTA drummer Sean Reinert on the following US tour where Exhumed filled in as support. After discussing and discarding the idea of putting together another incarnation of DTA to focus exclusively on Death's first two albums, Harvey half-jokingly suggested that the pair write their own songs in intentional homage to the band. It wasn't long before the idea gained traction, and the band soon had five tracks written. With Harvey writing in California, Rios recruited Possessed guitarist Daniel Gonzalez and Derketa bassist Robin Mazen to record the material in Florida, while Harvey tracked his vocals on the West Coast.
GRUESOME released a pair of single-song demos in 2014, and was subsequently signed by Relapse Records in June of that year, with a full-length release (recorded in Florida, of course) planned for early the following year. The result of those recordings would become the band's debut full-length Savage Land, a truly harrowing slab of Leprosy-styled death metal released in April 2015. It's clear from the song quality on Savage Land that GRUESOME is humbly determined to keep Death's classic sound alive as faithfully as possible, and the critical acclaim for the record has reflected the band's dedication. Metal Injection called Savage Land, "the advanced, dripping-rot-from-the-corners-of-a-coffin, putrid, vile death metal throwback that you've been waiting for," while Exclaim gushed, "the enthusiasm alone on Savage Land is awe-inspiring." Now, GRUESOME has returned stronger than ever with their new EP Dimensions Of Horror. With an all-star lineup and unmatched songwriting skills, GRUESOME is willing and able to propel the historical sentiment and sincerity of Death's spirit into the present.
http://www.facebook.com/gruesomedeathmetal
http://www.gruesomedeathmetal.bandcamp.com
http://www.instagram.com/gruesome_death_metal
http://www.relapse.com