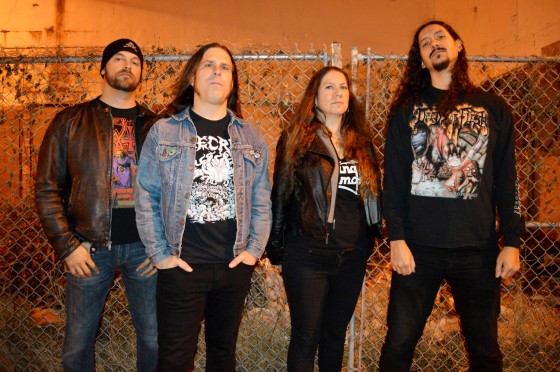 [photo by Niuvis Martin]
With its release now just one week away, today Decibel Magazine is streaming Savage Land, the forthcoming new long player from Death-saluting supergroup, GRUESOME, in its menacing entirety.
Uniting members of Exhumed, Possessed, Malevolent Creation and Derketa, GRUESOME channels inspiration from one of death metal's most revered founding American acts, Death, into their own mangled interpretations. Boasting eight crushing tracks of late-'80s/early-'90s Florida-styled death metal madness, GRUESOME truly and sincerely keeps the sound and spirit of Chuck Schuldiner and Death alive.
Gushes Stereokiller in a perfect 5/5 review of the record, "If you like old school death metal and are looking to travel back in time with a new record, this is an absolute must. Right down to the production and the Eric Repka artwork. This is perfect. As such a fan of the Leprosy record, I'm absolutely blown away about how close of a sound GRUESOME has perfected to that era of Death. This couldn't come more highly recommended. Buy this and take a trip back to the '80s when death metal wasn't all about blast beats and gutturals." Metal Injection concurs, "This isn't your crusty, nasty, run-of-the-mill retro death metal. Hell no. This the advanced, dripping-rot-from-the-corners-of-a-coffin, putrid, vile death metal throwback that you've been waiting for. Observe." Adds No Clean Singing of the title track specifically, "'Savage Land' sounds like it crawled from the grave, a resurrected zombie of late '80s/early '90s Floridian death metal. It romps, it lurches, it crawls. The riffs slash and burn, they thrash and hammer, they slither and writhe, they generate an authentic stench of morbid atmosphere. The savagery of the vocals."
In celebration of its North American release next week, today Decibel Magazine hurls forth Savage Land in its gruesome entirety. Relish the old school at THIS LOCATION.
GRUESOME was borne out of guitarist/vocalist Matt Harvey (Exhumed) and drummer Gus Rios' (Malevolent Creation) mutual involvement with the Death To All tours. After discarding the idea of putting together another incarnation of DTA to focus exclusively on Death's first two albums, Harvey half-jokingly suggested writing their own songs in that vein. It wasn't long before the idea gained traction, and the "band" had five songs written. Rios later recruited Possessed guitarist Daniel Gonzalez and Derketa bassist Robin Mazen to record the material in Florida. Savage Land was recorded by Rios and Gonzalez at Riversound Studios in Fort Lauderdale, Florida, mixed by Jarrett Pritchard at Mana Studios in St. Petersburg, Florida, and features a guest guitar solo on "Closed Casket" by James Murphy as well as cover art by legendary illustrator Ed Repka (Death, Megadeth, Massacre, Athiest et el).
Relapse Records will unleash Savage Land on CD and all digital outlets in North America on April 21st, preceded by its European release dates, April 17th in Germany, Benelux and Finland and April 20th in the UK and rest of the world. Physical preorders are available now at THIS LOCATION, and digital preorders HERE.
http://www.facebook.com/gruesomedeathmetal
http://www.facebook.com/relapserecords
http://www.relapse.com