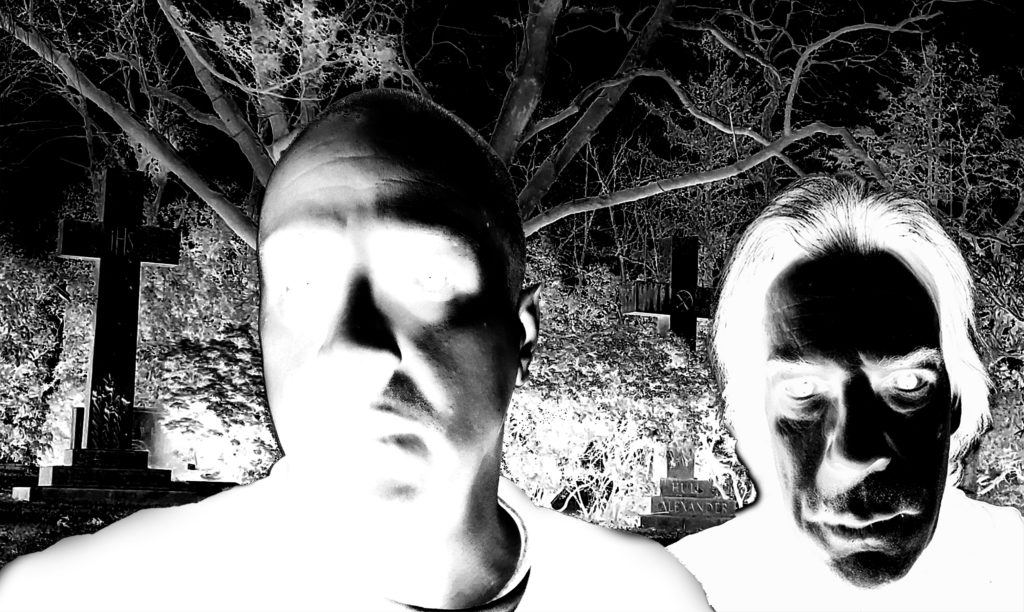 BrooklynVegan is hosting an exclusive video premiere for "Crime Scene Designers," a new single from Dismemberment Cabaret – the collaborative album between New York harsh/experimental soloist GRIDFAILURE and world-renowned and multi-platinum trumpet player MAC GOLLEHON. The video precedes the album's looming May release through Nefarious Industries.
On Dismemberment Cabaret, underworld speakeasy vibes merge with 1970s/1980s slasher/crime films, the uneasy combination projected with unhinged hostility. GRIDFAILURE's David Brenner weaves an environment of horror fueled by post-industrial beats, bass, guitars, analog synth, keyboards, violin, brutalizing vocals, and more, while MAC GOLLEHON's explosive trumpet, trombone, cornet, and didgeridoo contributions slash through the carnage with cinematic intensity. The album was created in quarantine throughout 2020, recorded and mixed by Brenner at The Compound in Rockland County with GOLLEHON's material captured in multiple stairwells of his building in Staten Island. The album was mastered by Dan Emery at Black Matter Mastering (Kool Keith, Lost Dog Street Band, Thetan), and completed with art, design, and visuals by Brenner.
With "Crime Scene Designers," GOLLEHON reveals, "On this track my intent was to introduce, seduce, then provoke an avalanche of winds and brass in disconfigurations of serial composition paring with serial clustered disorder. Tonal paralipsis of warface demons relentlessly designing crime scenes for now and all other times."
Brenner adds, "Having thoroughly examined the scene of the slaughter, we were quite disappointed with the sub-par wetwork on display. Our services have provided an array of upgrades to the massacre, etching our motto into the vocal tumult: 'More flair, more gore. Cover the entire floor. When you think you've overdone it, do it two times more.'"
Writes BrooklynVegan, "We're premiering the track 'Crime Scene Designers,' along with its video, and both the song and video are creepy, psychedelic, sensory overloads."
GRIDFAILURE featuring MAC GOLLEHON's "Crime Scene Designers" video is now playing at BrooklynVegan RIGHT HERE.
Nefarious Industries will release Dismemberment Cabaret on May 21st across all digital providers and in a limited cassette run. Find preorders including shirt/tape bundles where "Roaming Blackouts" is playing HERE.
Watch for additional videos and more to see release over the weeks ahead, and live collaborations to transpire post-plague. Nefarious Industries will also release the new LP from MAC GOLLEHON & THE HISPANIC MECHANICS and additional GRIDFAILURE titles following the release of Dismemberment Cabaret.
Anybody who has heard Billy Ocean's "Get Outta My Dreams, Get Into My Car," Blondie's The Hunter, or Onyx's Slam is familiar with the work of world-renowned NYC trumpet player MAC GOLLEHON, who has toured and recorded with an endless roster of rock, pop, and jazz artists since the 1970s. Having performed on over two-hundred gold and platinum albums, having spent a decade in Duran Duran, and more, he's recorded with David Bowie, Madonna, Chaka Khan, Buddy Rich, Al Jarreau, Sheena Easton, Mick Jagger, Grace Jones, Hector Lavoe, and hundreds of others. GOLLEHON has released eight solo albums since the late 1990s. In recent years, his primary outlet has been with his ever-morphing MAC GOLLEHON & THE HISPANIC MECHANICS, in addition to contributing other to experimental collaborations and performances.
GRIDFAILURE is the unpredictable and confrontational audiovisual experiment of creator David Brenner which yields dense, apocalyptic output with foundational elements bastardized from the realms of dark ambient and dark hardcore, and manifested with elements of jazz, world music, folk, harsh noise, electronica, punk, and more. Operating solo or with a cast of collaborators, both on record and on stage, since its 2016 inception the project has amassed dozens of independent releases, including collaborations with Rack, Megalophobe, Walking Bombs, Christian Molenaar, and others, split releases with Chrome Waves, Never Presence Forever, and others, and much more. GRIDFAILURE is progressively releasing its five-album Sixth Mass-Extinction Skulduggery concept series through Nefarious over several years.
http://www.facebook.com/gridfailure
http://www.gridfailure.bandcamp.com
https://twitter.com/GRIDFAILURE
https://www.instagram.com/gridfailure
https://www.instagram.com/macgollehon
https://www.facebook.com/mac.gollehon
https://twitter.com/gollehonmac1
http://nefariousindustries.com
http://www.facebook.com/nefariousIndustries
http://www.twitter.com/nefariousInd
https://nefariousindustries.bandcamp.com