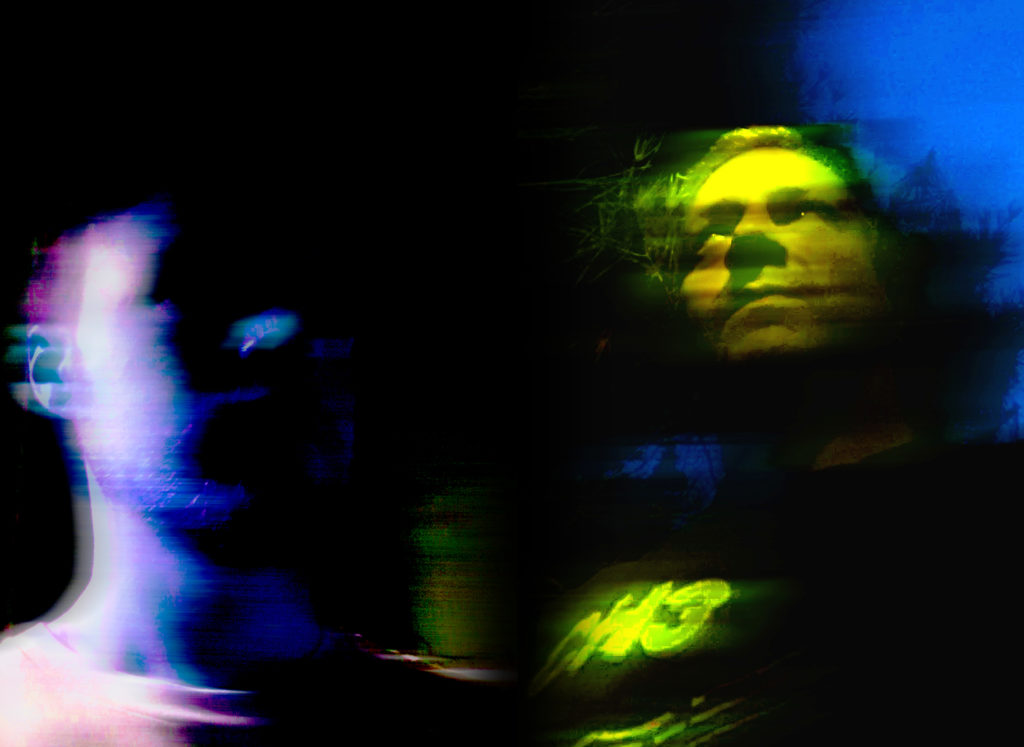 Toilet Ov Hell is now streaming the new instrumental split EP from experimental solo outfits GRIDFAILURE and FEEL HAPPINESS on the eve of its independent Friday the 13th release.
GRIDFAILURE's four new tracks were recorded and mixed at The Compound in Rockland County, New York by the outfit's creator David Brenner. The three new tracks from FEEL HAPPINESS were recorded and mixed by founder Lane Oliver at The Dreadroom in Arlington, Texas. The record was then mastered by Dan Emery at Black Matter Mastering (Kool Keith, Krieg, Benjamin Tod), and finished with cover art/design by Brenner.
Brenner offers of the GRIDFAILURE material, "Going full-bore sci-fi/slasher with these tracks, 'This Liquefaction' is the feeling of your sanity pouring forth into the ground, feeding the Earth, which buckles, arises, overtakes, and consumes your being. 'Cryomechanical' is the sound of rebuilding civilization on a frozen tundra which exists where you now sit in only a few years from now; at the time of conception, the cause remains unclear. 'Swarming' merges mutant layers of extreme powerdementia into an all-consuming funnel of ravaging paranoia, swarming. 'Wetworkers Local 845' is just a day in the life of The King's Highway Ripper who sadistically pollutes your ears with this thing called GRIDFAILURE."
Oliver provides of the FEEL HAPPINESS tracks, "'God Bless You All on the Earth' captures the anxieties, and hopelessness associated with the very real possibility of complete environmental collapse, and filters them through glacier-melting, drone metal crawls. 'I've Cut Your Armies Down and Torn Your Heart' is the sound of a pagan sacrificial ritual that rivals the incendiary climax of 'The Wicker Man.' It lurches at a menacing pace, dragging you through its hot coals, before stringing you up with the other unlucky ones. In contrast to the previous hellscapes, 'All You Are Is Meat' conjures quiet melancholia that slowly unfolds into haunting noise. FEEL HAPPINESS is all about fun, obviously."
Writes Toilet Ov Hell with their stream of the EP, "Your breath shortens. A lump forms in your throat. The pounding of your heart physically shakes your body with ever-increasing urgency. Light fades like a quickly fading sun. Sweat drenches your clothes, but all you feel is cold. Panic and terror rip through your very core. The fight/flight response is kicking in and leaving you with no other options. Is it a panic attack? That's possible. It might also be this gut-wrenching and resolve-shaking split from GRIDFAILURE and FEEL HAPPINESS."
Stream the GRIDFAILURE / FEEL HAPPINESS instrumental split at Toilet Ov Hell RIGHT HERE.
GRIDFAILURE / FEEL HAPPINESS will see digital release through Bandcamp tomorrow, Friday, September 13th with a limited cassette run to follow. Find preorders via GRIDFAILURE HERE and FEEL HAPPINESS HERE.
Both GRIDFAILURE and FEEL HAPPINESS will release new material throughout the remainder of 2019, with a fully collaborative album already under construction for release in early 2020.
With up to ten titles seeing release in 2019 alone, New York City-area's GRIDFAILURE delivers four new tracks in less than sixteen minutes, offering some of the outfit's most direct/driving songs to date. While void of lyrics, vocals, or samples, multiple demoralizing personalities of the outfit show through. Natural disasters and dystopian wastelands are represented in "This Liquefaction" and "Cryomechanical" while "Swarming" delves into the most bizarre realms of horror and terror, and closer "Wetworkers Local 845" simply exposes the demented core of the project. The tormented inner duality lies beneath the surface of each track, the act's lone hostile alchemist David Brenner performing effects-soaked guitars, bass, acoustic and electric drums/drum machines, contact mic experimentation, keys, synth, and more, all swirling with turbulent nature field recordings. Fans of dark ambient, harsh noise, dark hardcore, and horror/suspense cinema are advised to fall into the void.
Having formed in recent months, launching with the release of a debut EP, FEEL HAPPINESS offers three tracks of slow-burning, apocalyptic flair on the split. The North Texas solo act of one Lane Oliver subjects the listener to explosive, unsettling compositions comprised of raw, droning guitars, moody keys, wailing violins, and mangled field recordings. From drone metal meditation on environmental collapse ("God Bless You All On The Earth"), to pagan horror movie soundtrack doom ("I've Cut Your Armies Down And Torn Your Heart"), to melancholic introspection ("All You Are Is Meat"), there's no escape from the dark and dreary here. Victoria Rose supplies guest keys and violins on "I've Cut Your Armies Down And Torn Your Heart." Fans of Soundtracks For The Blind-era Swans and Sunn O))) should take note.
GRIDFAILURE Live:
9/25/2019 Century Bar – Philadelphia, PA w/ Oxx, Somnolent vs. Hallucinogenic Bulb, Warp And Weft [info]
9/26/2019 JC Studios – Jersey City, NJ w/ Oxx, Cruelty [info]
10/25/2019 El Cortez – Brooklyn, NY w/ Gnaw, Oxx, bbigpigg [info]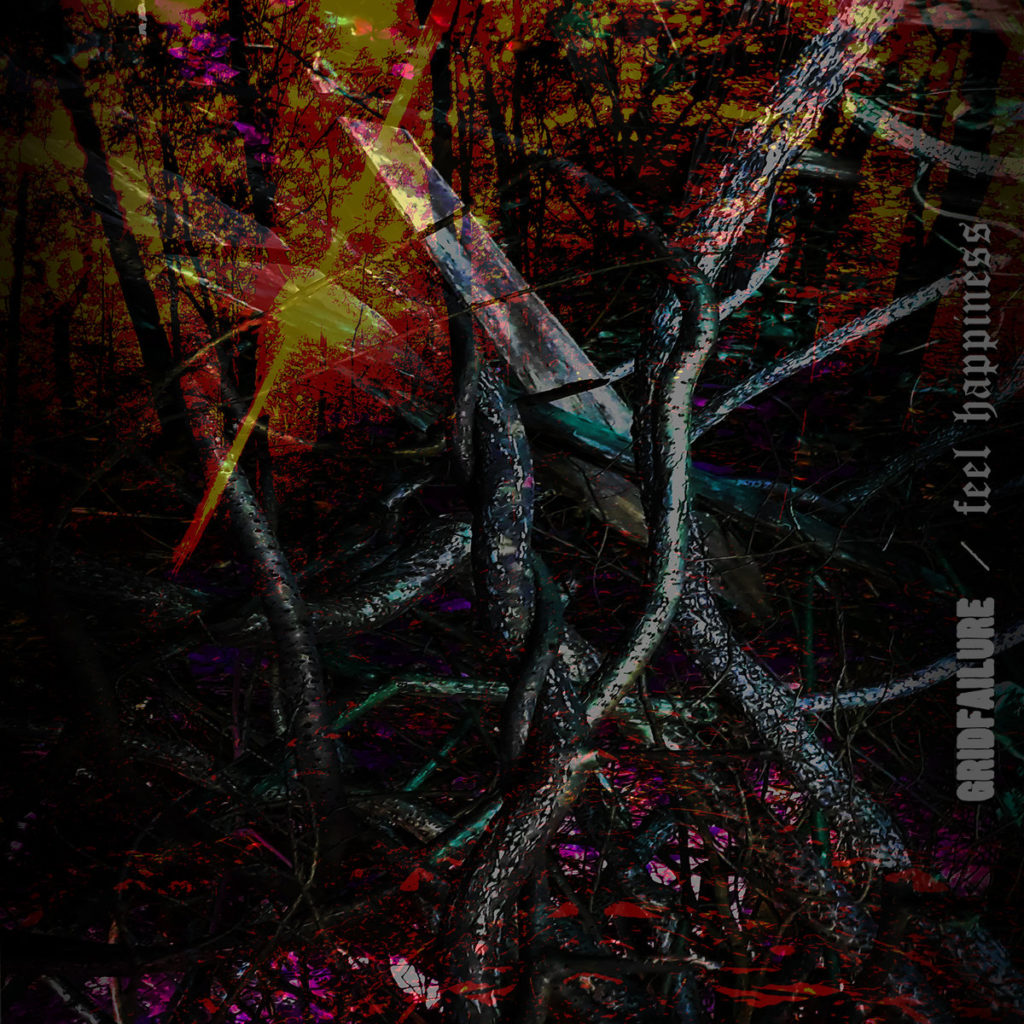 http://www.facebook.com/gridfailure
http://www.gridfailure.bandcamp.com
https://twitter.com/GRIDFAILURE
https://www.instagram.com/gridfailure
https://www.youtube.com/channel/UCRbk4oQvuhLgZmUZ1hyceog
https://www.facebook.com/feelhappinessnoise
https://feelhappiness.bandcamp.com
https://www.instagram.com/feelhappinessnoise
https://twitter.com/xFEELHAPPINESSx