Austin, Texas stoner rock outfit GREENBEARD is pleased to unveil their long anticipated new full-length, Variant!
GREENBEARD has made their mark on the stoner/desert rock scene, boasting heavy, heady sounds, and high-energy performances. The band blends early British heavy metal and psychedelia influences with big desert riffs and sedated stoner grooves. Variant meanders promisingly into "desert soul" territory, with bluesy interludes and heartstrung, crooning vocals. Despite a barrage of Covid-related challenges and industry delays, Variant emerges as a valiant tribute to new directions, creative experimentation, and engagement with the wider musical community.
Variant was recorded at Red Nova Ranch in Bastrop, Texas by producer Jeff Henson of brother-band Duel.
Comments Henson, "The project was already a hodgepodge of genres and sounds, so I took a pretty heavy-handed approach in making a lot of crazy shit happen across the album…fully expecting the guys to say 'back off' on most of it. To my surprise, they said 'go with it, and go farther.' So I did, and the end result is what you hear in this beautiful piece of work they're calling Variant."
The album features standout cover art of the band's long-time collaborator, artist Antoine Defarges, with the gatefold adapted from an actual diorama made by friend of the band Mount Dracula.
"The depth and complexity of the band's artwork has been upped with every new release," comments Defarges. "We started small and have kept growing in terms of concepts, sub-texts, and symbols. My initial inspiration was a stained glass that I saw in a church somewhere in Italy. The colors and lights came first, then everything kind of developed around that main vision."
"This album sounds totally unprecedented to me; kind of a mix between Pink Floyd and classic stoner rock. I'm proud to be a part of it," he adds.
In celebration of Variant's release, GREENBEARD will play a special record release show this Saturday, April 9th, at Hotel Vegas on their home turf of Austin, Texas. Limited copies of the vinyl will be available for the first time in person (online orders ship 4/20 in the US and 4/22 in EU). Additionally, on Saturday, April 10th the band will host a special Variant listening party and show at Austin's Independence Brewery where a new beer called Bavariant Dunkelweizen will be unveiled in their honor.
Stream Variant in its entirety at THIS LOCATION.
Order Variant on vinyl in the US via Sailor Records at THIS LOCATION. The record is available for order in Europe via Kozmik Artifactz at THIS LOCATION.
View GREENBEARD's previously released videos for "Creatures Of The Night" HERE, "Get In The Car. No Time To Explain" HERE, and "Exodus" HERE.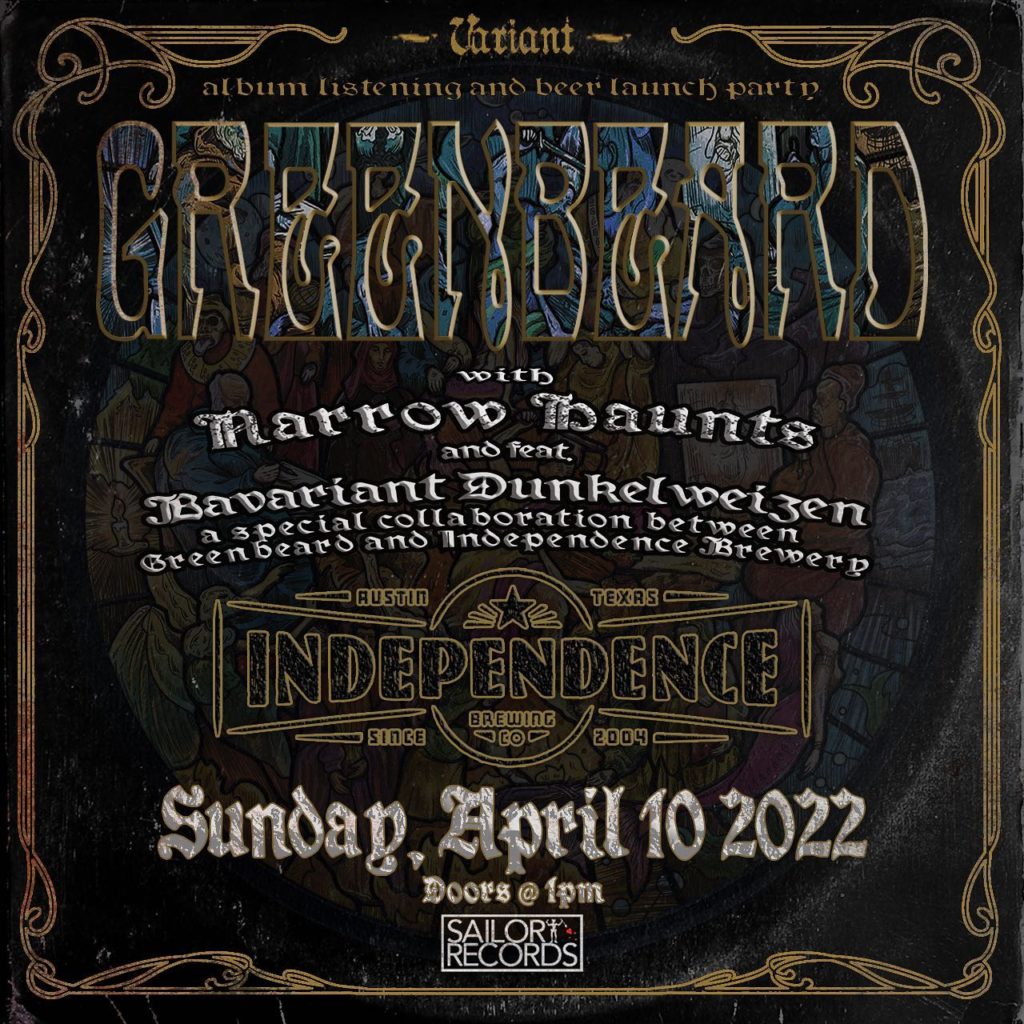 GREENBEARD:
4/09/2022 Hotel Vegas – Austin, TX * Variant record release show
4/10/2022 Independence Brewery – Austin, TX * Variant listening party/beer launch
Having begun production in 2018, GREENBEARD set forth wanting to depart from the stereotypical derivatives of stoner rock and chose to take elements of soul music with them into the studio. They brought in layers of strings, slide guitar, horns, and sonorous melodies to realize their divergent vision.
Then came Covid-19: The band was unable to play live shows, and their support tour with Texas legends …And You Will Know Us By The Trail Of The Dead was cancelled. Their former bassist departed, another was hired, then left to look for work in Hawaii. However, in the midst of all these changes, Pat Seals (Flyleaf, Kimberly Dunn, Belle & The Dragon) joined the band, bringing signature energy to their stage performances. The band then brought on Joe Samson as second guitarist, rounding out their lineup.
The new album represents an openness to change, and a melding of minds. "Instead of having an album fully constructed when walking into the studio, we wanted to bring elements of our vision in, and see how they would grow and thrive off the reactions from [producer] Jeff [Henson] and the various guest musicians we commissioned," explains drummer Buddy Hachar.
GREENBEARD broke onto the scene in 2014 with a self-titled EP, followed in 2015 by their full-length Stoned At The Throne, mixed in Los Angeles by Adam Hamilton (Brian Jonestown Massacre, Counting Crows, LA Guns). After a few tears across the States and appearances at big-ticket festivals, they set to recording their second full-length Lödarödböl in the Fall of 2016 — produced, mixed, and engineered with Matt Bayles at Red Room Recording in Seattle, Washington. In 2018, they recorded a teaser EP Onward Pillager with producer Jeff Henson.
"The aptly-titled follow-up to 2016's Lödarödböl takes the desert rock template that Kyuss built, runs it through the groove metal meat processor Corrosion Of Conformity created, and laces it in the psychedelic acid trip of latter-day Queens Of The Stone Age for an album that brings stoner rock into a whole new era." — Distorted Sound
"Every track from the first to the last rocks hard and souls deep, and the band excels, perhaps not in breaking the mould, but twisting them wildly so that they can be used to jump off unto lands seldom explored. This is a fantastic album, and it feels wonderful to climb aboard and let it transport you into distant reaches." — The Sleeping Shaman
"GREENBEARD successfully mixes their heavy stoner rock with lively metal, blues, soul and psychedelic elements." — Ghost Cult
 "The first of Variant's seven component tracks in its thirty-three-minute, don't-take-any-more-time-than-you-need run, the song ['Creatures Of The Night'] finds GREENBEARD off at a run, executing creative rhythmic turns and inventive melodicism that will shortly become a running theme for the record as a whole. It's a sprint, careening in desert rock down-the-highway fashion, but GREENBEARD handle the corners smoothly…" — The Obelisk
GREENBEARD:
Chance Parker – guitar/vocals
Buddy Hachar – drums
Pat Seals – bass
Joe Samson – guitar
Follow GREENBEARD on Spotify HERE
http://www.greenbeardtheband.com
http://www.facebook.com/greenbeardthenband
http://www.instagram.com/greenbeardtheband
http://www.greenbeardtheband.bandcamp.com