Seventh Rule Recordings, in cooperation with the underground marauders of Cvlt Nation, are offering up a chance to win a copy of the corrosive split EP between GRAVES AT SEA and SOURVEIN.
Easily among the most devouring doom/sludge releases of the year, Side A is governed by two ravaging numbers from Portland, Oregon's GRAVES AT SEA, whose contributions leave an eerie aura complete with tortured vocals, foreboding composition, and a general sense of dread. Recorded by Billy Anderson, (Melvins, Sleep, Neurosis) "Betting On Black" and "Confession" thunder with the all-consuming sludge for which the band is notorious, flooding in amongst the tortured howls and shrieks of vocalist Nathan Misterek. Said Decibel Magazine in an 8/10 review of the record, "GRAVES AT SEA… infuse the blackened, crusty sludge/doom that made their rep the last decade with a newfound command and groove. Vocalist Nathan Misterek's skinless screech alone would justify purchase price plus shipping even if this whole split weren't so damn good."
The resin-coated Cape Fear carnage of SOURVEIN, who've now existed for two decades of distortion, damage and deafening doom, conquers Side B with three songs produced and recorded by Mike Dean of Corrosion Of Conformity. These heinous hymns of heavy – "Driffter," "Equinox" and "Follow The Light" – combine toxic riffs, groove and just the right amount of psychedelic appeal to fuck your face right off its hinges. In that same review, Decibel opines, "Easily one of the most soulful singers in doom metal, sole remaining original member T-Roy Medlin brings a fuckload of nuance to knuckle dragger bolero 'Drifter' turning what might have otherwise been a decent (relatively) up tempo number into a worthy object of study for anyone bent on learning to balance gut-felt emotion with spectral detachment."
Both sides were mastered by Brad Boatright (Sleep, Beastmilk, Nails) at Audiosiege Engineering and are available via Seventh Rule on 160-gram vinyl – with both a standard black pressing as well as a mailorder-only aqua pressing limited to a mere 100 copies, both including a download card – as well as CD.
But wait! Doomheads will get a chance to win a copy of the wicked wax from Cvlt Nation! All you need to do is ENTER at THIS LOCATION where you can also stream the split in its entirety. Two winners will be announced on Friday at 12:00pm PST so don't dawdle!
Feeling unlucky? Orders for all formats can be placed HERE.
"Any fan of stoner or doom metal should break out the paraphernalia for this one, because it covers all the bases." – Cvlt Nation
"These bands are to one another both kin and complement, as the sounds thumb a parallel helix yet manage to separate themselves from one another just enough. But that's hardly the success here. Each song on either side serves as its own showcase of a band intent on keeping too many false smiles from polluting our planet. This split simply crushes from either side of the wax. It's a tad bright outside for my squints to adjust, so I'm gonna sit here in my basement, blast this staggering marriage of dissonance and harmony, and wait for the fuzz to pound my front door." – Heavy Planet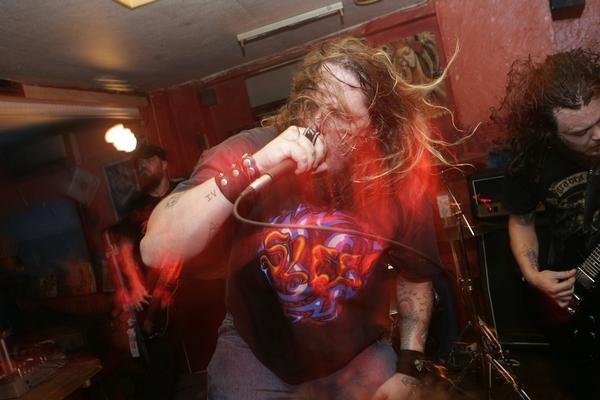 http://www.facebook.com/GravesAtSea
https://www.facebook.com/pages/SOURVEIN/238932972468
http://www.seventhrule.com
http://instagram.com/seventhrule
http://seventhrulerec.tumblr.com
http://twitter.com/seventhrule