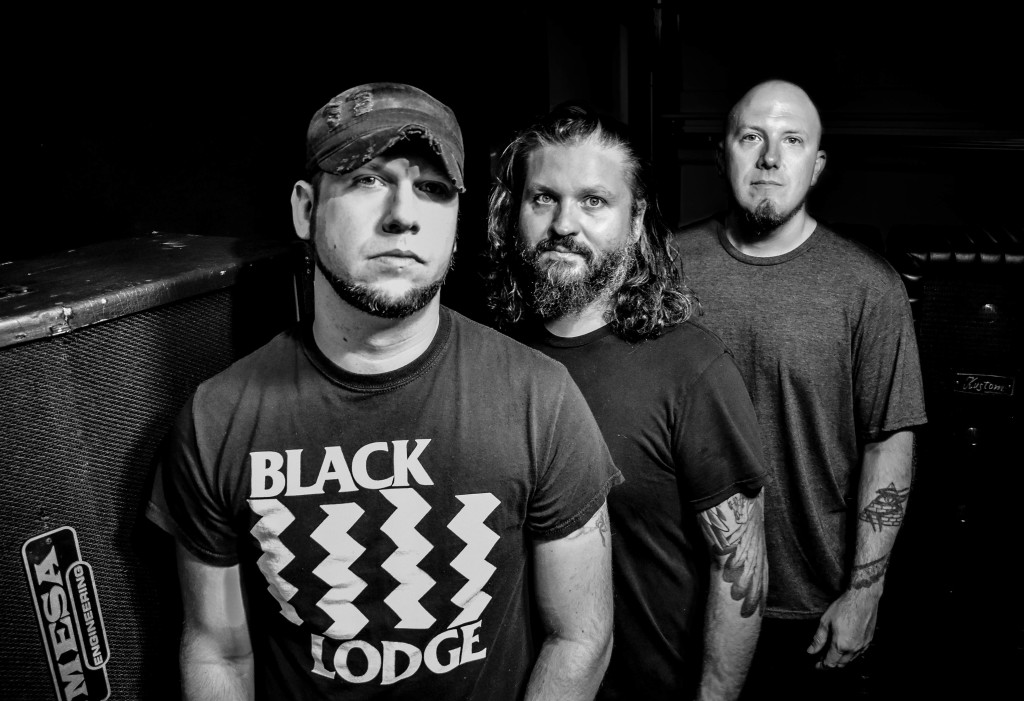 Extreme metal outfit GRAVEN – formed in the ashes of Swarm Of The Lotus – makes its destructive return, ending a four-year hiatus with the construction of a new EP titled Heirs Of Discord for release in 2018.
With its members currently located in Arizona, Maryland, New Jersey, and Florida, GRAVEN initiated the recording sessions for Heirs Of Discord last week, having traveled from their various current residences around the country to lay down tracks at Pristine Audio And Video in St. Petersburg, Florida with engineer Dee Blume, who will also mix and master the record. Teddy Patterson (Burnt By The Sun, Human Remains, Gridlink) has joined the lineup, and in addition, original Human Remains guitarist Stephen Procopio will appear on a cover of "Human" from Human Remains' ageless Using Sickness As A Hero.
Issued GRAVEN from the studio, "The time has come to officially announce what we've been working on for a while. Talks started earlier this year about reuniting to get this done and it hasn't been easy, as all of us live in a different part of the country now. Pre-production has been lengthy, involving passing demos back and forth via email, until we felt confident we were ready. Our longtime friend Teddy Patterson (Burnt By The Sun, Human Remains, Gridlink) will be joining us for the album and lending his talent in the bass department. His tracking will be done at Backroom Studios with engineer Kevin Antreassian of The Dillinger Escape Plan. We are beyond stoked on everything and after a four-year hiatus, we are happy to be back and making music again!"
Following the disbanding of Swarm Of The Lotus in 2010, three of its members established GRAVEN, reworking the lineup and moving forward with a more extreme approach, bridging the crushing sludge/metallic hardcore explosiveness of the former act with more guttural death, grind, and doom devastation. GRAVEN began to play live in various lineup incarnations in 2011, and self-released their first EP, The Filth Will Cleanse, in November 2012. They recorded two songs for a three-way split release with Burn Everything and Reckoner for Dullest Records which was released in May of 2014, however GRAVEN went on hiatus in late 2013, leaving at least five songs on the table which were never recorded. Some of this material has been resurrected and reworked, and will finally see the light of day as part of Heirs Of Discord.
The Heirs Of Discord sessions will continue at various studios over the next several months, completed with artwork by Unexpected Specter, and released digitally and on vinyl sometime mid-2018, with select live appearances also being scouted out for late next year, following the release.
Heirs Of Discord Track Listing:
1. I Dreamt You Were Dead
2. To Ravage And Absolve
3. A Failed Mask
4. Thieves Of Rotted Ilk
5. Backwards To Oblivion
6. Human (Human Remains cover)
GRAVEN:
Peter Maturi – guitars/vocals
Chris Csar – drums
Jason Borowy – vocals
Teddy Patterson – bass
https://gravensound.bandcamp.com
https://www.facebook.com/GRAVENSOUND
https://www.instagram.com/gravensound