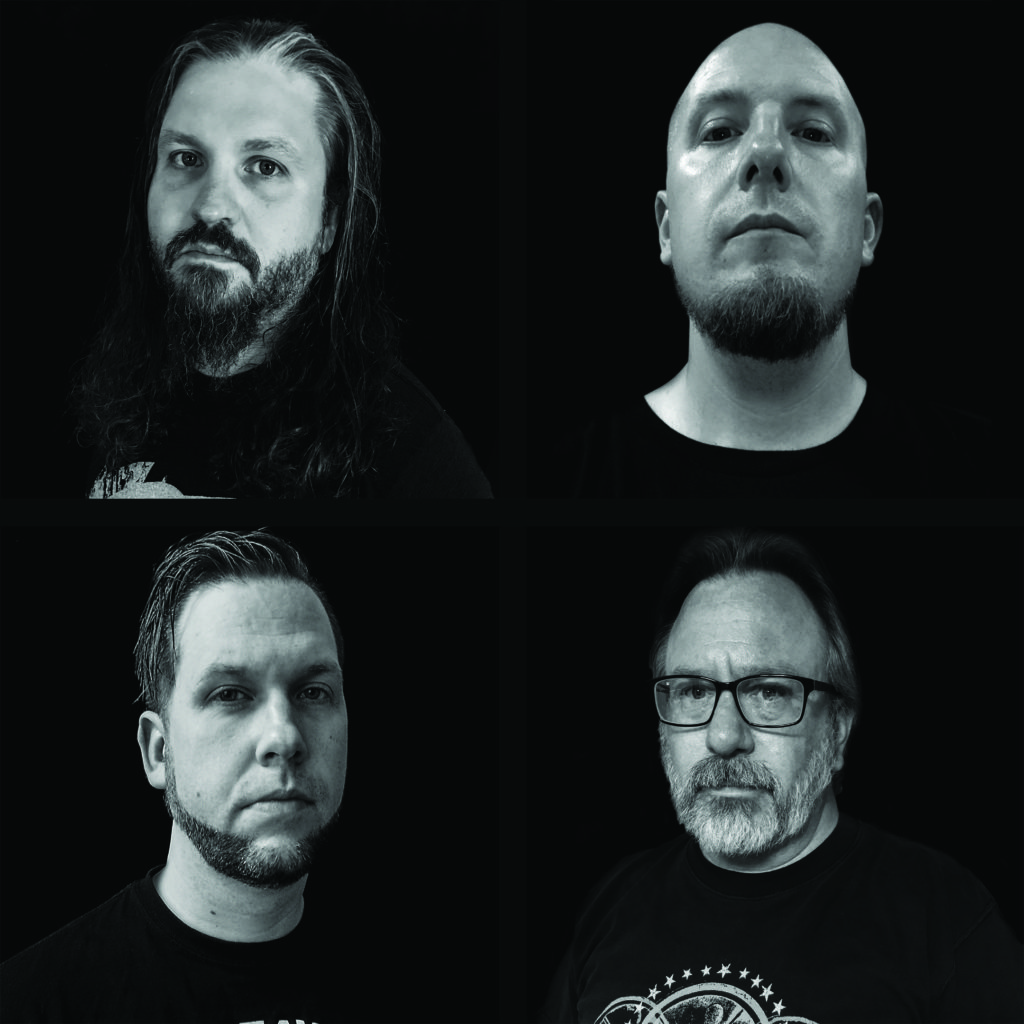 US extreme metal outfit GRAVEN makes its destructive return in 2018, ending a nearly five-year hiatus with the recently-completed new EP, Heirs Of Discord. The band has issued the first single from the EP through a premiere of the lead track, "A Failed Mask," now playing at Decibel Magazine. Preorder options for the record have also been posted.
Founded by several former members of the celebrated Swarm Of The Lotus, GRAVEN contains guitarist/vocalist Peter Maturi, drummer Chris Csar, vocalist Jason Borowy, and bassist Teddy Patterson of Burnt By The Sun, Human Remains, Gridlink, and more has joined the lineup on this EP. With members currently residing in Arizona, Maryland, New Jersey, and Florida, the band recorded Heirs Of Discord in multiple studios over nearly an entire year, and the results are nothing short of devastating.
Maturi states with the "A Failed Mask" premiere, "I love the high energy this song comes in with right away and maintains all the way thru. Kind of like a wrecking ball, hits hard and fast and over just as quick. Reminds me of some of the early Swarm material, mixed with an underlying punk ethos and sounding like it could go completely off the rails at any moment. I think we captured an out of control, raw, live feel on this one. And I think Jay's vocals send it completely over the top. Stoked to finally unleash the beast with this first track!"
Borowy adds, "'A Failed Mask' is a glimpse inside self-deception and the quiet struggle of addiction. The ability to manipulate and raw hatred of an ailing existence."
Decibel describes "A Failed Mask" as, "a track that fuses sludge, grind, hardcore and hints of death metal in punishing, unhinged fashion. Guitarist/vocalist Peter Maturi delivers angular riffs that are matched with a relentless rhythm section and main vocalist Jason Borowy's shrieks and growls."
Stream GRAVEN's crushing "A Failed Mask" at Decibel Magazine RIGHT HERE.
Heirs Of Discord will see release on November 2nd through the band's own independent imprint, Negative Grade Records. The record will be released through all digital platforms, as well as an extremely short run of lathe-cut vinyl versions of the album. A wide variety of preorder options and limited merch bundles are now available HERE.
Watch for additional audio samples and more to be issued in the days ahead.
Following the disbanding of Swarm Of The Lotus in 2010, three of its members established GRAVEN, reworking the lineup and moving forward with a more extreme approach, bridging the crushing sludge/metallic hardcore explosiveness of the former act with more guttural death, grind, and doom devastation. GRAVEN began to play live in various lineup incarnations in 2011, and self-released their first EP, The Filth Will Cleanse, in November 2012. They recorded two songs for a three-way split release with Burn Everything and Reckoner for Dullest Records which was released in May of 2014, however GRAVEN went on hiatus in late 2013, leaving at least five songs on the table which were never recorded. Some of this material has been resurrected and reworked and will finally see the light of day as part of Heirs Of Discord.
GRAVEN initiated the recording sessions for Heirs Of Discord in late 2017 and recorded in waves in multiple studios throughout the first half of 2018. The record features five original tracks as well as a cover of "Human" from Human Remains' seminal album Using Sickness As A Hero. With a scathing, grinding, pulsating attack, GRAVEN explodes with unhinged wrath and delivers a monstrous sounding release. The blasting grooves and volatility that drew such critical acclaim to Swarm Of The Lotus is here revisited and magnified to explosive new levels, delivered with top-tier production values.
The majority of Heirs Of Discord's vocals, all guitars, and some bass were tracked at Mana Recording Studios in St Petersburg, Florida with Engineer Art Paiz, who also handled all mixing and editing. Most of the bass was tracked at Backroom Studios in Rockaway, New Jersey with engineer Kevin Antreassian (The Dillinger Escape Plan). Most of the drums and some vocals were recorded at Pristine Audio And Video in St. Petersburg, Florida with engineer Dee Blume, and additional drums were recorded at Audioconfusion in Mesa, Arizona with engineer Jalipaz Nelson. Heirs Of Discord was then mastered by Alan Douches at West West Side Music in Hudson, New York, and completed with artwork by Unexpected Specter and layout by Nicole Maturi.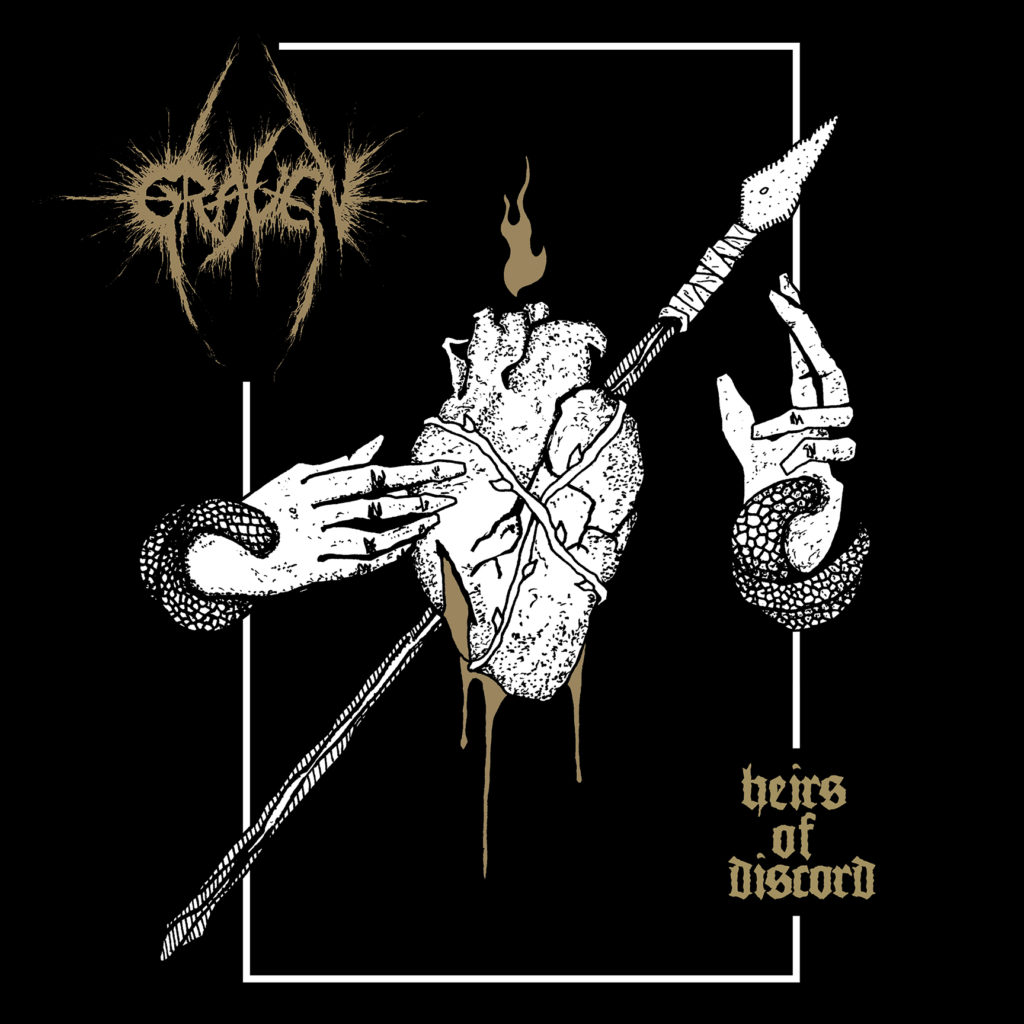 https://gravensound.bandcamp.com
https://www.facebook.com/GRAVENSOUND
https://www.instagram.com/gravensound