Rock 'N' Roll Fetish, the debut full-length from Philadelphia psychedelic proto-metal conjurors GRAVE BATHERS is out now and streaming via Seeing Red Records!
The fuzzed-out, full-stack sonic behemoth of a release —  captured live-to-tape at the analog-centric Memphis Magnetic recording facility — was engineered by Matt Qualls and Davis M. Shubs, mixed by Matt Qualls, Davis M. Shubs, and Drew Robinson and mastered by Grammy Award winner Pete Lyman (Tom Waits, The Mars Volta) at Infrasonic East in Nashville, Tennessee. The record features the brilliantly sleazy cover art of Benjamin Marra and is available as a limited edition 2xLP in two lysergic color variants and digitally.
Find orders at the Seeing Red Records webshop at THIS LOCATION and the GRAVE BATHERS Bandcamp page at THIS LOCATION where the record can be streamed in full. 
View the band's previously released video for "Tarman Cometh" HERE.
Decimating audiences with high decibel, high energy live performances since forming in 2018, GRAVE BATHERS quickly gained notoriety with their ambitious Feathered Serpent/Death Hand 7" EP released via Seeing Red Records in 2020. Upon first listen, The Sleeping Shaman hailed the band's, "epic riffs, piercing Robert Plant vocals, tales of outlaws and bloodshed, all above some truly gorgeous bass work," while Doomed And Stoned lauded "a sound that shuffles well with the rockier side of Pentagram, Black Sabbath, and Portland street doomers R.I.P." Metal Temple called the EP, "the epitome of doom metal," adding, "[it] deserves a listen through the graveyard." The band's authentic blend of bombastic boogie, booty shaking hard rock, heavy psych, and episodic doom earned them both critical acclaim and the momentum to pick up endorsements by Orange Amplifiers and Ampturco Guitar Werks.
Their momentum should be no surprise however: the band boasts the decibel-smashing guitarist Jaret Salvat-Rivera of Heavy Temple as their lead riff ripper and drummer Sean Lafferty of Yatra forging their most dominant lineup yet. The talent-stacked Voltron has since earned thousands of fans online through their iconic style, viral gear porn, vintage analog recording methods, and Spotify presence; all with only three singles out.
"GRAVE BATHERS have made a statement with their debut full-length. Ambitious and electrifying, its retro charm alongside masterful musicianship fills the heart with utmost joy. Simply put, a breathtaking debut." – Distorted Sound
"Like King Crimson rising from the grave to jam with Matt Pike, GRAVE BATHERS is here to sludge your day up real good." — Metal Injection
"GRAVE BATHERS do an excellent job of controlling all of this chaos in ways that remind us of King Crimson but with, of course, a fair amount of sludge and dirty doom added into the mix. The end result is wild but expertly driven, aimed at a coruscating, furious type of rock that's delightful to hear." — Heavy Blog Is Heavy
"What the hell is wrong with you? You put a ninety-second drum solo into your second song 'Brain Thief' on your debut? Furthermore, there are these fuzzy guitars, dozens of heavy, high-driven riffs and licks… on each damn song. Are you crazy? I had a really hard nightshift, just want to drink my beers and relax and then… that?… On almost each song, there is a damn lick, riff or solo that makes me grab my fucking guitar to play along." – Transcended Music
"The album clocks in at eighty-one minutes. Not one minute is wasted though, their seemingly boundless enthusiasm coming through loud and clear in every fuzzy note from the guitars, every full-blooded kick and muscular snare hit, and every guttural roar from the vocal." – Metal Epidemic
"…a massive, sprawling, dense exercise in all things '70s heavy…" – The Sleeping Shaman
"A listener won't need any mind-altering substances for GRAVE BATHERS' debut album Rock 'N' Roll Fetish, as there's enough dripping off it to get a contact high from. This is doom metal as shown through a psychedelic lens, with several song having trippy jams with involvement from everyone." – Heavy Music HQ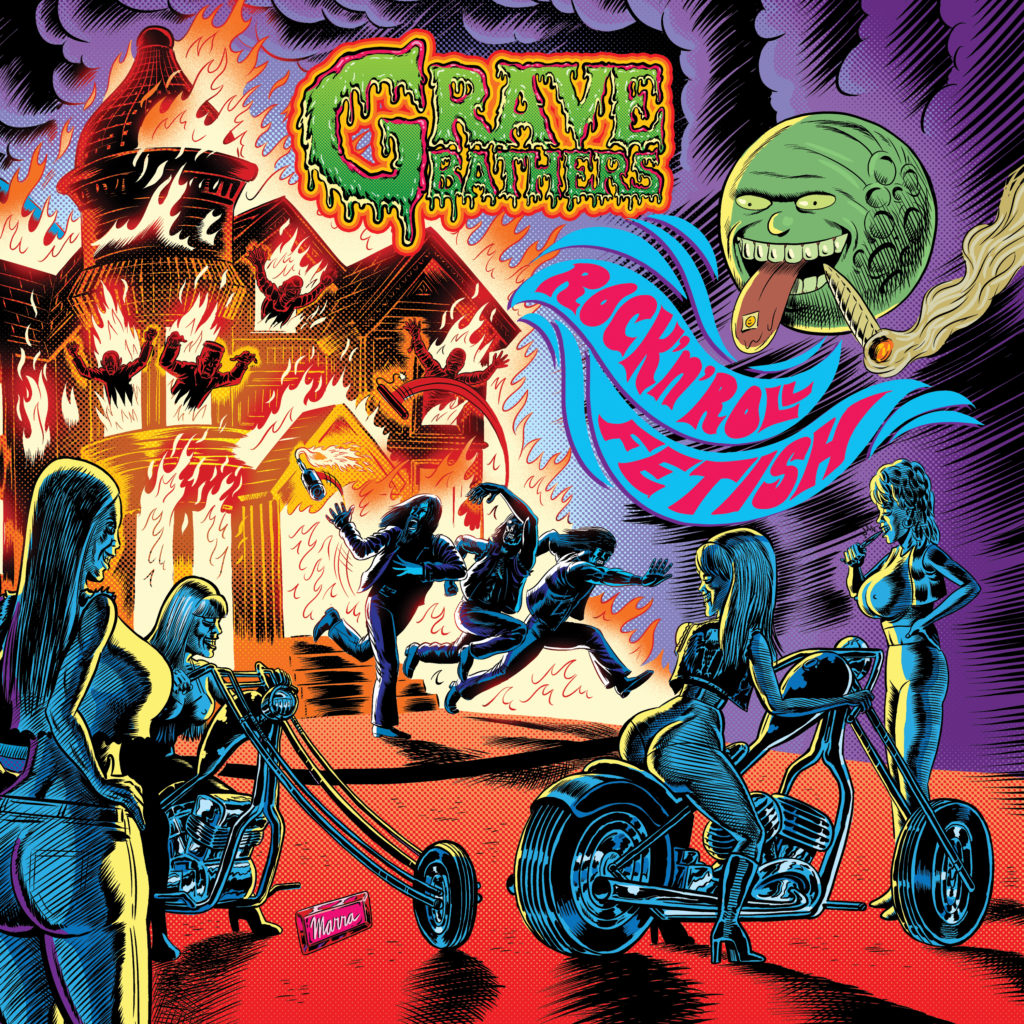 http://www.facebook.com/gravebathers
http://www.instagram.com/gravebathers
http://www.youtube.com/channel/UCTMrBLwibrQ7oCY_Ch9MN8g
http://gravebathers.bandcamp.com
http://www.seeingredrecords.com
http://www.instagram.com/seeing_red_records
http://www.facebook.com/seeingredrecords
http://seeingredrecords.bandcamp.com