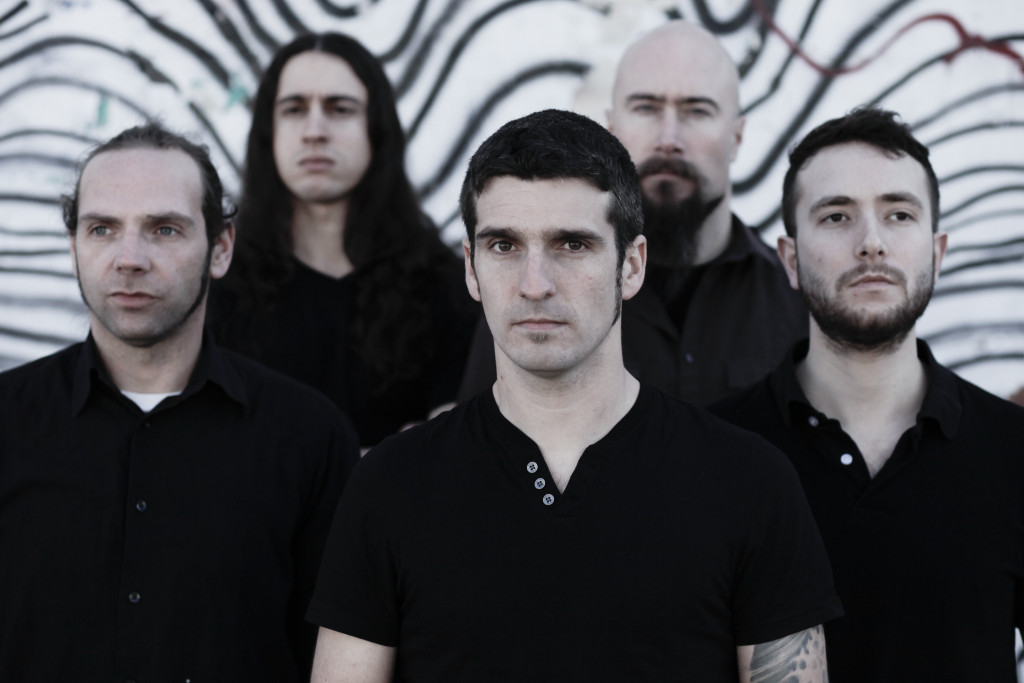 Today MetalSucks is pleased to unveil the official new video for "Inner Alchemy" from French tech death strategists, GOROD. The latest crusher comes by way of the band's A Maze Of Recycled Creeds full-length, released last Fall in North America via Unique Leader Records.
Centered around unfathomable fantasies created by various secret societies and mystical orders, A Maze Of Recycled Creeds is a near-fifty-minute-long work of diabolic genius spewing forth eleven tracks of arthritis-inducing riffs, spiraling, harmony-rich fret decompositions, surgically-precise time shifts, blasts, brawn and an incessant barrage of malicious vocal onslaughts.
Issues MetalSucks of the track, "How do GOROD do it? Combine such masterfully technical riffing and lead work with instantly memorable melodies, that is. So many try yet so few succeed, resulting in the oft-cited 'tech-death salad' problem cited by so many of the genre's detractors. Yet GOROD consistently delivers the goods time and time again, as they did on their 2015 album A Maze of Recycled Creeds, proving why they're some of the best in the biz. Here we are with a new music video for 'Inner Alchemy' from that album, as good as an example as any. Besides showcasing what GOROD do best from a musical standpoint – see above – the video is a fun watch; there are plenty of up-close shots of the guys playing their instruments for you musicians out there, all wrapped in a visually arresting style that keeps the video engaging for the rest of us."
View "Inner Alchemy," courtesy of MetalSucks at THIS LOCATION.
In related news, GOROD will kick off a Canadian tour later this month. Set to commence on March 24th and run through April 16th, the band will be joined by Bookakee as well as Beyond Creation on select dates.
GOROD w/ Bookakee – Canadian Tour 2016:
3/24/2016 Les Productions 4 Barils – Jonquière, QC *
3/25/2016 Cactus Show Bar – Rimouski, QC *
3/26/2016 Gus' Pub & Grill – Halifax, NS *
3/27/2016 Esquire Tavern – Moncton, NB *
3/28/2016 Charlotte Street Arts Centre – Fredericton, NB *
3/29/2016 House of TARG – Ottawa, ON
3/30/2016 Foufounes Electriques – Montreal, QC *
3/31/2016 Bar Le Magog – Sherbrooke, QC
4/01/2016 L'Anti Bar & Spectacles – Quebec, QC
4/02/2016 Hard Luck Bar – Toronto, ON
4/3/2016 The Asylum Sudbury – Sudbury, ON
4/05/2016 North Hill Inn – Brandon, MB
4/06/2016 Vangelis Tavern – Saskatoon, SK
4/07/2016 Dickens Pub – Calgary, AB
4/08/2016 The Office Pub & Grill – Kamloops, BC
4/09/2016 Funky Winker Beans – Vancouver, BC
4/10/2016 The Green – Vernon, BC
4/11/2016 Brixx – Edmonton, AB
4/12/2016 The Exchange – Regina, SK
4/13/2016 TBA – Winnipeg, MB
4/14/2016 Black Pirates Pub – Thunder Bay, ON
4/15/2016 TBA – Sault-Ste-Marie, ON
4/16/2016 La Scène Évolu-Son – Rouyn-Noranda, QC
* w/ Beyond Creation
"…the undisputed kings of melodic tech death…" – MetalSucks
"…one of the best technical death metal bands out there…"– Metal Injection
"…the band's highly diverse mix of influences – and their boundless ability to combine all of them together this succinctly – makes for an incredible listening experience, and one not to be missed by any fan of tastefully written heavy music." – Heavy Blog Is Heavy
"…in lesser hands, this mixing of jazz/funk/prog/fusion/metal would likely end up as an unlistenable mess, but you only have to look to the weirdly infectious, stop-motion fretwork of 'An Order To Reclaim' — which concludes with an audaciously epic, funk-doom outro — to see the Frenchmen make it look almost effortless." – No Clean Singing
"GOROD are simply turning the genre on its head while delivering one of the year's very best and entertaining albums." – Teeth Of The Divine
"GOROD continues to evolve and progress while others are content to ride their coattails…. one of the year's strongest tech death offerings." – Dead Rhetoric
"If Animals As Leaders or Felix Martin decided that they wanted to be a band like Metallica…it might come out like this." – Glacially Musical
A Maze Of Recycled Creeds is out now in North America via Unique Leader Records and in Europe via Listenable Records.
For GOROD coverage in North America contact liz@earsplitcompound.com.
http://www.facebook.com/GorodOfficial
http://www.gorod.free.fr
http://www.uniqueleader.com
http://www.facebook.com/uniqueleaderrecords