Bordeaux, France-based technical death metal behemoths GOROD today unveil their latest video and single "We Are The Sun Gods." Now playing at Decibel Magazine, the track comes off the band's long-awaited seventh album, The Orb, now set for release on March 10th.
The follow-up to the band's critically lauded Æthra full-length stands as their most accomplished work of their twenty-six year career. With The Orb, the quintet delivers both a synthesis of their previous efforts and opens to new, more accessible horizons. Far from being an average classic tech death act, GOROD continually diversifies its inspirations. With a unique groove mingled with melodies and rich harmonies inspired by '70s jazz, funk, and rock, their progressive and sophisticated approach to their sound has always given them a unique identity. The Orb furthers that trajectory.
Comments the band on "We Are The Sun Gods," "Welcome to a Shakespearean interpretation of the world upside down, in a story where God finds himself the creator of idols. The sun, his major work, was created with his own hands. This life-giving star, however, presents a certain hostility. In fact, it will burn our world down in flames. But the creator's greatest success is us. Carved in his image, we seem inexorably sentenced to fall into hubris. This 'solar' arrogance is leading us to our downfall. And it is not by creating in our turn deified objects that we will prevent all light from going out…"
Adds Decibel, "At a staggering five minutes, into which is a lot of room to cram many, many notes, GOROD's flair for the extreme in both musicianship and musicality is given plenty of breathing space to explore. Yes, the riffs are hard to play, but there is a sort of catchy playfulness in what is generally a 2serious4u type of music, exemplified in a lengthy sci-fi-inspired instrumental which occupies 'We Are The Sun Gods'' mid-section. With a penchant for the more progressive end of death metal… GOROD's oddball songwriting and chord progressions are truly the shining point here."
Watch GOROD's "We Are The Sun Gods," at Decibel Magazine HERE.
View the band's previously released video for The Orb's title track HERE and a lyric video for "Breeding Silence" HERE.
The Orb was produced by David Thiers at Secret Place Studio and will be released on CD, LP, and digitally. Find preorders at THIS LOCATION.
GOROD's art is fully expressed on stage thanks to their explosive energy and mind bogglingly tight live performances. In conjunction with the release of The Orb, GOROD will return to North America for a month-long headlining run. The Orb Release Tour will begin March 16th in Brooklyn, New York and runs through April 15th in Richmond, Virginia. Support will be provided by Cognitive, Summoning The Lich, and Flub. See all confirmed dates below.
GOROD w/ Cognitive, Summoning The Lich, Flub:
3/16/2023 The Meadows – Brooklyn, NY
3/17/2023 Atlas  – Washington, DC
3/18/2023 Black Forge – Pittsburgh, PA
3/19/2023 No Class – Cleveland, OH
3/20/2023 Sanctuary – Detroit, MI
3/21/2023 Cobra Lounge – Chicago, IL
3/22/2023 X-ray – Cudahy, WI
3/23/2023 Zymurgy – Menomonie, WI
3/24/20231867 – Lincoln, NE
3/25/2023 Roxy Theater – Denver, CO
3/26/2023 Urban Lounge – Salt Lake City, UT
3/27/2023 Shredder – Boise, ID
3/29/2023 The Big Dipper – Spokane, WA
3/30/2023 Funhouse – Seattle, WA
3/31/2023 High Water Mark – Portland, OR
4/01/2023 Old Ironsides – Sacramento, CA
4/02/2023 The X Bar – Cupertino, CA
4/03/2023 1720 – Los Angeles, CA
4/04/2023 The Underground – Mesa, AZ
4/06/2023 Tumbleroot – Santa Fe, NM
4/07/2023 Haltom Theater – Dallas, TX
4/08/2023 Come And Take It Live – Austin, TX
4/09/2023 Scout Bar – Houston, TX
4/10/2023 Downtown Music Hall – Pensacola, FL
4/11/2023 Crowbar – Tampa, FL
4/12/2023 The Haven – Orlando, FL
4/14/2023 Milestone – Charlotte, NC
4/15/2023 The Bike Shop – Richmond, VA
"…the gold standard of technical death metal… In a style of music like tech-death, where there are literal hundreds of bands that are absurdly talented at performing intricate, elaborately layered songs, it takes something special to elevate yourself, and GOROD's songwriting abilities have always been the extra factor that helps them stand out. The Orb serves as a helpful reminder that GOROD have earned every bit of hype and deserve every bit of respect that they get." – No Clean Singing
"The Orb is a technically masterful record written and arranged by musicians well-versed in their craft over decades in the scene. GOROD doesn't shy away from introducing new elements, repurposing elements from other bands/genres, yet still anchoring their riffs and songs to a very firm and familiar ground." – Metal Wani
GOROD:
Mathieu Pascal – guitar
Benoit Claus – bass
Julien "Nutz" Deyres – vocals
Nicolas Alberny – guitar
Karol Diers – drums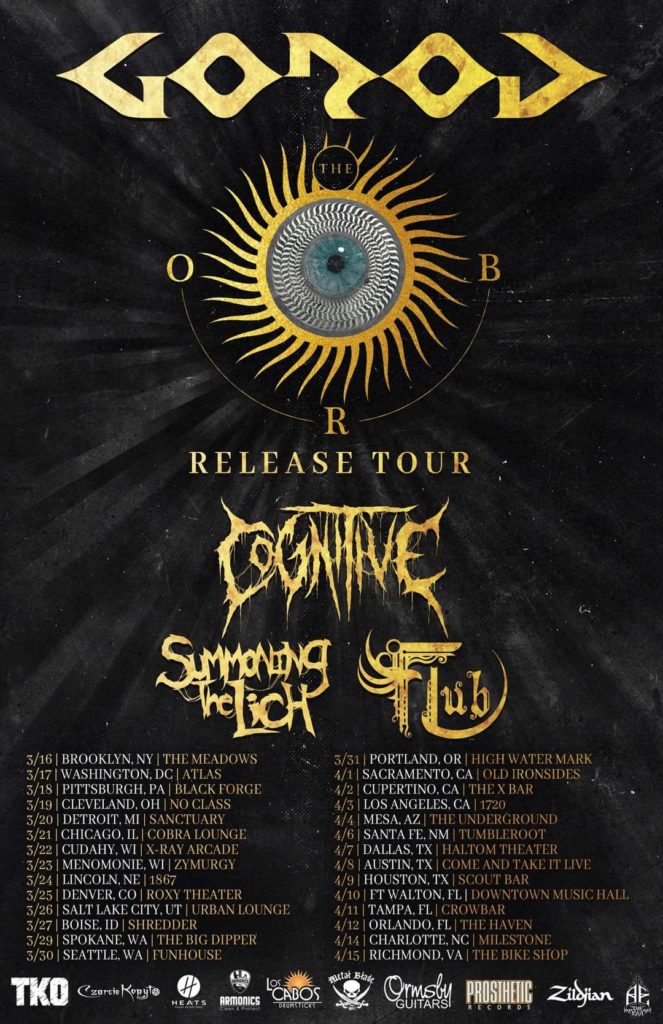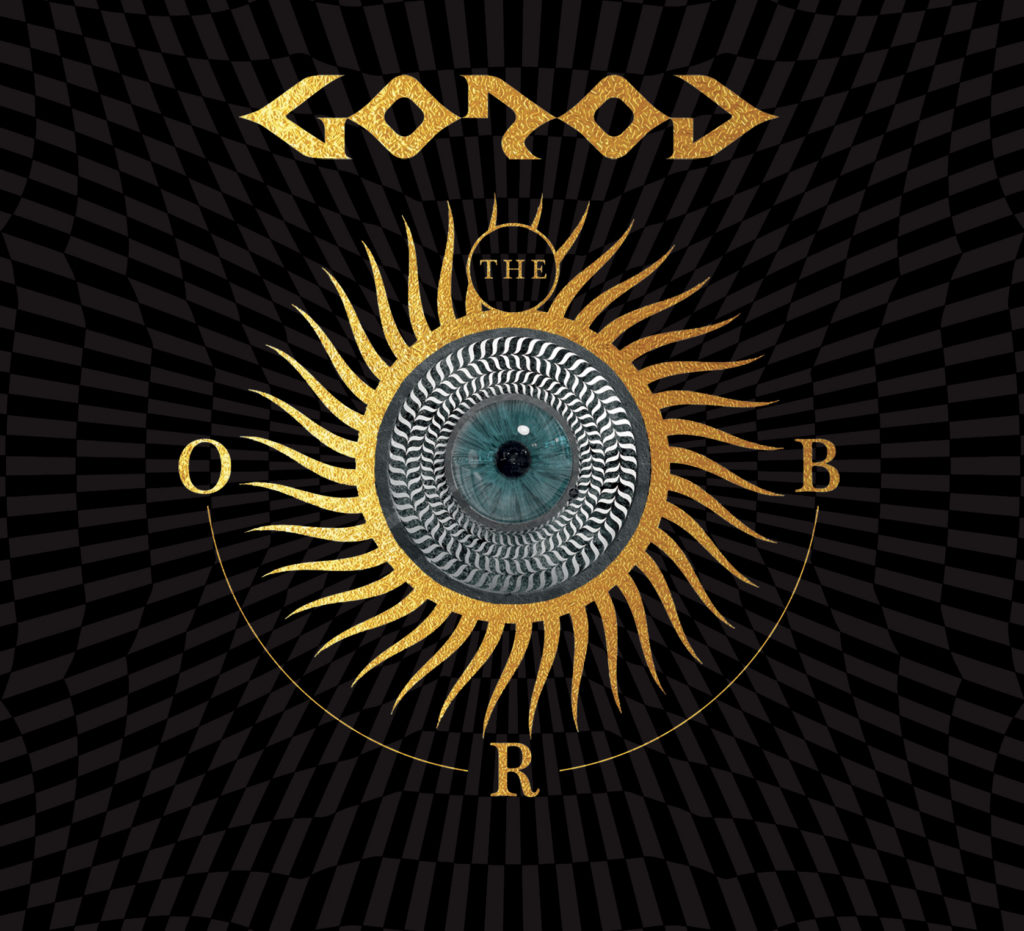 https://www.facebook.com/GorodOfficial
https://www.youtube.com/@GOROD_Official
https://www.instagram.com/gorod_official/?hl=fr
https://open.spotify.com/artist/69lt02nubfNbPdrvH4tJxx