13-good-tiger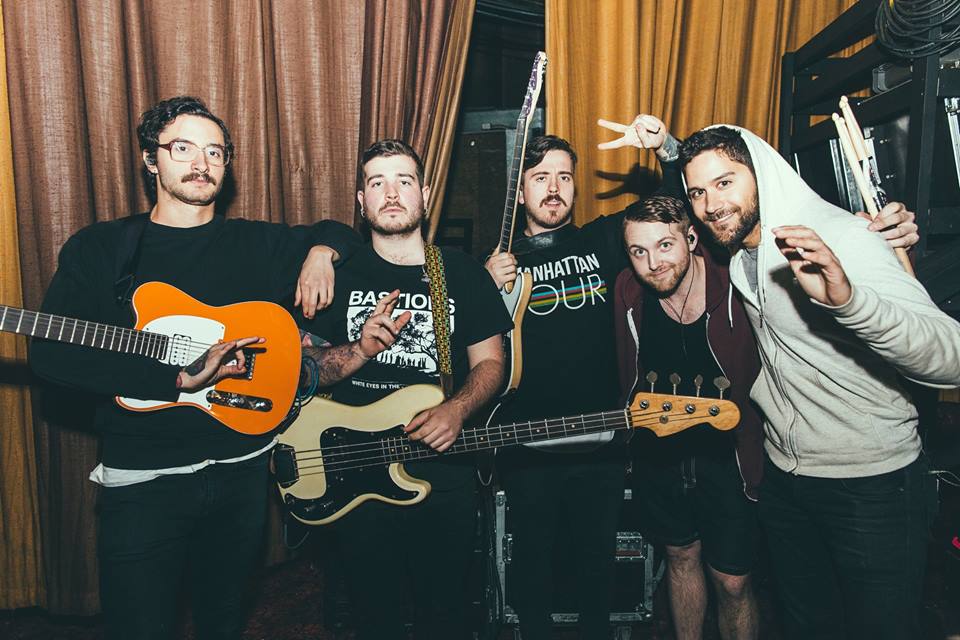 After completing a North American tour with Between The Buried And Me and August Burns Red earlier this year, GOOD TIGER — featuring former members of Tesseract, The Safety Fire, and Architects UK — will be heading out on the road again next week, this time with Dance Gavin Dance, The Contortionist, Hail The Sun, and The White Noise. To celebrate their return to the states, GOOD TIGER unveiled a new video for "Aspirations via AltPress.com, alongside an exclusive interview with guitarist Derya "Dez" Nagle. To watch "Aspirations" and read the story, point your browser to THIS LOCATION.
GOOD TIGER w/ Dance Gavin Dance, The Contortionist, Hail The Sun, The White Noise:
9/22/2016 El Rey Theater – Los Angeles, CA
9/23/2016 Social Hall SF – San Francisco, CA
9/24/2016 Hawthorne Theatre – Portland, OR
9/25/2016 Neumos – Seattle, WA
9/27/2016 The Summit Music Hall – Denver, CO
9/28/2016 Granada Theater – Lawrence, KS
9/29/2016 Amsterdam Bar & Hall – St. Paul, MN
9/30/2016 Portage Theater – Chicago, IL
10/01/2016 Emerson Theater – Indianapolis, IN
10/02/2016 The Crofoot – Pontiac, MI
10/03/2016 Mr. Smalls Theatre – Millvale, PA
10/04/2016 Lee's Palace – Toronto, ON
10/05/2016 La Tulipe – Montreal, QC
10/06/2016 The Waiting Room – Buffalo, NY
10/07/2016 Middle East Club – Cambridge, MA
10/08/2016 Union Transfer – Philadelphia, PA
10/09/2016 Webster Hall – New York, NY
10/11/2016 Baltimore Soundstage – Baltimore, MD
10/12/2016 The Norva – Norfolk, VA
10/13/2016 Cats Cradle – Chapel Hill, NC
10/14/2016 Masquerade – Atlanta, GA
10/15/2016 Orpheum Theatre – Tampa, FL
10/16/2016 Culture Room – Ft. Lauderdale, FL
10/17/2016 The Social – Orlando, FL
10/19/2016 Rocketown – Nashville, TN
10/20/2016 The Ready Room – St. Louis, MO
10/21/2016 Diamond Ballroom – Oklahoma City, OK
10/23/2016 Scout Bar – Houston, TX
10/24/2016 Mohawk – Austin, TX
10/26/2016 Vinyl @ Hard Rock Hotel & Casino – Las Vegas, NV
10/27/2016 Nile Theatre – Mesa, AZ
GOOD TIGER will be touring in support of their debut album, A Head Full of Moonlight, which was initially released digitally (after crowd-funding a staggering $45,980). First single, "Where Are The Birds" was aired on BBC Radio 1 and its music video counterpart – directed by Kim Taylor, produced by Compulsory – was seen on Kerrang TV, Scuzz TV, MTV Rocks, and more throughout Europe. The record was released on CD and LP this past April via Blacklight Media, the new label founded by Chris Santos, executive chef and managing partner of the New York City restaurants VANDAL, The Stanton Social, and Beauty & Essex, together with Brian Slagel of Metal Blade Records. To preview and purchase A Head Full Of Moonlight, visit: metalblade.com/goodtiger where the album is available in various formats and the "Where Are The Birds" clip can be viewed.
http://www.facebook.com/GoodTigerOfficial
http://www.twitter.com/goodtiger
http://www.instagram.com/goodtigerofficial