Selfmadegod Records presents Procreation Of God, the debut album from Polish death metal trio GODSLUT. Announcing the album for early May release, today the label issues its cover art, track listing, and the video/single, "Chaos."
GODSLUT was conceived by guitarist/vocalist Krzysiek Sniadecki in 2020. He composed the first demo single "Crucified" together with a previous lineup in 2021 and released it on YouTube, the song displaying the band's tempered alloy of death, thrash, and groove metal subgenres, influenced by many masters of the craft including Vader, Suffocation, Decapitated, Death, others.
After reworking the lineup, Sniadecki is now joined by bassist/vocalist Daniel Kozyra and Antigama's powerhouse drummer Pawel "Pavulon" Jaroszewicz. GODSLUT's debut album Procreation Of God delivers nine crushing tracks that will introduce this new band's decimating output to the world. Lyrically, the songs reflect religious indoctrination through the eyes of a teenager. They put the listener as a rebel against everything that the masked mafias use to slowly overwhelm the unaware commoners.
Procreation Of God was recorded throughout 2022, the guitars, bass, and vocals recorded at Antichrist Garage, and the drums recorded at JNS Studio in Warsaw (Gama Bomb, Lost Soul, Antigama) where the mixing and mastering were also handled by Pawel "Janos" Grabowski. The album is completed with cover art by Michal Xaay Loranc (Redemptor).
The album's first single, "Chaos," is delivered through a video created by Robert Zembrzycki (Fat Wolf Pictures). Sniadecki writes, "'Chaos' is the outro song for the album. You can hear that the riffage is really simple and is highly influenced by the OG Morbid Angel songs what makes them really catchy. At least for me."
Watch GODSLUT's "Chaos" video at the Selfmadegod Records YouTube channel RIGHT HERE.
Procreation Of God will be released on CD and digitally on May 5th. Watch for preorders and additional audio previews to post over the days ahead.
Procreation Of God Track Listing:
1. Procreation Of God
2. Paid Absolution
3. War, Pestilence, Death, Hunger
4. Over-Dying
5. Dragged Into Heaven
6. Logic To Extinct
7. Against
8. Crucified
9. Chaos
GODSLUT:
Krzysiek Sniadecki – guitars, vocals
Daniel Kozyra – bass,vocals
Pawel "Pavulon" Jaroszewicz – drums
GODSLUT will support labelmates Antigama and Redemptor on the Decomposition Ensembles Tour across Poland this April and May. See all confirmed shows HERE and stand by for additional dates to be announced.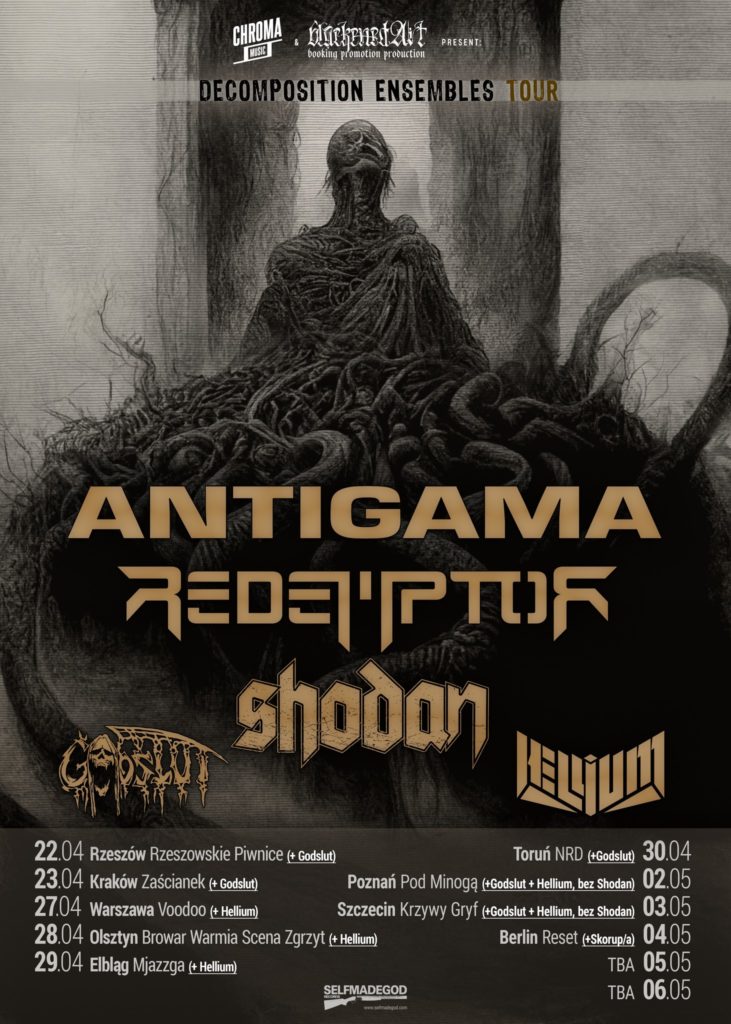 https://www.youtube.com/@godslut
https://www.facebook.com/godslut
https://www.instagram.com/godoslutband
https://www.tiktok.com/@godslutband
https://www.selfmadegod.com
https://www.selfmadegod-store.com
https://www.facebook.com/selfmadegod
https://www.selfmadegod.bandcamp.com
https://www.instagram.com/selfmadegod_records
https://www.youtube.com/user/SelfmadegodRecords