photo by David Dawson
As Hyderabad, India-based death metal quintet GODLESS prepares for their States Of Chaos debut album to see release, Decibel Magazine is hosting the newest single, "Orbits Of Decay," through an interactive 360° lyric video.
States Of Chaos sees GODLESS delivering eight intense and unfaltering tracks of their thrash-laced death metal which promise to pummel the listener into submission. Thematically, the album explores topics hinging on psychological trepidation and terror and phantasmagorias of dreamscapes that are sure to induce nightmares.
The drums on States Of Chaos were recorded at Wind Horse Recording Studios, the guitars and bass recorded at Infinity Studios, and the vocals recorded at Hydrozoa HQ, with all recordings engineered by the band's Abbas Razvi. GODLESS summoned the devastating sound of Poland's Hertz Studio (Vader, Behemoth, Decapitated) to handle the mixing and mastering duties for the album, and the result is a uniquely vicious-sounding record that takes no prisoners. The album is completed with artwork and design by New Salem and photography by David Dawson.
GODLESS' the new single, the album closer, "Orbits Of Decay," is now delivered through an immersive 360° lyric video, which is enhanced for viewing phone, tablet, or other mobile device. While the song maintains the GODLESS sound, it also displays the tech death influence of the band.
Vocalist Kaushal LS reveals, "'Orbits Of Decay' is a harsh reminder that life is insignificant when juxtaposed with the vast and unforgiving black void that is outer space. Particularly while witnessing an event of extinction."
"Indian death metal quartet GODLESS are determined to climb the ladder of the metal scene in their country, reaching this goal through sheer determination and refinement of their thrashy death metal sound," writes Decibel, calling "Orbits Of Decay" explicitly, "a lean three minutes of riff, groove, riff."
Enter GODLESS' interactive 360° lyric video for "Orbits Of Decay" – on your mobile device for optimum immersion – via Decibel Magazine now at THIS LOCATION.
GODLESS will independently release States Of Chaos on CD, LP, and digital platforms on November 19th. Preorders for all versions, including merch bundles, limited edition packages, and more are available where prior single "Netherworld" is playing HERE.
Watch for additional audio and video singles from States Of Chaos and more to be issued surrounding the album's release.
From their inauspicious origins within a very exotic metal music scene, GODLESS slowly rose to the very top of India's death metal class. Interestingly, throughout this gradual but inexorable climb, the members of the band didn't distinguish themselves for bringing innovations to the genre so much as for their unapologetic commitment to pure, unadulterated, lightning-fast, ear-shredding, thrash-influenced death metal.
Over time, GODLESS has proven themselves to be at the vanguard of the metal movement in the subcontinent, and with their debut LP, States Of Chaos, the band aims to propel their brand of death metal to more parts of the globe more than ever before.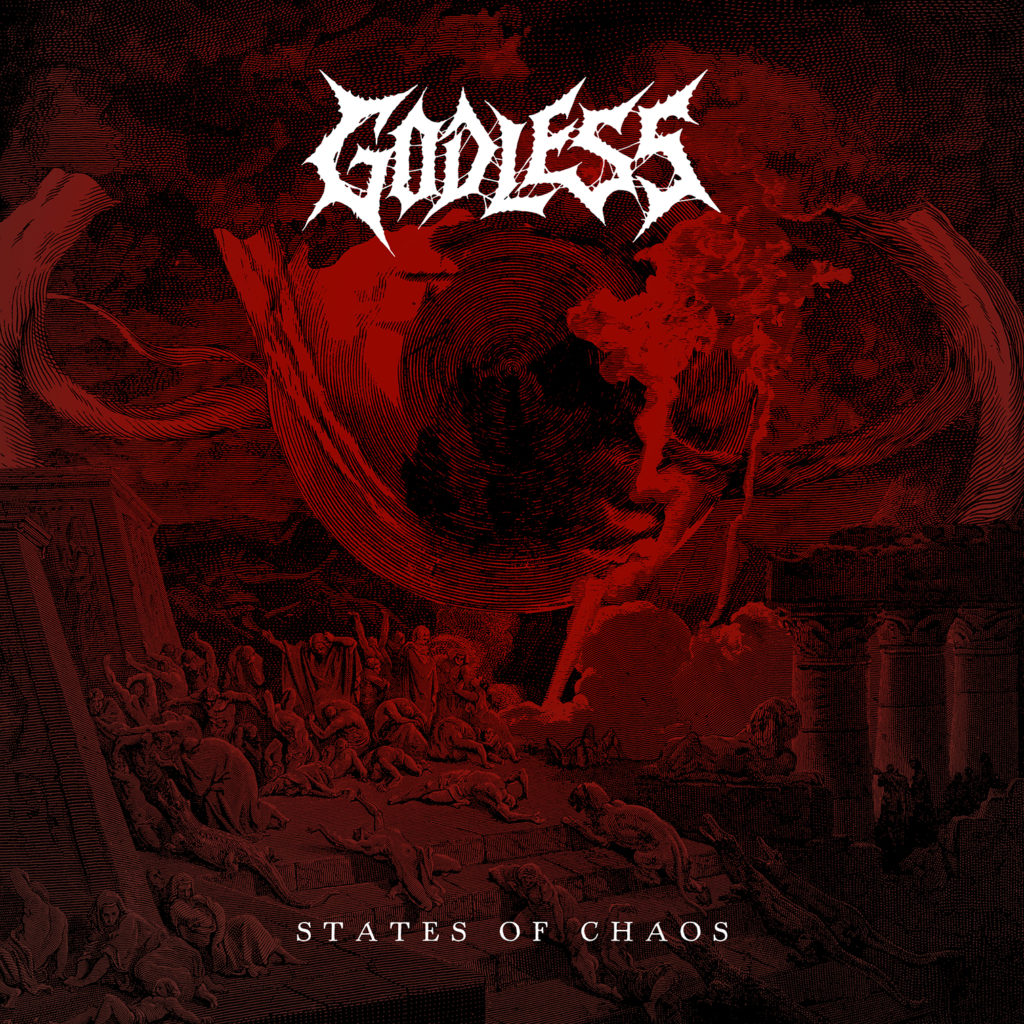 https://www.godless.in
https://www.youtube.com/godlessindia
https://godlessindia.bandcamp.com
https://www.instagram.com/godlessindia
https://twitter.com/godlessindia
https://www.facebook.com/godlessindia