The road warriors in GOATWHORE are packing their artillery for another run of live assaults later this week. The infiltration will commence this Saturday, August 15th in Richmond, Virginia as part of the annual Gwar B-Q gala. From there, the band will unite with support act – St. Louis metal troupe, Black Fast — and raze nine venues in seven states before bringing the proceedings to a ceremonial close with a special hometown performance alongside sludge brethren, Crowbar, at the House Of Blues in New Orleans, Louisiana on August 28th. The latest stretch of onstage debauchery follows the band's recent and wildly successful North American headlining tour with support from Ringworm, Black Breath and labelmates, Theories.
GOATWHORE:
8/15/2015 Gwar B-Q @ Hadad's Lake – Richmond, VA
w/ Black Fast:
8/16/2015 Cafe 611 – Frederick, MD
8/17/2015 V Club – Huntington, WV
8/18/2015 Expo Five – Louisville, KY
8/19/2015 Thompson House – Newport, KY
8/21/2015 Frankie's – Toledo, OH
8/22/2015 Mac's – Lansing, MI
8/23/2015 5th Quarter – Indianapolis, IN
8/24/2015 Fubar – St. Louis, MO
8/25/2015 Riot Room Midnight Metal – Kansas City, MO
End Tour:
8/28/2015 House of Blues – New Orleans, LA w/ Crowbar
GOATWHORE released their unanimously-adored Constricting Rage Of The Merciless full-length, last July via Metal Blade Records. Crowned, "..a blasphemous blast…," by Decibel, a "masterful slab of blacked metal," by PopMatters and praised for channeling, "every evil impulse of its blackened death thrash," by The Austin Chronicle, Constricting Rage Of The Merciless debuted at #81 on Billboard's Top 200 chart, toppling their last entry position of #171 with Blood For The Master. Additionally, the record hit the #21 spot on Billboard's Rock chart, #7 on the Hard Rock chart, #13 on the Independent chart and, boasting ten mutinous tracks of thick, predatory, subterranean metal, continues to reap the exaltation of fans and critics globally. Purchase your copy today at http://www.metalblade.com/goatwhore.
Live Testimonials:
"GOATWHORE commanded the whole room from the second they took the stage, and attending a show… should be a no-brainer for any and every metalhead in North America." – Metal Assault
"GOATWHORE unleashed their high octane brand of 'Apocalyptic Havoc' and all was right with the world… 'Cold Earth Consumed In Dying Flesh' sounded heavier than imaginable in a live setting, and the delightfully titled 'FBS' [Fucked By Satan…naturally] caused a whirlwind down in the pit." – New Noise Magazine
"When the buffer music finally ended and the lights changed to blood red, it was clear who was due up. GOATWHORE exploded on stage with the furious 'Poisonous Existence In Reawakening' followed by 'Alchemy Of The Black Sun Cult.'… GOATWHORE exemplified why they are on top of the death thrash game." – The Examiner
"Lead man Ben Falgoust stands as a reputable showman in his continuous engagement with the crowd – the high-fiving and fist bumping with patrons shall never cease. And by the time the leather lads hit their smash, "Apocalyptic Havoc," no one was spared. The concert going trinity of steam, screams, and Satan were on tap making for a great performance and satiated audience." – National Rock Review
"…the intensity is unparalleled." – Pittsburgh Music Magazine
"When the front row wasn't headbanging with arms adhered to the monitor, they were getting whipped by hair, baptized in sweat, and repeatedly fist bumped by the ever-invigorated frontman Ben Falgoust… Intimacy and intensity defined the night…" – Metal Life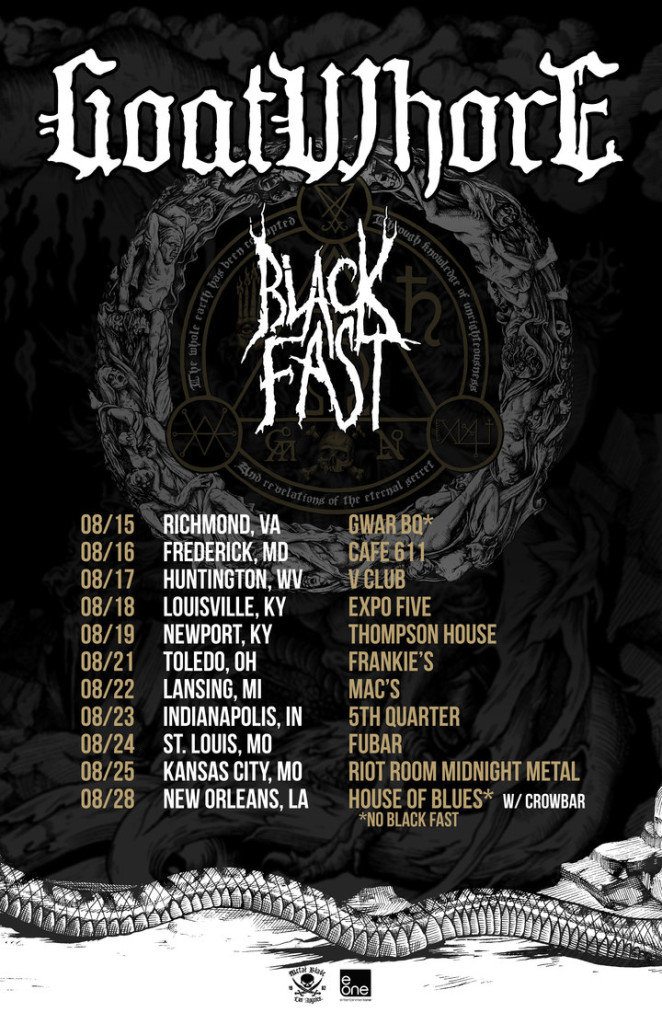 http://www.facebook.com/thegoat666
http://www.twitter.com/goatwhorenola
http://www.youtube.com/Goatwhorenola666
http://www.metalblade.com/goatwhore