GOATWHORE will host a two-hour Gimme Metal guest DJ special Wednesday, July 6th at 1:00pm ET /10:00am PT. Visit https://gimmemetal.com and join the band in the live chat while they walk you through their favorite picks!
The GOATWHORE Gimme Metal special comes in advance of the band's co-headlining run with Incantation next month! The Vile Ascension tour will commence on August 1st in Orlando, Florida and run through August 27th in the band's home city of New Orleans, Louisiana. Support will be provided by Bewitcher and Caveman Cult on select dates. Tickets are on sale now! See all confirmed dates below.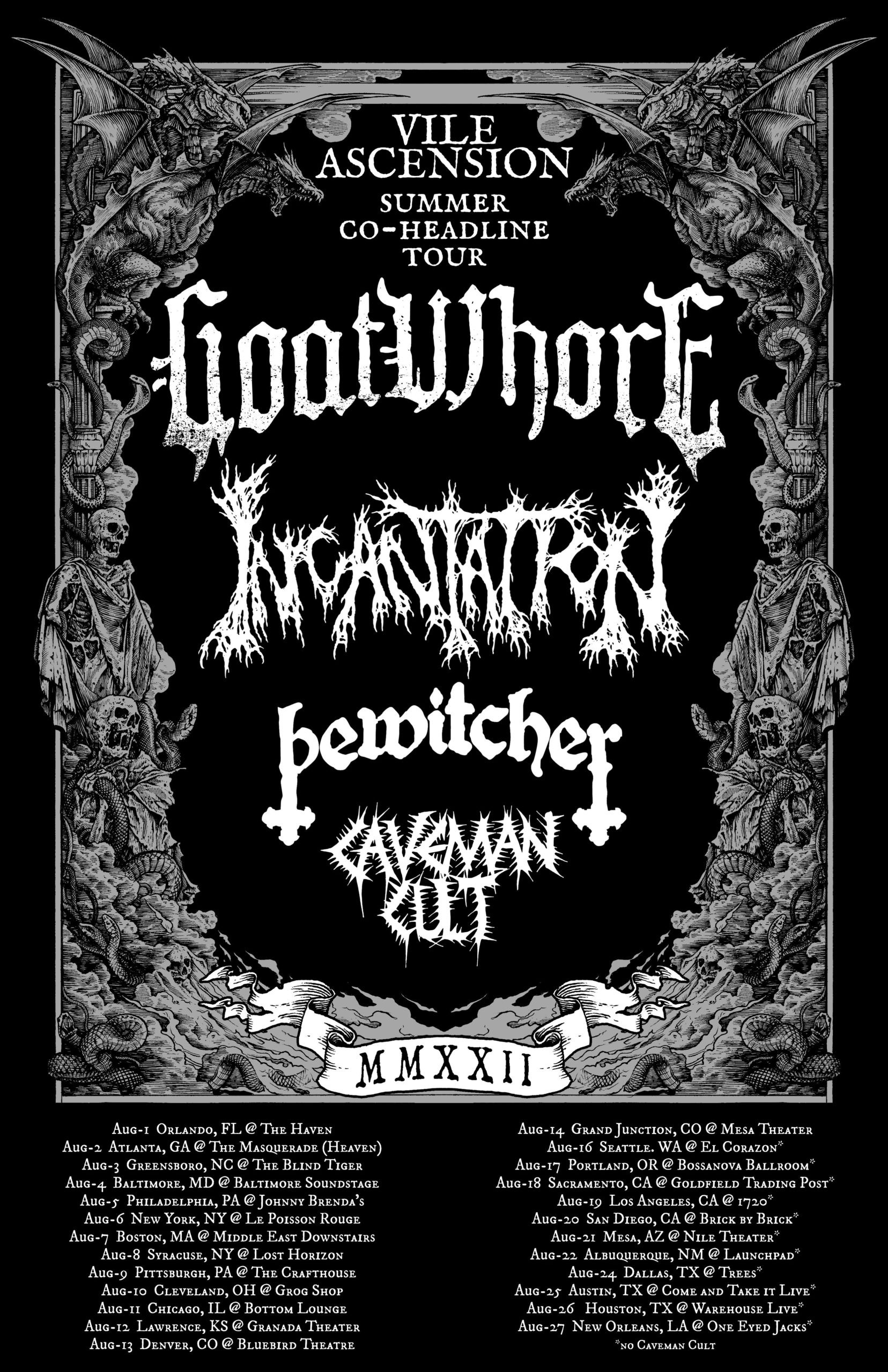 GOATWHORE w/ Incantation, Bewitcher, Caveman Cult:
8/01/2022 The Haven – Orlando, FL
8/02/2022 Masquerade – Atlanta, GA
8/03/2022 Blind Tiger – Greensboro, NC
8/04/2022 Soundstage – Baltimore, MD
8/05/2022 Johnny Brenda's – Philadelphia, PA
8/06/2022 Le Poisson Rouge – New York, NY
8/07/2022 Middle East – Boston, MA
8/08/2022 Lost Horizon – Syracuse, NY
8/09/2022 Crafthouse – Pittsburgh, PA
8/10/2022 Grog Shop – Cleveland, OH
8/11/2022 Bottom Lounge – Chicago, IL
8/12/2022 Granada Theater – Lawrence, KS
8/13/2022 Bluebird Theatre – Denver, CO
8/14/2022 Mesa Theater – Grand Junction, CO
w/ Incantation, Bewitcher:
8/16/2022 El Corazon – Seattle, WA
8/17/2022 Bossanova Ballroom – Portland, OR
8/18/2022 Goldfield Trading Post – Sacramento, CA
8/19/2022 1720 – Los Angeles, CA
8/20/2022 Brick By Brick – San Diego, CA
8/21/2022 Nile Theater – Mesa, AZ
8/22/2022 Launchpad – Albuquerque, NM
8/24/2022 Trees – Dallas, TX
8/25/2022 Come And Take It Live – Austin, TX
8/26/2022 Warehouse Live – Houston, TX
8/27/2022 One Eyed Jacks – New Orleans, LA
GOATWHORE's most recent full-length, Vengeful Ascension, was released to critical acclaim through Metal Blade Records in 2017. "Vengeful Ascension has extremity black metal fans will dig, groove that will appeal to death metal aficionados and potent guitar work thrash lovers can appreciate," wrote Loudwire of the band's highest charting album to date. Louder Sound noted, "Its combination of disparate subgenres from opposite ends of the structural and melodic continuum is masterful, resulting in a remarkably non-contrasting display of good and evil; that being good songs that sound as evil as all hell." Added Angry Meta Guy, "This is yet another enjoyable, catchy and barnstorming GOATWHORE album, baring enough memorable riffs, raw savagery and variety to remain engaging across its efficient duration… an ideal soundtrack for engaging in mischievous mayhem or simply knocking back some brews with good company, and that folks, is what GOATWHORE is all about."
To preview and purchase Vengeful Ascension, visit metalblade.com/goatwhore. Stay tuned for news on new GOATWHORE material to be unnveiled in the coming weeks.
http://www.facebook.com/thegoat666
http://twitter.com/Goatwhore_NOLA
http://www.instagram.com/goatwhorenola
http://www.youtube.com/Goatwhorenola666
http://www.metalblade.com
http://www.facebook.com/metalbladerecords
http://twitter.com/MetalBlade
http://www.instagram.com/metalbladerecords