GOATWHORE will return to North American stages this fall as headliners of the 2018 edition of the Metal Alliance tour. Set to commence on October 31st at Southport Music Hall on their home turf of New Orleans, Louisiana, the tour will make its way through over two dozen cities upon its conclusion November 30th in Easton, Pennsylvania. Support will come from The Casualties, Black Tusk, and Great American Ghost as well as Morthereon and Gozu on select dates. A great triumph, the slot sees GOATWHORE join the echelon of previous Metal Alliance headliners like Behemoth and Anthrax. VIP packages are on sale today at THIS LOCATION. General tickets go on sale Monday, August 20th. The Metal Alliance trek follows GOATWHORE's near month-long European run supporting Dying Fetus, currently underway. See all confirmed dates below.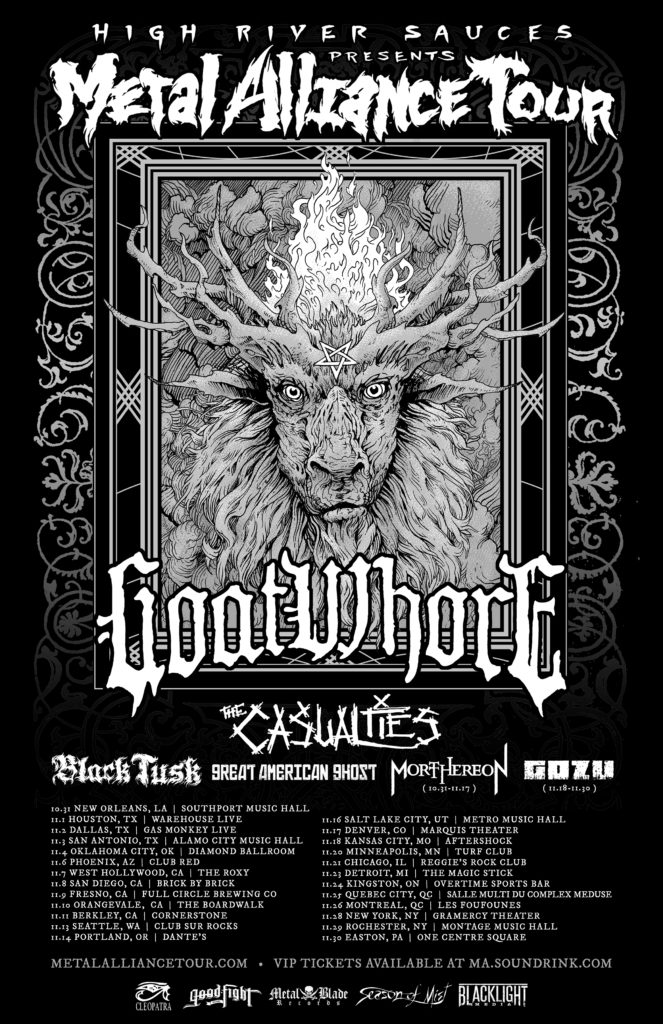 GOATWHORE w/ Dying Fetus:
8/14/2018 Club Academy – Manchester, UK w/ Carnifex, Toxic Holocaust
8/15/2018 Kulttempel – Oberhausen, DE w/ Carnifex, Toxic Holocaust, Venom Prison
8/16/2018 Chez Paulette РPagney-derri̬re-Barine, FR w/ Carnifex, Toxic Holocaust, Venom Prison
8/17/2018 Summer Breeze Fest – Dinkelsbuhl, DE
8/18/2018 Petit Bain – Paris, FR w/ Venom Prison
8/20/2018 Secret Place – Montpellier, FR w/ Toxic Holocaust, Venom Prison
8/21/2018 Kiff – Aarau, CH w/ Carnifex, Toxic Holocaust, Venom Prison
8/22/2018 The Dagda Club – Retorbido, IT w/ Carnifex, Toxic Holocaust, Venom Prison
8/23/2018 Club Stereo – Klagenfurt, AT w/ Carnifex, Toxic Holocaust, Venom Prison
8/24/2018 Kaltenbach Open Air – Spital am Pyhrn, AT
Metal Alliance Tour w/ The Casualties, Black Tusk, Great American Ghost, Morthereon (10/31 – 11/17), Gozu (11/18 – 11/30):
10/31/2018 Southport Music Hall – New Orleans, LA
11/01/2018 Warehouse Live – Houston, TX
11/02/2018 Gas Monkey Bar N' Grill – Dallas, TX
11/03/2018 Alamo City Music Hall – San Antonio, TX
11/04/2018 Diamond Ballroom – Oklahoma City, OK
11/06/2018 Club Red – Mesa, AZ
11/07/2018 The Roxy – West Hollywood, CA
11/08/2018 Brick By Brick – San Diego, CA
11/09/2018 Full Circle Brewing Co. – Fresno, CA
11/10/2018 The Boardwalk – Orangevale, CA
11/11/2018 Cornerstone – Berkeley, CA
11/13/2018 Club Sur Rocks – Seattle, WA
11/14/2018 Dante's – Portland, OR
11/16/2018 Metro Music Hall – Salt Lake City, UT
11/17/2018 Marquis Theater – Denver, CO
11/18/2018 Aftershock – Merriam, KS
11/20/2018 Turf Club – St. Paul, MN
11/21/2018 Reggie's Rock Club – Chicago, IL
11/23/2018 Magic Stick – Detroit, MI
11/24/2018 Overtime Sports Bar – Kingston, ON
11/25/2018 Salle Multi Du Complex Meduse – Quebec City, QC
11/26/2018 Les Foufounes Electriques – Montreal, QC
11/28/2018 Gramercy Theater – New Yok, NY
11/29/2018 Montage Music Hall – Rochester, NY
11/30/2018 One Centre Square – Easton, PA
GOATWHORE continues to tour in support of Vengeful Ascension, released last June via Metal Blade Records. Their seventh full-length – captured at Earth Analog with longtime soundman and comrade Jarrett Pritchard (1349, Gruesome, Wolvhammer) – serves as the band's highest charting album to date and continues to reap the praise of fans and critics alike. MetalSucks named Vengeful Ascension the band's, "most vital album since 2006's A Haunting Curse," and one, "guaranteed to frighten your grandmother directly into her grave." Loudwire noted, "Vengeful Ascension has extremity black metal fans will dig, groove that will appeal to death metal aficionados, and potent guitar work thrash lovers can appreciate." Blabbermouth hailed, "Vengeful Ascension proves that the band is firing on all cylinders, standing tall as one of extreme metal's leading bands." Exclaim concurred crowning Vengeful Ascension, "one of the band's strongest offerings to date."
Vengeful Ascension is out now on CD, vinyl, and digital formats. To preview and purchase the record, visit metalblade.com/goatwhore.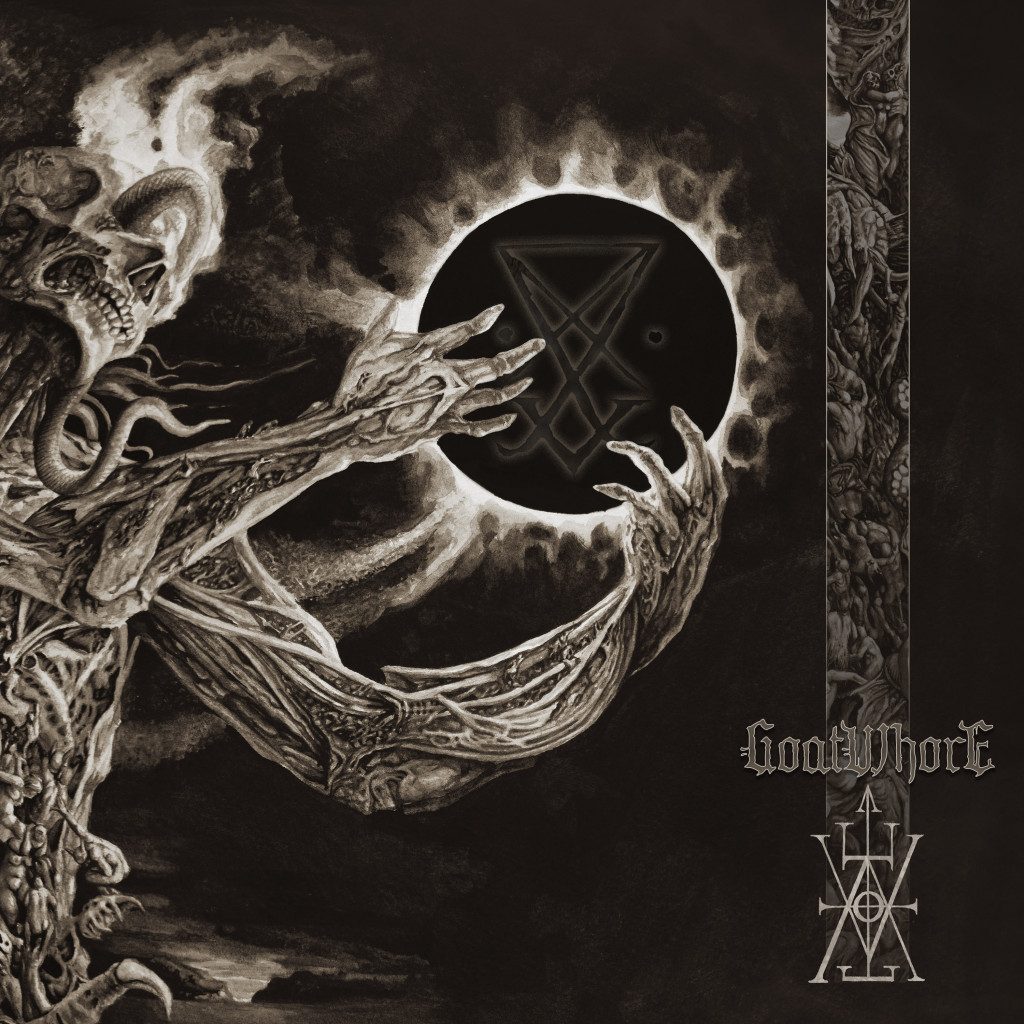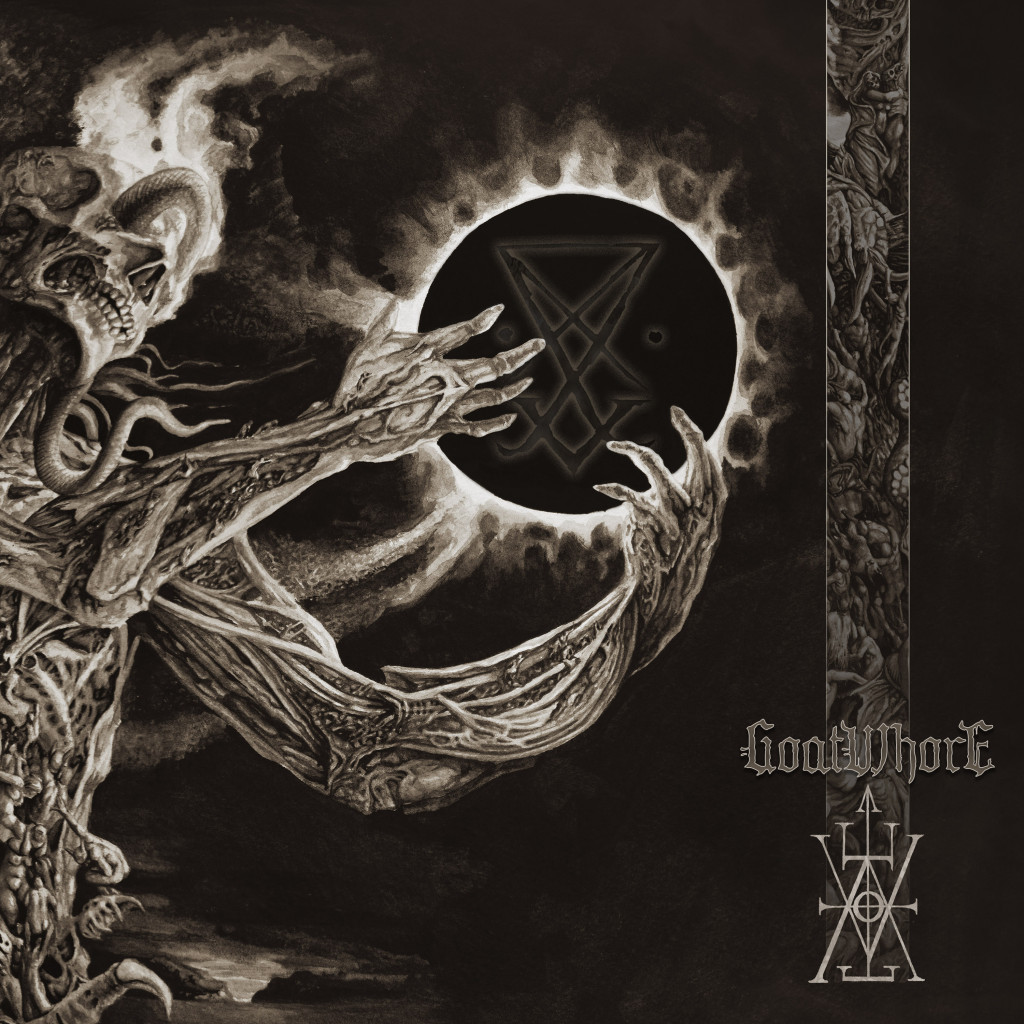 http://www.facebook.com/thegoat666
http://www.twitter.com/goatwhorenola
http://www.youtube.com/Goatwhorenola666
http://www.metalblade.com/goatwhore
http://metalalliancetour.com
http://ma.soundrink.com