[photo by Chris Lundry]
Vice Magazine's music channel, Noisey, has just premiered the newest single from GOATSNAKE, in the form of the of the title track of the band's upcoming Black Age Blues LP, which is now playing alongside a feature with the band.
"Black Age Blues" deploys nearly six-and-a-half minutes of GOATSNAKE's most bulldozing grooves to date, the track primed with amp tones hotter than the Southern California Summer sun and its percussive drive steadily slamming into the listener like each car of a passing freight train, the earlier part of the track delivering possibly the most upbeat tempos in the band's history, before it cools down to a crushing, half-paced lurch that carries out the remainder of the anthem. Noisey premieres the new jam alongside an exclusive interrogation with guitarist Greg Anderson, covering the creation of the band's first LP in fifteen years, their upcoming tour dates including Maryland Deathfest, Temples Fest and, and more.
Get your dose of GOATSNAKE's "Black Age Blues" through Noisey now at THIS LOCATION.
Also hear the album's "Elevated Man" previously released through Revolver Magazine HERE.
Black Age Blues will be released through Southern Lord Recordings in North America on June 2nd, and preorders for the album are now live. In addition to physical preorders, iTunes also has the record available, offering the tracks "Black Age Blues" and "Elevated Man" for instant download, which will also be available to purchase individually tomorrow. Check out the preorder options at the new GOATSNAKE store HERE, via BandCamp HERE and iTunes HERE.
Following a sold-out performance in secluded Pioneertown, California and a record listening party in Los Angeles this past weekend, GOATSNAKE now prepares for their hometown record release show for Black Age Blues with Southern Lord brethren Bl'ast and Eagle Twin on the 20th. Just days later, the band makes its cross-country voyage to Maryland Deathfest in Baltimore, marking the band's first East Coast performance ever. Less than a week later, GOATSNAKE will hit Europe for a week-long tour which kicks off at Temples Festival in Bristol, England and includes a headlining set at Siegen, Germany's Freakvalley Festival. Upon their stateside return, they'll headline Crucialfest in Salt Lake City, Utah, with additional tour dates being scheduled.
With nearly fifty minutes of GOATSNAKE's most soulful and boisterous material to date, the quartet expands their already mammoth tones and pummeling rock riffs with a variety of additional influences and elements on Black Age Blues, an instant classic, with each one of the nine songs an anthem, and each of its members — vocalist Pete Stahl (Scream), drummer Greg Rogers (The Obsessed), bassist Scott Renner and guitarist Greg Anderson (Sunn O))), Southern Lord Recordings) — all in top form. With guest contributions from David Pajo (Slint, Aerial M, Papa M) and soul vocal trio Dem Preacher's Daughters, comprised of Wendy Moten, Gale Mayes and Andrea Merrit, the album was recorded and mixed at Rock Falcon Franklin, Tennessee by Nick Raskulinecz (Queens Of The Stone Age, Foo Fighters, Alice In Chains, Mastodon, Rush) and mastered by Brian Big Bass Gardner (N.W.A., Stevie Wonder, Parliament).
GOATSNAKE Live Actions:
5/20/2015 Complex – Glendale, CA *Black Age Blues Record Release Show w/ Bl'ast, Eagle Twin [info]
5/24/2015 Maryland Deathfest – Baltimore, MD [info]
5/30/2015 Temples Festival – Bristol, UK [info]
6/01/2015 De Kreun – Kortrijk, BE
6/02/2015 Melkweg – Amsterdam, NL
6/03/2015 SO36 – Berlin, DE
6/04/2015 Freakvalley Festival – Siegen, DE [info]
6/07/2015 AN Club – Athens, GR
6/20/2015 Crucialfest – Salt Lake City, UT [info]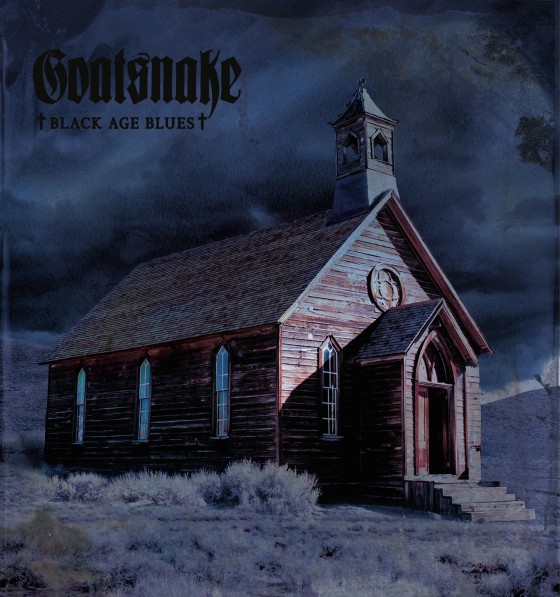 http://www.southernlord.com
http://southernlord.bandcamp.com
http://www.facebook.com/SLadmin