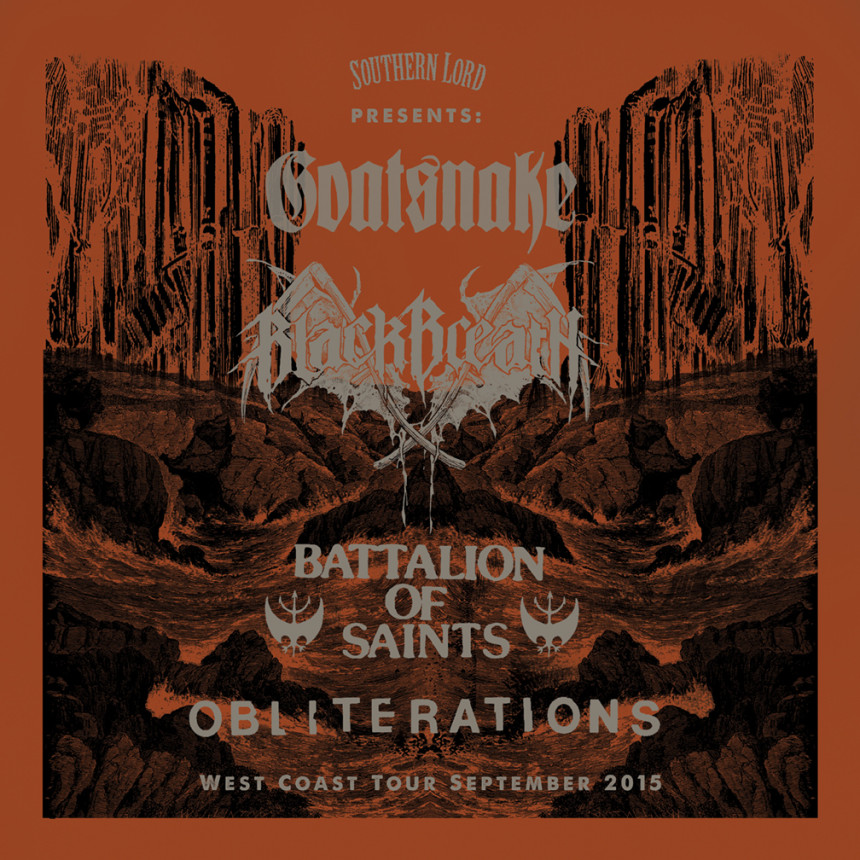 Southern Lord Recordings is proud to announce the finalized itinerary for the label's upcoming package tour, featuring GOATSNAKE, BLACK BREATH, BATTALION OF SAINTS and OBLITERATIONS, which is set to toast the West Coast this September.
The Southern Lord West Coast Tour will feature Southern California's acclaimed doom rock quartet, GOATSNAKE, headlining the caravan in support of their lauded Black Age Blues LP, which saw release earlier this year via Southern Lord to amazing fan and media praise. Direct support will be provided by Seattle death quintet, BLACK BREATH, performing material from their impending third LP, Slaves Beyond Death, which sees release on Southern Lord on September 25th, during the tour. The trek also includes an official hometown record release show for the album. The opening damage for each night of the trek will be supplied by longtime San Diego-based hardcore punk icons, BATTALION OF SAINTS, whom Southern Lord will release a new 7″ by later this year, as well as Southern Cali punk/hardcore henchmen, OBLITERATIONS, as the band continues to book new tours following the release of their Poison Everything debut LP via the 'Lord last year. The tour will break out of Los Angeles on September 16th, after which it will plunder Long Beach, Ventura, San Diego, Mesa, San Francisco, Sacramento, Santa Cruz and Seattle for BLACK BREATH's Slaves Beyond Death record release show, with the final show hitting Portland on September 27th. Tickets for all shows are now available.
Southern Lord West Coast Tour
w/ GOATSNAKE, BLACK BREATH, BATTALION OF SAINTS, OBLITERATIONS:
9/16/2015 Mystery Box – Los Angeles, CA [info]
9/17/2015 Alexs' Bar – Long Beach, CA [info]
9/18/2015 The Garage – Ventura, CA [*no Goatsnake] [info]
9/19/2015 Brick By Brick – San Diego, CA [info]
9/20/2015 Club Red – Mesa, AZ [info]
9/22/2015 Elbo Room – San Francisco, CA [info]
9/23/2015 Boardwalk – Sacramento, CA [info]
9/24/2015 Catalyst Atrium – Santa Cruz, CA [info]
9/26/2015 Highline – Seattle, WA **BLACK BREATH record release show [info]
9/27/2015 Hawthorne Theater – Portland, OR [info]
Stand by for additional info on GOATSNAKE, BLACK BREATH, BATTALION OF SAINTS and OBLITERATIONS, and other Southern Lord artists in the coming weeks.
http://www.southernlord.com
http://www.southernlord.bandcamp.com
http://www.facebook.com/SLadmin
http://www.twitter.com/twatterlord