[photo by Samantha Marble]
New York City-based experimental/noise metal outfit GNAW has completed the harrowing third album, Cutting Pieces, securing the record for late October release through Translation Loss Records. The LP's "Septic" is now playing at Decibel Magazine as the label issues preorders and more.
Closing a four-year gap since their acclaimed Horrible Chamber LP (Seventh Rule, 2013), GNAW crawls forth from the gutters once again, dredging forth some of their most unnerving audio assaults to date on Cutting Pieces. The seismic atrocities and haunting intricacies on Cutting Pieces leave an instantly damaging, long-lasting impression, their cumulative decimation undoubtedly producing GNAW's most cinematic terror to date.
Decibel unleashes the first single from Cutting Pieces, through an exclusive stream of "Septic," featuring background vocals courtesy of Stefania Alos Pedretti of OvO. GNAW issues of the track, "'Septic' is one of the faster tunes on the album. The guitars sound like razors and the ending is utterly creepy. We're honored to have Stefania from OvO on it thickening up the chorus with her unique cave-woman like voice."
Notes Decibel Magazine's write-up of the song includes, "vocalist Alan Dubin's harrowing shrieks and disturbed whispers serve as the narration to six minutes of noise, razor-sharp guitar assaults and other sounds created by GNAW's diverse repertoire of devices."
Stream GNAW's "Septic" at Decibel RIGHT HERE.
Translation Loss will release Cutting Pieces on LP, CD, and digital formats on October 27th; find preorders at THIS LOCATION.
Watch for additional audio samples including multiple videos and more on Cutting Pieces to be issued up to and through the album's release.
A recent personnel shift sees the GNAW lineup now including Dana Schechter (Insect Ark, ex-Angels Of Light) on lap steel guitar, joining returning assassins, Alan Dubin (Khanate, OLD), Brian Beatrice, Carter Thornton (Enos Slaughter), Eric Neuser, and Jun Mizumachi (Ike Yard). Cutting Pieces was written and recorded over the past two years at various studios and locales across NYC, the bulk of the music was written by Thornton, Beatrice, and Dubin with all members creating sound elements and arrangements, the final record mixed by Beatrice. Coalescing with Dubin's twisted lyrical visions, these factors culminate into the outfit's most terrifying movielike torment and tension yet. The album was once again mastered by James Plotkin. The graphic and type design for the cover was done by French designer Sebastien Hayez who did the first two GNAW albums as well.
Collectively, GNAW utilized an extensive arsenal of instruments on Cutting Pieces, including guitars, bass, drums, voice, lap steel guitar, Chinese cello, Weevil, conga, sawed off Kramer, Drone Thing oscillator, Alto sax, homemade light oscillator, micro cassette recorder, chain link fence, a small child, 2002 Toshiba laptop, voice dictator and space bar, and more. Cutting Pieces also features guest musicians Stefania Alos Pedretti of Italian noise rock act OvO contributing background vocals to the track "Septic," and Swiss saxophone player and sound artist Antoine Chessex (ex-Monno) contributing saxophone and amplifier to "Triptych."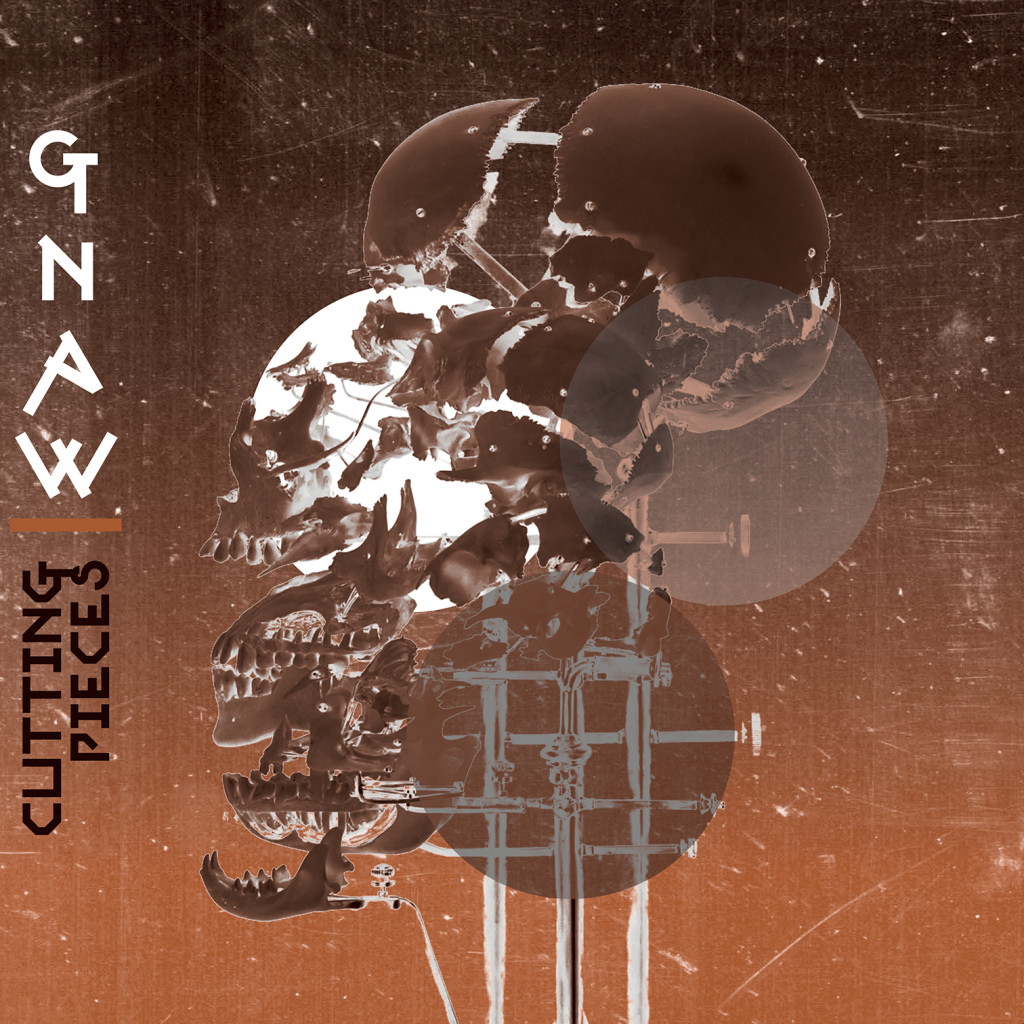 Cutting Pieces Track Listing:
1. Rat
2. Septic
3. Wrong
4. Prowled Mary
5. Extended Suicide
6. Fire
7. Triptych
With more widespread tour plans coming together for later this year and next, GNAW has booked several upcoming NYC-area shows, including the Nightside Of Eden Fest at The Paper Box in Brooklyn on October 7th alongside Acheron, Kult Ov Azazel, Sardonic Witchery, T.O.M.B., Abazagorath, Teloch Vovin, and more. GNAW will also play a record release show for Cutting Pieces at Saint Vitus Bar in Brooklyn on October 29th, joined by Couch Slut, Syndromes, and more.
GNAW Live:
10/07/2017 The Paper Box – Brooklyn, NY @ Nightside Of Eden Fest w/ Kult Ov Azazel, T.O.M.B. [info]
10/29/2017 Saint Vitus Bar – Brooklyn, NY *record release show w/ Couch Slut, Syndromes
GNAW is a New York City genre smashing/noise/metal/doom band created by Alan Dubin after the dissolution of Khanate. In addition to the traditional four-piece rock format and string and wind instruments, GNAW utilizes found sound, homemade instruments, tweaked oscillators, synthesis, and manipulated recordings. The Wire magazine called the band, "a terrifying rock sextet whose blackened vision has enough dark energy to blot out the sun," and described GNAW's debut album, This Face, to be, "unsettling but vital listening." Of their sophomore album, Horrible Chamber, Cvlt Nation claims, "Few bands have managed to pull off such a seamless and triumphant splicing of doom metal, noise and industrial as GNAW have managed to do with this album, and in this extremely unique, surreal and particular world the band dwells in, Horrible Chamber represents hands down industrial doom's finest hour of 2013."
https://www.facebook.com/Gnawtheband
https://www.translationloss.com
https://www.facebook.com/TranslationLossRecords
https://twitter.com/TranslationLoss
https://translationlossrecords.bandcamp.com