[photo by Samantha Marble]
View/share GNAW's "Fire" video RIGHT HERE
Following the recent Translation Loss release of their devastating third LP, Cutting Pieces, New York City avant/experimental outfit GNAW has just issued a new video for the album's "Fire," through a premiere at Revolver Magazine.
The video for "Fire" sees GNAW's scathing tune delivered through the bleak, unique visuals and direction of Roman Urodovskikh, a multimedia artist of Russian descent who currently lives and works in Montreal, Canada. A burnt and barren landscape depicts an ominous, multi-perspective view of certain demise for the animated characters.
The band offers of the video, "Roman Urodovskikh really captured the spirit of the song. Alan [Dubin] stumbled across Roman's work while going down the rabbit hole on a YouTube/Vimeo animation binge and immediately knew that his unique style of dark animation would be a perfect match for a GNAW music video. 'Fire' has somewhat less of a straightforward structure than the rest of the album and leans more towards intense free-jazz and noise with an industrial tinge."
Revolver publishes in part, "the clip repurposes GNAW's ferocious din into the soundtrack for some sort of CGI doomsday raging in a dark, abstract city. Between the mobs, the fires and the crushing existential despair, things do not bode well for our main character…"
See GNAW's "Fire" video at Revolver Magazine RIGHT HERE.
GNAW's Cutting Pieces is available on LP, CD, and digital formats via Translation Loss; find merch bundle and order options HERE.
Watch for another new video from Cutting Pieces.to see release early next year, alongside more GNAW live actions as the band plans European tour dates and more stateside performances.
GNAW was created by vocalist Alan Dubin following the dissolution of Khanate. Closing a four-year gap since their acclaimed second album, Horrible Chamber, GNAW's Cutting Pieces dredges forth some of the outfit's most unnerving audio assaults yet. In addition to the traditional four-piece rock format and string and wind instruments, GNAW utilizes found sound, homemade instruments, tweaked oscillators, synthesis, and manipulated recordings. Joining returning assassins Alan Dubin (Khanate, OLD), Brian Beatrice, Carter Thornton (Enos Slaughter), Eric Neuser, and Jun Mizumachi (Ike Yard), a recent personnel shift sees the lineup now including Dana Schechter (Insect Ark, ex-Angels Of Light) on lap steel guitar. Cutting Pieces was written and recorded over the past two years at various studios and locales across NYC, the bulk of the music was written by Thornton, Beatrice, and Dubin with all members creating sound elements and arrangements, the final record mixed by Beatrice and once again mastered by James Plotkin. The graphic and type design for the cover was done by returning French designer Sebastien Hayez. Cutting Pieces also features guest musicians Stefania Alos Pedretti of Italian noise rock act OvO contributing background vocals to the track "Septic," and Swiss saxophone player and sound artist Antoine Chessex (ex-Monno) contributing saxophone and amplifier to "Triptych."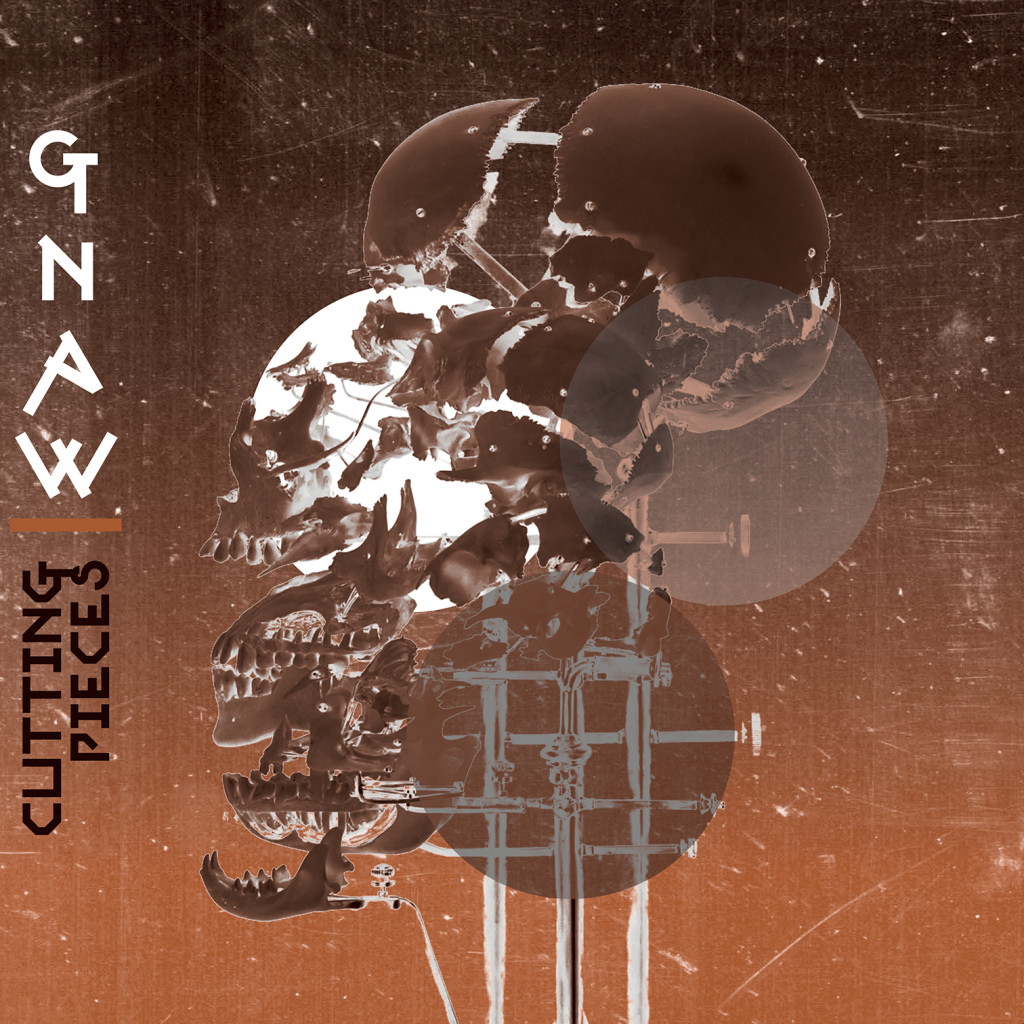 https://www.facebook.com/Gnawtheband
https://www.translationloss.com
https://www.facebook.com/TranslationLossRecords
https://twitter.com/TranslationLoss
https://translationlossrecords.bandcamp.com