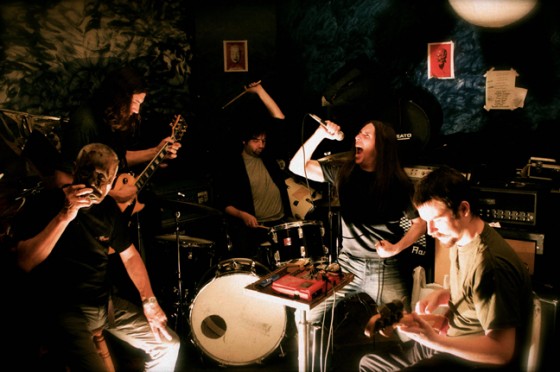 "GNAW's Horrible Chamber Might Make You Poop A Little" reads Noisey's poignant album premiere headline. A none-more-accurate assessment of a record that willfully tears its listeners a proverbial new bunghole with seven noise-laden tracks of torment, Horrible Chamber is clearly not intended for those with sensitive bowels.
The ominous anti-design of Alan Dubin (Khanate, Old, O.L.D.), Carter Thornton (Enos Slaughter), Jun Mizumachi (Ike Yard), Brian Beatrice and Eric Neuser, on Horrible Chamber GNAW manufactures nasty, nerve-wracking sound orgies where the cumulative sensations of dread, trauma, wrath and repugnance crash into a disturbingly cathartic state of ominous, audio disease. Elaborates the collective of their latest opus: "Play at excessive volumes and feel bad!"
GNAW's pervading stench of trepidation is truly difficult to dismiss. Grab a change of undies and hear for yourself, courtesy of Noisey, at THIS LOCATION.
Applauded by Invisible Oranges for manifesting a sound that "traps the listener in an iron maiden device," Horrible Chamber was recorded at Seizures Palace by Jason LaFarge (Swans, Akron/Family, Khanate, Angels Of Light) and mixed by Brian Beatrice at audioEngine and mastered by James Plotkin (OLD, Scorn, Khanate, Khlyst etc), with additional elements recorded by Beatrice, Dubin, Thornton, and Mizumachi in various chambers.
GNAW will bring their sonic severity roadside next month with two live rituals in Pennsylvania and Massachusetts, with future onstage invasions to be announced in the coming weeks. Stay tuned.
GNAW Live Assaults:
11/03/2013 First Unitarian Church – Philadelphia, PA w Pelican, Coliseum [info]
11/23/2013 Sammy's Patio – Revere, MA w/ Psycho, Afterbirth, Stasis [info]
Horrible Chamber will see release via Seventh Rule Recordings on October 15, 2013. Preorder your copy today at THIS LOCATION.
"Part horrifying ambient-noise-terrorism and part doom-metal slash and burn…" — Noisey
"It squeaks, creaks, kicks you in the balls, twists off your nipples, circumcises you, put bamboo sticks underneath your nails and then starts playing them like a piano, puts 220 volts on your nuts, extinguishes burning cigarettes on your eyeballs, twists a blunt knife in your knee caps, tears out your ear drums, pinches off your tongue, scalps you, cuts off your fingers one by one, crushes your ankles. So, perfect music for the cold nasty winter days." – Lords of Metal
"Whether it's Dubin's voice, the abrasive edge on the guitars or the insectile whirr of machinery that repeatedly surfaces, there's an intensity here that is as hard to absorb as it must have been to maintain – the sparser sections are pregnant with so much tension that they hardly register as breathers… an engrossing and affecting listen. It brings to light something typically kept buried in the subconscious and in its meeting of the physical and the mental, it offers something that few bands would even look for, let alone manage to convey." – The Sleeping Shaman
"The combination of slowly-slammed guitar, bass, and drums with terror-torn vocals and other-dimensional sounds makes for a chilling encounter. This is the soundtrack to your own private horror flick, one where the visual aspect is induced by the music." – Ghost Cult
http://www.facebook.com/Gnawtheband
http://www.seventhrule.com
http://instagram.com/seventhrule
http://seventhrulerec.tumblr.com/
http://twitter.com/seventhrule