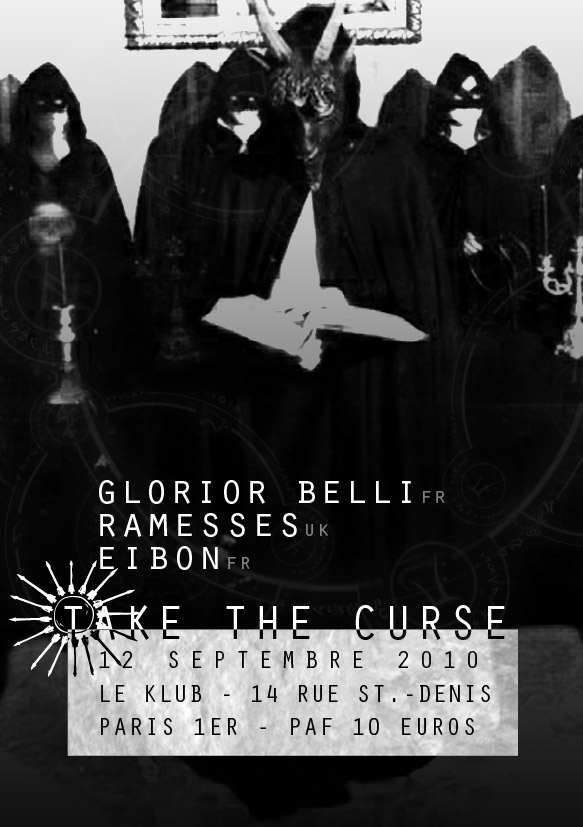 In an official missive from French black metallers GLORIOR BELLI:
"For the first time since 2005, GLORIOR BELLI responded positively to playing in Paris, assuring this would be a night to remember as GLORIOR BELLI only make a few special live appearances each year. Their latest record Meet Vs At The Southern Sign was released in June 2009 by Candlelight Records. At this point the French band has garnered a stellar reputation in the heavy music community for mixing Bluesy guitar textures and an unusually well-developed sense of melody with the brutal, ominous, doom-laden vibe typical of the genre.
Spawned in the bleak woodland of Dorset, England, RAMESSES is a three-piece that has been disfiguring the innards of its army of devoted listeners since 2003 when original Electric Wizard drummer Mark Greening and guitarist Tim Bagshaw hooked up with Adam Richardson (bass + vox). In the intervening years, RAMESSES have ripped an incurable wound in the metal scene. Take the Curse, the band's second full-length, was released in the first semester of 2009 via Ritual Productions.
Entering Darkness, Eibon's debut album recently released on June 2010 via Aesthetic Death Records is having quite a massive impact over the press so far. In fact, this Parisian quintet is literally overflowing with darkness and progressive moments; for Eibon's music comes from within and unfolds around atmospheres filled with moods. It's dense and almost suffocating at a time, an experience conducted with total absence of light throughout the whole process.
So load up your haversack and hit the dusty road, for the real devil's pact is about to be signed on September the 12th!"
http://www.myspace.com/gloriorbelli
http://www.myspace.com/ramesses666