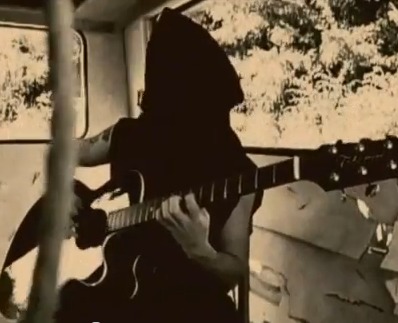 Today French black metal heathens, GLORIOR BELLI, premiere the second single off their upcoming new full-length, The Great Southern Darkness, exclusively through Metalnews.de. Click HERE to check out "Negative Incarnate."
In related news, Revolvermag.com — who posted The Great Southern Darkness video teaser early last week — is currently hosting the band's brand new "They Call Me Black Devil" video. To check it out, point your browser HERE.
The Great Southern Darkness is scheduled for a North America release on September 27, 2011 via Metal Blade Records. Said Revolver in an advance review of the record: "The album combines vicious black-metal riffery with deep New Orleans stoner grooves to create a metal monolith that is equal parts northern blaze and southern trendkill." Added Sea Of Tranquility of a three-song taste of the album: "If these three tracks are any indicator of the overall sound of the album… the listener is in for a round of French avant-garde metal, with the same sort of dissonant intensity of Deathspell Omega, but – and this is, the interesting part – with very clear influences from southern metal, sludge metal and post-metal. This blend generates a rather original…but also challenging style of black metal."
Formed in the suburbs of Paris during the close of 2002, what began as a noxious duo soon became an untamable beast, acting as a beacon for everyone looking to free themselves of the influence of the Demiurge. Lyrics and themes explored throughout the years reveal a sincere inclination for rebel-ism and a sense of poetry. Today, GLORIOR BELLI has garnered a stellar reputation in the extreme music community for mixing desert rock textures with the brutal, ominous, doom-laden vibe typical of black metal.
http://www.gloriorbelli.com
http://www.facebook.com/gloriorbelli
http://www.myspace.com/gloriorbell
http://www.metalblade.com/gloriorbelli