photos by Trey Derbes
"…they take all the best traits from those genres and make them something new." – Decibel Magazine
At the end of the month, Oakland, California-based melodic death/thrash metal quartet GLACIER EATER will unveil their second album, Tempest, through Glacier Recordings. Today, the third pre-release single, album-closing ripper "Homeward," makes its public debut through a premiere at Decibel Magazine.
From the thrash mecca of the Bay Area, GLACIER EATER again delivers their shredding alloy of metals with the long-awaited follow-up to their 2015-relesed eponymous debut, Tempest. Acting as a prequel to Glacier Eater, Tempest reveals an odyssey of turmoil and tragedy through the lyrics and vocals of Keith Welch and Ryan Hansen. Each song is another chapter in a story about the struggles of trying to create a better life, the self-inflicted tortures we pull ourselves out of, and the lessons learned through the reflections of the journey endured.
Returning GLACIER EATER guitarists/vocalists Keith Welch (Sworn Vengeance, Murder Practice) and Ryan Hansen (Light This City, ESP Guitars artist) here introduce new drummer Trey Derbes (Heartsounds) and bassist Bret Fontaine on the new album. With eight crushing tracks, Tempest is reminiscent of the Swedish melodic death metal sound of the early 2000s, showcasing virtuoso guitar solos and decimating riffs delivered at breakneck speed.
Tempest was recorded, mixed, and mastered by the legendary Zack Ohren (Machine Head, Cattle Decapitation, All Shall Perish) at Sharkbite Studios in Oakland, and completed with artwork by Trey Derbes.
The third single from Tempest comes in the form of the album's closing track, "Homeward," for which Ryan Hansen writes, "'Homeward' is the final chapter of the album, and the penultimate song of the overall story. Our characters have faced Intense trials of nature and warfare and are absolutely run ragged. The conflict between our two narrators is reaching its boiling point when the ship is then attacked by raiders and again they must fight for their lives. Musically this is my favorite track on the album, it really feels like a march down into hell until our climactic, fast ending with dueling guitar solos, bringing that final fight to life in the song."
Decibel writes with the song's premiere, "'Homeward' provides a great preview for the record and the way the band delve into melodic and thrashy tropes without sounding overly rehashed or stereotypical. Instead, they take all the best traits from those genres and make them something new."
Stream GLACIER EATER's "Homeward" single first courtesy of Decibel Magazine RIGHT HERE.
Glacier Recordings will release Tempest digitally on October 27th with a physical version to follow. Find preorders at Bandcamp HERE. Also watch Ryan Hansen perform in this intense demo for ESP Guitars HERE.
GLACIER EATER will open the San Francisco show of the Ancient Unholy Uprising Tour on November 24th supporting Incantation, Suffocation, Skeletal Remains, and Stabbing. Watch for additional live news to post shortly.
GLACIER EATER Live:
11/24/2023 DNA Lounge – San Francisco, CA w/ Incantation, Suffocation, Skeletal Remains, Stabbing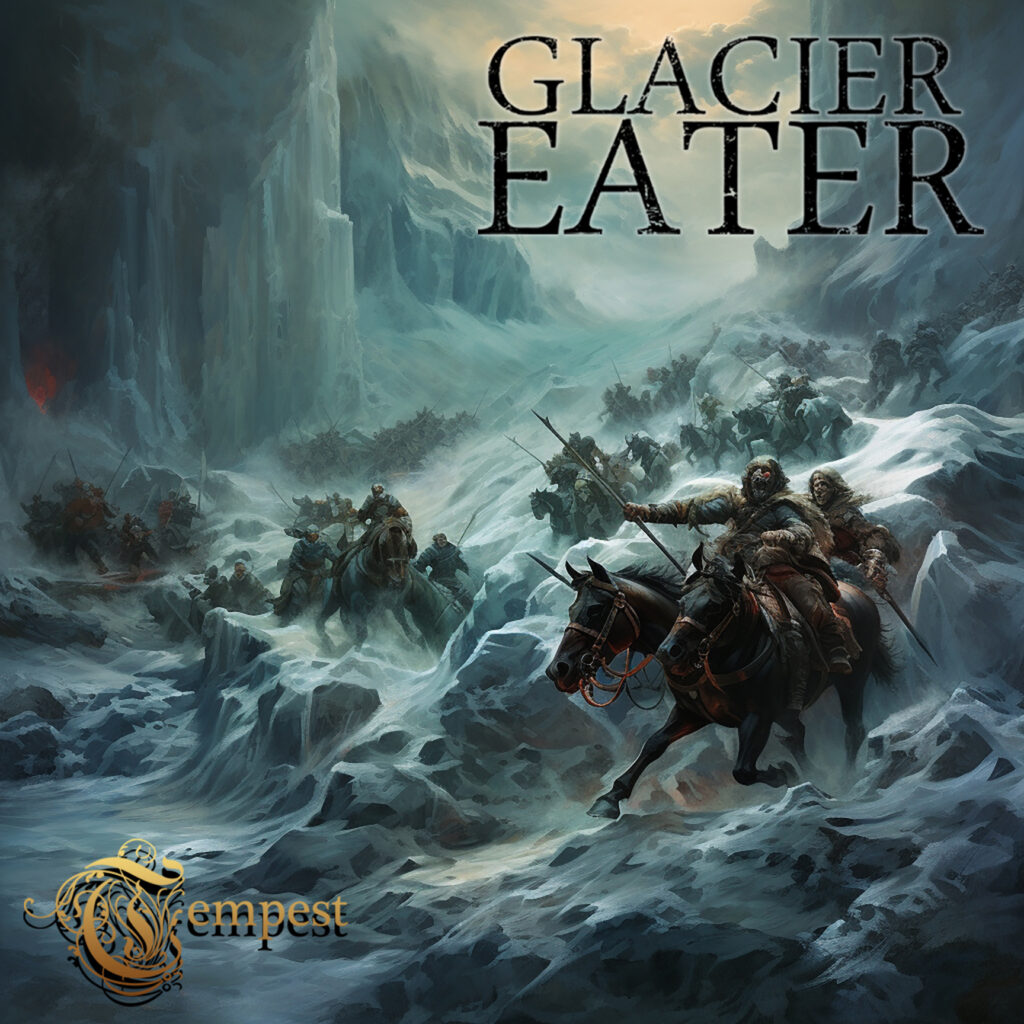 https://glaciereater.bandcamp.com
https://www.facebook.com/glaciereater
https://www.instagram.com/glacier.eater
https://www.glacierrecordings.com
https://www.facebook.com/glacierrecordings
https://glacierrecordings.bandcamp.com
https://www.instagram.com/glacierrecordings